BAISD Skills USA Program in Rotary Spotlight on Tuesday
Red Cross Volunteer Mobilization in Florida Last Year Largest in History
March 6, 2005
By: Dave Rogers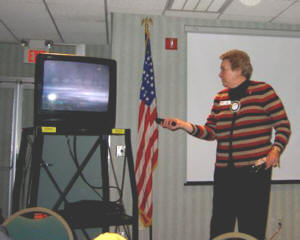 Gena Gates describes her two weeks as a RedCross volunteer in Florida in October, 2004.
This week's program: Tina Baciagalupo, BAISD Skills USA Program, Gail Bitzer programmer.
Last week's program: Gena Gates, Red Cross relief work after hurricanes in Florida.
      "The American Red Cross is there because of you."
      That was the message of Red Cross volunteer Gena Gates and East Shoreline Chapter Red Cross staff member Lynn Weaver about the American Red Cross and its disaster efforts following four Florida hurricanes last year.
      Ms. Gates and Mrs. Weaver spent two weeks in Florida last year following hurricanes Ivan, Frances, Charley and Jeanne that devastated the state from Aug. 13 to Sept. 29.
      The Red Cross effort in Florida has been described as the most extensive disaster response in history, involving about 30,000 volunteers.
      Ms. Gates was assigned to a roving public relations coordinator forwarding information from the central Florida disaster center back to headquarters in Orlando.
      Mrs. Weaver worked in in-kind fundraising out of the headquarters at "Camp K-Mart," a gutted out store in Orlando, that she described as a "mini city."
      The headquarters, complete with computers and phones, was the nerve center for dispatching ERV's (emergency response vehicles), pallet jacks, fork lifts, semis and refrigerated trucks.
      "They were so grateful and thankful; they are thanking you through me," said Mrs. Weaver, referring to the disaster victims who received assistance.
      "The community really pulled together," said Ms. Gates. Much of the affected area was rural with sugar cane fields and older homes, including many mobile homes. She said: "The hardest hit were the least able to cope."
      The most pitiful case was that of an impoverished elderly couple who lost everything in the hurricanes and died in a murder-suicide tragedy.
      Four months after the Red Cross effort began there were still half a dozen families in shelters, she said.
      "It was a very moving, and interesting, experience," summed up Ms. Gates. Volunteers had to be interviewed by mental health professionals before leaving Florida, she said, concluding: "It was hard not to cry during the whole interview."
      The East Shoreline Chapter of the Red Cross is volunteer-driven and reflects the diversity of Arenac, Bay, Huron, and Tuscola Counties. The organization distributes funds provided by grants as financial assistance for Bay County Residents when an emergency financial situation arises. For assistance information regarding homeless prevention, utilities, food and other services, please call (989) 892-1541.
      Upcoming programs: Mar. 15, Career Days, Dave Smith: Youth Exchange; Mar. 22, Career Days; Mar. 29, Rev. Desman Daniel, Gospel choir, Joy Baker, programmer.###