Career Days on Tap for Two Weeks at Bay City Rotary; Speaker Dave Smith
Career Center Students Exemplify Vocational Education Through Competition
March 12, 2005
By: Dave Rogers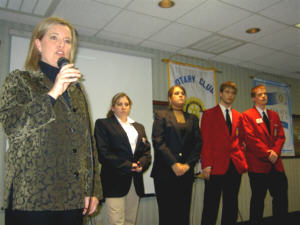 Students at the Bay-Arenac Career Center were on center stage at Bay City Rotary last week.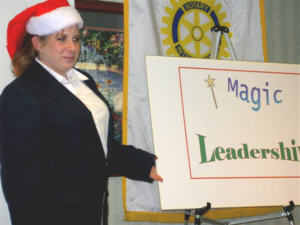 Jessica Maida entertained Rotarians with her human resource management concepts keyed to Santa Claus.
This week's meeting: Career Days, featuring 85 students from area high schools who are mentoring a day with Rotarians at their offices.Ralph Knop and Griff Acker, chairs.
Last week's meeting: Bay Arenac Intermediate School District Skills USA Program, Tina Bacigalupo, career development coordinator.
      Of the 1,100 students taking classes at the Bay-Arenac Career Center, about 900 are involved in clubs that help develop career interests, Rotarians learned last week.
      Tina Bacigalupo, career development coordinator, brought a group of students to the meeting who explained their roles in clubs and the learning processes involved.
      Brad Bitzer, second year student in graphics/printing, photography and advertising design, told Rotarians how his team won eighth place in the nation in a Quiz Bowl involving academic current affairs and parliamentary procedure.
      Gary Pihlaja, of Sanford, a second year Law Enforcement student, told of his leadership opportunities as a state officer in the Skills USA program and competitions in which he has been involved.
      In Washington, DC, Gary and other students met with legislators and urged support of the Perkins Act that funds vocational education.
      "It was an opportunity to lobby for something I really believe in," said Mr. Pihlaja. "For a kid from Sanford to be able to sit down with a U.S. Senator -- that's something!" he enthused.
      First year dental hygiene student Ashley Brandt told of her work with HOSA (Health Occupations Students of America). She is excited about being able to promote dental hygiene to elementary school students.

      Jessica Maida, representing BPA (Business and Professional Association) gave an entertaining and highly-polished presentation on human resource management. Wearing a Santa hat, she described management concepts in terms like "listen to your elves."
      "With clubs in various areas of work, very student has an opportunity to move on in competition and earn scholarships," said Ms. Bacigalupo.
Highlights of Board Meeting - March 8, 2005
1. Community Grants Committee [Randy Morse, Chair]. Committee selected projects with an historical theme:
· Bay Area Women's Center [$2,000] - Items for a Women's Historical Park, 2 benches and 3-4 picnic tables
· Bay Arenac Community High School [$2,000] - National Veterans History Project, to record interviews with American veterans to submit to the Library of Congress, with copy to local historical society
· Bay Arenac ISD [$2,000] - Purchase books for children for the Imagination Library project
· Created for Caring [$2,000] - Contribution towards the renovation of the historic Goddeyne Building used by the agency
· Saginaw Valley Naval Ship Museum [$2,000] - Contribution to living history project with naming rights for part of the ship [USS Edson]
2. Local Community Projects Committee [Rob Clark, Chair]. Club projects projected for the coming year [community service opportunities for club members]:
· March 17- Delta College Channel 19 phonathon, 7:00 - 11:30 p.m.
· Riverwalk Clean-up - Date to be announced
· Paint'N'Pride - Date to be announced [spring or fall]
· Mutt and Mitt program [Doggy Doo] - Putting out 2 new boxes along theRail Trail [will be a total of 7 in all]
· Landscape the Riverwalk sign near the Community Center
· Work on the Rotary garden plot in the arboretum in Vets Park
· NEW PROJECT: Place Rotary mile markers along the Rail Trail
· NEW PROJECT: Place bicycle racks in downtown locations
3. Dedication of club's centennial project, the first micro historical park in downtown Bay City has been moved to Tuesday, April 19th. The GSE team from Japan will be here that day.
4. Twin Club Program - Anita Bowden is planning to ship a package of information on our Rotary Club and the Bay City area in general to the club in Zekeriyakoy, Turkey, on or about March 22nd.
5. Indian tsunami relief. Club members may make contributions to the "Rotary Club of Bay City Charitable Foundation" to aid a Rotary club in India with the relief effort. The club in question [Coimbatore, India] sponsored the 1998 GSE team that visited our community. The club foundationwill then write a single check for the relief effort to the Rotary Club in India.###