Camp Rotary Students Speak To Club
August 7, 2012
By: Stephen Kent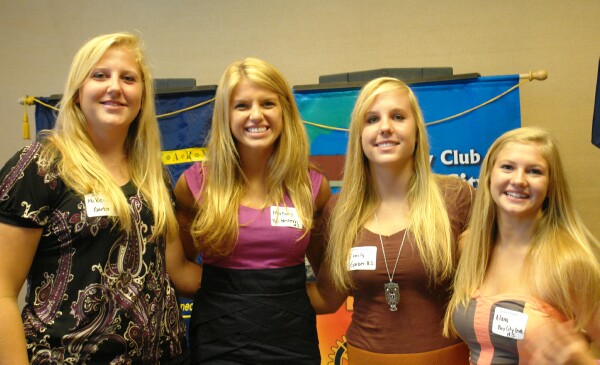 McKenzie Scheffler, Mallory Rivard, Emily King, Alana Byington
Rotary welcomed four of its six Rotary Youth Leadership Academy (RYLA) students. This year the club sent five Seniors and one Junior to Camp.
Rotary Youth Leadership Awards (RYLA) is Rotary's leadership training program for young people. RYLA participants are typically high school students from a club's area. The four speakers were from Garber, Western and Central High Schools.
Camp Rotary was June 10 to 14 this year and was held at the Boy Scout camp just north of Clare. RYLA emphasizes leadership, citizenship, and personal growth. Students are organized into "Tribes" and spend most of their time in those groups.
Activities center around a traditional summer camp experience but with an emphasis on training and leadership in community service, school and life activities. The campers participate in both low and high C.O.P.E. course training: "Challenging Outdoor Personal Experience." These activities build teamwork, communications, trust, leadership, decision making and problem solving skills.
After a short video about RYLA, better known as Camp Rotary, each of the young women spoke briefly about their experience this year. All agreed that it was a great camping experience and one they'd like to repeat.
For additional information visit the Rotary International
RYLA Web Page
---
CLUB NEWS and ANNOUNCEMENTS
President Prime started the meeting by bringing attention to the recent Time Magazine piece that talked about the Taliban banning Polio vaccines in Pakistan. The misguided ruling was very disturbing to everyone considering Rotary's international effort to eradicate the disease!
Kim also made another announcement and update on the Clean Water fund raising challenge where coins count up and paper money counts down. When asked how checks work, Kim said they're paper so they work that way adding "Frank, I hope you put a check in there!"
Remember how to contribute to the clean water campaign and contest:
Put SILVER in OUR JUG --- PUT BILLS (and checks) in the MORNING JUG
Lee Newton
spoke about the 20th anniversary International Night to be held on Thursday, October 11 this year, from 5:30 to 9:00 pm at the Doubletree. The theme will be
Sea to Shining Sea
and mailings will go out soon. Several team leaders spoke to recruit members to their teams. The goal is 300 attendees. Check the club's International Night
web page
for teams and other information.
Tim Holsworth
provided an update on the
Golf Tournament
coming up on
September 17
and the new Paul Harris Challenge for Rotary Teams. Tim read the various sponsors including the Title Sponsor
Covenant Health Care
, and
Wildfire Credit Union
, which is providing the flat screen TV as a special prize. If you have questions
LINK
to the Golf page on the club web site.
The district is looking for a Rotarian to act as
Team Leader
for the
Group Study Exchange
(GSE)team that will go to
South Korea
March 29 to April 30, 2013. This is a great opportunity. If you're available and interested, please contact Kim.
July through December
dues
are
past due
. If you haven't made your payment please see Secretary Steve Kent.
---
DATES TO REMEMBER
Next month's board meeting
will be on August 21 (one week late) to coincide with the District Governor's visit to the club.
The Annual Golf Outing
will be held September 17. See the announcement and info page at
RotaryBayCity.org
or see Tim Holsworth for details.
International Night
,
Sea to Shining Sea
, is scheduled for October 11, 2012.
MEMBER PHOTOS:
If you missed the opportunity to have
Anne Trahan
take a new picture for the Rotary Directory, don't fret. Give her a call or see her at the meeting to work out a sitting. The directory picture is free. Retouched digital photos and portraits for your own use are available for a small charge.
---
Upcoming Programs
(See the official schedule at RotaryBayCity.org )
Aug 7, 2012: Camp Rotary.
High School Students will tell us about their experiences at Camp Rotary this summer.
Aug 14, 2012: MAGIC!
Western High student Cameron Zvara, aka "Crazy Cam the Magician", will entertain Rotary with his amazing magic tricks.