MAGIC! Local Magician Entertains Rotary
August 14, 2012
By: Stephen Kent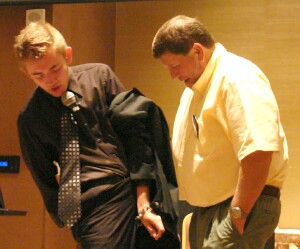 Cameron Zvara
aka "Crazy Cam the Magician"
Rotarians had a special treat as Western High School Student and local Magician Cameron Zvara, aka "Crazy Cam the Magician", performed a series of great illusions.
Cameron has been doing magic since he was 10 years old. He's performed around the state and many events, meetings and gatherings. That experience shows in a well oiled routine put on by a very young magician.
"Crazy Cam's" show started with a great illusion reminiscent of Harry Houdini's famous escapes. After being handcuffed, Cam was enclosed in a fabric tent held by Rotarians Ed Keating and Al Kennedy. On command they would raise the tent for a few moments then lower it. Each time Cameron would appear with his hands and jacket in a new position, including between his legs, which he asked his helpers to examine.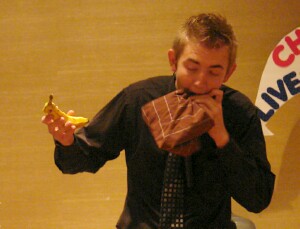 The Amazing Mystical Vanishing BANDANA
Cameron performed several such elaborate tricks to the delight of the entire crowd. With the help of outbound exchange student Jency Schnettler he did a great card trick.
Later he performed a mail order trick narrated by the recording of a woman's instructions. She said open the box and remove a yellow bandanna. Cam opened the box and came up with a banana. He performed the trick following the recorded instructions. He folded, bent and mutilated the banana standing in for the bandanna.
True to the trick's instructions it did, in fact, disappear in the end. It entire show was great fun for everyone.
---
CLUB NEWS and ANNOUNCEMENTS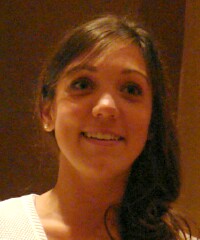 Jency Schnettler
Eric Jyhla introduced Jency Schnettler, our outbound exchange student who is leaving shortly for Shanghai China. Jency is looking forward to her time there and will keep in contact with her Michigan Rotarian sponsors via the Internet.
As her monthly fund raiser, President Prime auctioned off a wrapped container of "Kim's Cookies". Each month her auction will go to a worthy cause. This month the funds go to the David English Scholarship Fund being administered by the Community Foundation. By the end of the auction $40 was raised for the cause.
Kim also announced that the "Women In Rotary" night that Rob Clark held during his year as President will return this year. Look for it.
Kim also made another announcement and update on the Clean Water fund raising challenge where coins count up and paper money counts down. When asked how checks work, Kim said they're paper so they work that way adding "Frank, I hope you put a check in there!"
Remember how to contribute to the clean water campaign and contest:
Put SILVER in OUR JUG --- PUT BILLS (and checks) in the MORNING JUG
Lee Newton
and
Rob Clark
spoke about the 20th anniversary International Night to be held on Thursday, October 11 this year, from 5:30 to 9:00 pm at the Doubletree. The menu is being refined and looks great. With a theme of
Sea to Shining Sea
the food should be familiar and appetizing.
Rob also talked about the teams and their efforts to gather auction items. Each team leader was introduced and said a few words. Check the club's International Night
web page
for teams and other information.
Tim Holsworth
provided an update on the
Golf Tournament
coming up on
September 17
and the new Paul Harris Challenge for Rotary Teams.
Tim asked that Rotarians who are going to play please contact him as soon as you can. The committee needs to get an idea of the number of players. "We still need your sign up sheets and money of course, but an email beforehand would be much appreciated." said Tim.
Tim read the various sponsors including the Title Sponsor
Covenant Health Care
, and
Wildfire Credit Union
, which is providing the flat screen TV as a special prize. If you have questions
LINK
to the Golf page on the club web site.
---
DATES TO REMEMBER
Next month's board meeting
will be on August 21 (one week late) to coincide with the District Governor's visit to the club.
The Annual Golf Outing
will be held September 17. See the announcement and info page at
RotaryBayCity.org
or see Tim Holsworth for details.
International Night
,
Sea to Shining Sea
, is scheduled for October 11, 2012.
MEMBER PHOTOS:
If you missed the opportunity to have
Anne Trahan
take a new picture for the Rotary Directory, don't fret. Give her a call or see her at the meeting to work out a sitting. The directory picture is free. Retouched digital photos and portraits for your own use are available for a small charge.
---
Upcoming Programs
(See the official schedule at RotaryBayCity.org )
Aug 21, 2012: District Governor
makes annual visit to the club.
Aug 28, 2012: Saginaw Zoo
Nancy Parker will talk to the club about the Saginaw Zoo.
Sept 4, 2012: 10 Minute Rotarian
Sept 11, 2012: Chamber of Commerce
JoEllen Strieter will talk about the Chamber's Education Partnership.
Sept 18, 2012: Anatoliy Lotarev
Exchange Student from Spain visits club.