Rotary Sponsors Career Days
Area high school students visit businesses to explore career opportunities
March 18, 2005
By: Stephen Kent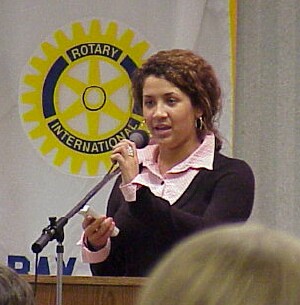 Kayla Sanders of Midland describes her year in Mexico as part of Rotary Youth Exchange
March is the time for The Bay City Rotary Club's annual career days when area high school students have the opportunity to visit businesses and learn what working in various fields is really like. Tuesday, the 15th was the first of two career days with nearly a hundred students participating. Delta College alone had over sixty students visit. Career days will continue next week with a second group of students who will visit Bay Med.
Tuesday's program featured
Dave Smith
of the Midland Rotary Club who spoke on the Rotary Youth Exchange, a student exchange program in which high school Juniors and Seniors are given the opportunity to spend a year abroad. The Midland Club has emphasized this program for many years and this year will have 19 students outbound for their year.
Rotary Youth Exchange students are classified as "Inbound" foreign students coming to this country, "Outbound" American students going abroad, and "Rebound" American students returning from their year abroad.
Youth Exchange is actually a three year experience. The first year students are recruited, selected and prepared with orientation sessions and other events. The second year the students spend abroad. The third year the students are home and help recruit and train the next outbound group.
Part of the orientation is a "survival course" on what to expect and how to handle the experience. For most students this is the first time abroad and certainly the first time in a foreign land on their own. Students need to have an idea of what to expect, how to handle homesickness, foreign languages and different customs.
The Rotary program is very well organized and supported, and students have in-country sponsors and host families, but it is still a year in a foreign country and environment. Kayla Sanders from Midland told of her year in Mexico. Her first host family spoke no english but they managed to communicate. Angela MacDougal, also of Midland, told of her yearabroad in Russia. She ended up in Barnual Siberia where no one spoke English, and where she was 1,000 miles from the nearest other exchange student! Angela not only survived but had a wonderful experience. Her description was "It was the best year of my life".
The Bay City club is host this year to inbound exchange student Anne Pleth from Denmark. Anne is living with Rotarians Debra and Rob Monrow and attends Bay City Central High.
---
In addition to the informative program on the Rotary Youth Exchange,
Leo Najar
and tenor Mark Mooningham previewed their upcoming program on "Civil War Music" which will be presented at the Civil War Roundable's monthly meeting on Wednesday the 16th. Mark sang, to Leo's accompaniment, the"Battle Cry of Freedom."
To everyone's "delight",
Rob Clark
returned to the podium in the role of Sergeant at Arms. The club and student guests were asked to join in a rousing chorus of "My Bonnie Lies Over the Ocean." Of course, Rob is seldom satisfied with just singing. He instructed the group in a simple exercise: "When you sing a word starting with "B", stand up. On the next word starting with "B", sit down". The audience did an excellent job, and exhibited great coordination . . . until the chorus of "bring back, bring back, oh bring back my Bonnie to me". (None of the young visitors could mistake THIS club for a bunch of stodgey old men.)
---
Other Club Business:
The club mourns the loss of two long time members in the past two weeks.
Larry Cook
joined the club in 1941 and served as president in 1950-51. Larry, who died March 14 at the age of 96, was the longest serving member [nearly 64 years] of the Rotary Club of Bay City.
BronsonHarris
who joined the club in 1974 died on March 6. He was an active member and was in attendance at the Rotary 100th birthday party on February 23. Bronson was 85 years old.
Club members will "man the phones" for Delta College Public Television's fund raising campaign on Thursday evening, March 17. Member Eric Jylha will co-host the program.
Members wishing to make contributions to Tsunami Relief can make donations through our club. The funds will be channeled through the Rotary Club in India which sent a Group Study Exchange team to Bay City in 1998. That club is located in an area of Southern India which was hard hit.
| | |
| --- | --- |
| Bay City Club hosts students participating in Career Day | Dave Smith of Midland talks about Rotary Youth Exchange program |
---
UPCOMING PROGRAMS:
March 22: Career Days with Dave Smith of Midland (second visit)
March 29: Rev. Desmon Daniel speakds on Gospel Music.
April 5: 10 Minute Rotarians
April 12: Ed Rich Long Term Care Specialist
April 19: Dedication of Micro-Park at Delta Planatarium
GSE team visit.
April 26: Update on Zekeriyakoy, Turkey Twin Club
eClub-One
: Members with internet connections are encouraged to visit eClub-One monthly for a makeup. To get makeup credit you need to fill out the makeup form on that site. Print the acknowlegement for you receive and turn it in to recive credit. Be sure to enter our club's district number (
6310
) on that form.
Click this link to open eClubOne in a new window:
www.rotaryeclubone.org
.