District Governor Visits Rotary
August 21, 2012
By: Stephen Kent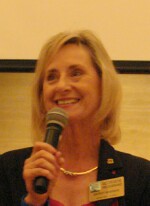 District Governor
Georgene Hildebrand
The new Rotary District 6310 Governor made her annual visit to the Club on Tuesday. She came early and met with the board to discuss her objectives and the club's plans. She then addressed the general membership at the regular meeting and challenged them for the upcoming Rotary year.
Among her challenges is that the club qualify for a "Presidential Citation" this year. (The Bay City Club routinely wins this award each year.) The qualifications for this award change each year and this year the club needs to have a project directed to the theme of "Peace".
The District has received a multi-year Rotary International grant to be used for publicity. A new, public web site is being created and various media spots will be placed during the year.
Membership is always a challenge and the club was encouraged to sponsor new members. Due to rules from RI, a district must have 33 clubs and 1,200 members. With over 1,400 members, our district 6310 meets that requirement, but we only have 32 clubs. West Branch is a target for the next club.
In remarks to the club Georgene used packets of small items to illustrate things members should do this year. These included attending two district functions, extending a hand to prospects and inviting them to Rotary, promote a club peace project, get a Presidential Citation for the club, participate in the annual fund drive goal of $100 per Rotarian each year, and promote Rotary in the media and publicly.
---
CLUB NEWS and ANNOUNCEMENTS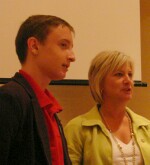 Anatoliy & Brenda
Brenda Rowley
introduced
Anatoliy Lotarev
, our inbound exchange student who just arrived from Estepona, Spain. Anatoliy speaks Spanish, Russian, and is learning English. His goals include becoming a commercial pilot. His first host family will be Ed and Mary Heinlein. Welcome Anatoliy!
The Chamber of Commerce will host a reception for Community Leader, and long time Rotarian,
Cliff Van Dyke
to celebrate his retirement. The reception will be Thursday, August 30 from 5 to 7 pm at the Pere Marquette Depot. Cliff joined our Rotary Club in 1981.
Rob Clark
spoke about the 20th anniversary International Night to be held on Thursday, October 11 this year, from 5:30 to 9:00 pm at the Doubletree. He reminded members about the teams and their efforts to gather auction items. Check the club's International Night
web page
for teams and other information.
Tim Holsworth
provided an update on the
Golf Tournament
coming up on
September 17
and the new Paul Harris Challenge for Rotary Teams. Tim asked that Rotarians who are going to play please contact him as soon as you can. The committee needs to get an idea of the number of players. If you have questions
LINK
to the Golf page on the club web site.
Remember how to contribute to the clean water campaign and contest:
Put SILVER in OUR JUG --- PUT BILLS (and checks) in the MORNING JUG
---
DATES TO REMEMBER
The Annual Golf Outing
will be held September 17. See the announcement and info page at
RotaryBayCity.org
or see Tim Holsworth for details.
International Night
,
Sea to Shining Sea
, is scheduled for October 11, 2012.
---
Upcoming Programs
(See the official schedule at RotaryBayCity.org )
Aug 28, 2012: Saginaw Zoo
Nancy Parker will talk to the club about the Saginaw Zoo.
Sept 4, 2012: 10 Minute Rotarian
Sept 11, 2012: Chamber of Commerce
JoEllen Strieter will talk about the Chamber's Education Partnership.
Sept 18, 2012: Anatoliy Lotarev
Exchange Student from Spain visits club.
---
Current and past
DISTRICT DISPATCH
newsletters are available on the District site shown in the LINKS section below.


Rotary Bay City on Facebook!
Click on the Blue Facebook to visit us there.

Remember! Check attendance sheets at the front desk.
---
LINKS