Schrumpf and Green Present 10-Minute Rotarian Talks
September 4, 2012
By: Stephen Kent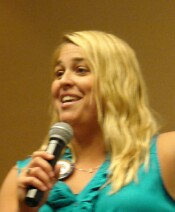 Jenna Schrumpf
The popular
Ten Minute Rotarian
program was back with presentations by Jenna Schrumpf and Rob Green.
Leading off, Jenna talked about her life and interests. She works as Marketing Director for her family's business Dobson Health Care, which was founded by her mother in 1988. Dobson specializes in traumatic brain injury cases, catastrophic injuries, home infusion, and other home services. Jenna travels around much of the state in her job, which she loves.
Jenna went to school in the southern part of the state and was very active in soccer. Today she coaches the women's soccer at John Glen and loves it. She also runs and does other outdoor sports.
You'll find Jenna is very active in the community with service on the YWCA board, Steven's Center for Family Business, Great Lakes Bay Regional Alliance, Rotary, Bay City After 6, and the Making Strides Campaign.
In her free time Jenna loves to travel and has been all over the world. She did mention "that guy" who is her steady and makes many trips with her.
---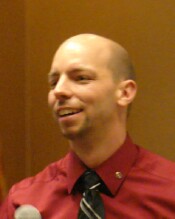 Rob Green
Rob Green is an engineer with Wade Trim, Inc. He started there as a high school co-op his senior year and overlapped with Rotarian Ralph Knop before Ralph retired. Rob went on the Michigan Tech to get his civil engineering degree. He likes to describe himself as a typical "geek", as well as an RA in the dorm.
Needing an athletic outlet, when he wasn't a traditional jock, Rob got involved in rowing. That became a lifelong pursuit and today he coaches at the Bay City Rowing Club. He has a great group of women rowers and plans to take them to a head race in Toledo soon. He invited anyone with an interest to see him about learning to row.
Rob has taken up running, although he once said he'd only run to play soccer. He's done one half marathon. He coaches youth soccer at Freeland and Clare. He also plays hockey and soccer as well as skiing in the winter.
At Wade Trim, Rob works with the transportation and the construction departments. He was a designer of the Salzsburg Road project last year and joked that he would take the blame for any inconvenience experienced by Rotarians. He said that Midland Road between 2 and 3 mile was also courtesy of him. Then he warned the the section between 3 and 4 mile will be coming up soon.
Rob is currently working on an MBA at Davenport University, taking advantage of a Chamber of Commerce scholarship. He's the Northern Region Vice President of the Michigan Society of Professional Engineers.
---
CLUB NEWS and ANNOUNCEMENTS
IT'S TIME TO GOLF!
Tim Holsworth
reminded everyone that the club's
Golf Tournament
is
September 17
. There's still room if you haven't signed up. If you're not a golfer, consider coming to the dinner after. Great food, ice cream bar, and you can get in on the drawing for the flat screen TV! If you have questions
LINK
to the Golf page on the club web site. Everyone was happy to hear that former president Hratch will be in town for the event.
Lee Newton
talked about the 20th anniversary International Night to be held on Thursday, October 11 this year, from 5:30 to 9:00 pm at the Doubletree. The committee has about 1/3 of the sponsors needed. Others are encouraged to sign on. This year the wine tasting will be replaced by a cash bar. The Doubletree has formulated two special drinks, the
Rotarian
and the
Patriot
just for the occasion. Check the club's International Night
web page
for teams and other information.
Congratulations to Harry Farris who just turned 86. Harry, you said you were happy to still be here and so are we!
Remember to contribute to the clean water campaign and contest:
Put SILVER in OUR JUG --- PUT BILLS (and checks) in the MORNING JUG
---
DATES TO REMEMBER
The Annual Golf Outing
will be held September 17. See the announcement and info page at
RotaryBayCity.org
or see Tim Holsworth for details.
International Night
,
Sea to Shining Sea
, is scheduled for October 11, 2012.
---
Upcoming Programs
(See the official schedule at RotaryBayCity.org )
Sept 11, 2012: Chamber of Commerce
JoEllen Strieter will talk about the Chamber's Education Partnership.
Sept 18, 2012: Anatoliy Lotarev
Exchange Student from Spain visits club.
Sept 25, 2012: Joe Mazzeo
will talk about
Bay City General Motors Powertrain
Oct 10, 2012: Jeff Mayes
will talk about
Renewable Energy Ballot Proposal
---
Current and past
DISTRICT DISPATCH
newsletters are available on the District site shown in the LINKS section below.


Rotary Bay City on Facebook!
Click on the Blue Facebook to visit us there.

Remember! Check attendance sheets at the front desk.
---
LINKS