Strieter Talks About Chamber's Education Partnership
September 12, 2012
By: Stephen Kent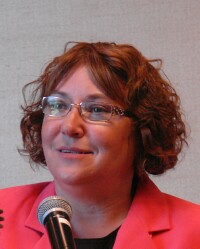 Jo Ellen Strieter
Jo Ellen Strieter, Directory of Education Program Events for the Bay Area Chamber of Commerce. She spoke to Rotary about the many programs sponsored by the Chamber Foundation's Business and Education Partnership, which was founded as the Alliance for Bay County Schools to link businesses with the Bay County educational system. Rotarian Jerome Yantz was instrumental in the founding of this organization.
The web site
opportunityconnection.net
is a free public resource for teachers, students, employers and parents, which offers hundreds of opportunities. Among those listed were:
Job Shadowing where any student can go to the web site, find your chosen profession, and get linked to a professional.

Strieter talked about Volunteer opportunities such as the Hampton Schools, which are looking for volunteers. She mentioned Reading is Bay County's Business where a number of Rotarians have taken a day to go into schools and read to children.

Mock Job Interviews give 11th and 12th graders the opportunity to interview with an "employer" from the area. Interviews take place in the schools using volunteers to play the employer. Scripts and questions are provided to make it easy for the interviewer. There were 70 volunteers last year and Strieter wants 100 this year.

Eighth Grade Career Day brings 1,200 kids to Delta's gymnasium where "organized chaos" reigns. "It's the only place where I've had to tell participants not to run", said Strieter.

"Principal for a Day", the "Business and Education Forum", the "Jerome L. Yantz Partner in Education Award", and so many more programs are part of this program.

For more information visit opportunityconnection.net.


---
CLUB NEWS and ANNOUNCEMENTS

FINAL NOTICE - IT'S TIME TO GOLF!

The Breezes should arrive in your mailbox before the Golf Outing on Monday. There may still be space if you haven't signed up. There's certainly room for the dinner. Contact Tim Holsworth or Bob and Cindy Chadwick if you're interested. For other information check the web page.

International Night comes hot on the heels of the Golf Outing. Keep October 11 open for this premier event of the year. Be sure your team has auction items too. Check the club's International Night web page for teams and other information.

Former President Mike Stoner visited the club. He has volunteered to work with someone from the club to plan the incoming GSE Team. Bob Chadwick volunteered to do that and Rob Clark volunteered to be one of the host families.

President Kim Prime held her monthly auction where she brings in some great item to auction off with the proceeds going to a randomly chosen Rotarian's favorite charity. This month the Rotarian was Jim Griffiths who selected the Rotary Foundation as his charity. Kim auctioned off a one of a kind soup pot loaded with soup mixes, AND, a pair of heavy Club Aluminum roasters. The winning bid was $95!

Remember to contribute to the clean water campaign and contest:

Put SILVER in OUR JUG --- PUT BILLS (and checks) in the MORNING JUG




---
DATES TO REMEMBER

The Annual Golf Outing will be held September 17. See the announcement and info page at RotaryBayCity.org or see Tim Holsworth for details.

International Night, Sea to Shining Sea, is scheduled for October 11, 2012.


---
Upcoming Programs
(See the official schedule at RotaryBayCity.org )


Sept 18, 2012: Tammy Brinkman Will provide an update on the Bay Area Family Y.

Sept 25, 2012: Joe Mazzeo will talk about Bay City General Motors Powertrain

Oct 10, 2012: Jeff Mayes will talk about Renewable Energy Ballot Proposal



---

Current and past DISTRICT DISPATCH newsletters are available on the District site shown in the LINKS section below.







Rotary Bay City on Facebook!
Click on the Blue Facebook to visit us there.

Remember! Check attendance sheets at the front desk.
---
LINKS




0202 nd 03-20-2019