Gospel Music the Topic of Speaker Rev. Desmon Daniel at Bay City Rotary
Club Completes Two Weeks of Highly-Successful Youth Career Days
March 26, 2005
By: Dave Rogers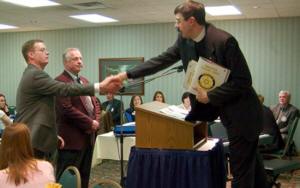 Rev. Andreas Teich welcomes two new members just inducted, Jim Reid, right, and Tim Shelton. (Photo by Andy Rogers)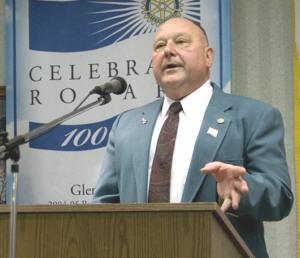 Co-Chairman of Career Days and president-elect Ralph Knop presides at meeting with high school students. (Photo by Andy Rogers)
This week's program: Rev. Desmon Daniel, Bridge Center for Racial Harmony, Saginaw, speaking on gospel music; Joy Baker, programmer.
Last week's program: Dave Smith, Rotary District 6310 Youth Exchange Chairman, on youth exchangeprograms, plus the second of two Career Days for high school students.
NEW MEMBERS INDUCTED MAR. 22:
Jim Reid, Real Estate Developer, "Bay City's Donald Trump," sponsored by Bob Sarow;
Tim Shelton, director of sales and marketing, DoubleTree Hotel - Bay City Riverfront, sponsored by Larry LaPorte.
COMMUNITY SERVICE: Eight Bay City Rotarians headed by Rob Clark volunteered recently at the Delta College Phonathon, raising about $5,000.
GROUP STUDY EXCHANGE: The Group Study Exchange Team from Japan arrives here April 17 and will visit the Bay City club on April 19. The visit will be incorporated into the dedication of the club history project at Center and Saginaw streets, accordingto President Mike Stoner.
MORNING CLUB UPDATE: Beginning April 7, the Bay City Morning Rotary Club will meet at the Holiday Inn at 7:30 a.m. The former meeting place was the Cracked Egg.
The Central States region of Rotary International hosted 1,300 students at the last orientation at Calvin College, Grand Rapids, according to Dave Smith, of Midland, District 6310 Youth Exchange Chairman.
Mr. Smith was the speaker at the second of two Career Days during which local Rotarians mentored youth from high schools. The students visited worksites and learned about occupations during the morning and accompanied their Rotarian mentor to lunch for the meeting.
Ralph Knop, Griff Acker and Chuck Moulds were co-chairs of theannual Career Days event that this year attracted well over 100 students.
"We have 19 students this year," said Mr. Smith, referring to exchange students in District 6310. "Three or four clubs have students involved for the first time in years."
Students are selected by the host club and interviewed at the district level. Students make presentations about the country they would like to visit. The country of preference sometimes is changed, however, said Mr. Smith.
Mr.Smith gave tips to parents who have children in youth exchange. "If parents aren't supportive and strong, youth exchange won't work." He suggested a book, "The Exchange Students' Survival Kit."
UPCOMING PROGRAMS:
April 5: 10 Minute Rotarians
April 12: Ed Rich, Long Term Care Specialist
April 19: Dedication of Micro-Park at Delta Planetarium; GSE team visit.
April 26: Update on Zekeriyakoy, Turkey Twin Club.###