History of Gospel Music presented to Rotary
March 29, 2005
By: Stephen Kent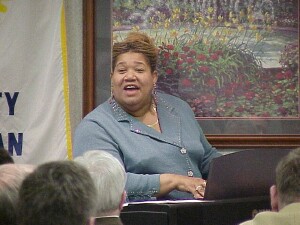 Saginaw Mayor Wilmer Jones-Ham sings for Rotarians
Tuesday's program, presented by Joy Baker, brought the story of Gospel music and the traditions of the Black Church to the club.
The program opened with a medley of songs presented by Saginaw Mayor Wilmer Jones-Ham. From the simple child's refrain of "Jesus Loves Me, This I know", to the inspirational "Amazing Grace", Ham illustrated the range of Gospel music and soon had many in the audience singing or humming along.
Desmon R. Daniel, Saginaw native, Principal of Buena Vista High School, and associate Minister of the Bethel AME Church, followed Mayor Ham with a discussion of the history of Gospel music from its origin in the time of Black slavery to its place today as a $200 billion industry.
Daniel, an eloquent speaker, told the story of the Brush Harbor Church where slaves would steal away at night and gather in the woods. They would clear a circle in the brush and put a cooking pot in the center then circle around the pot to sing their songs of worship. The pot was a symbol where cares and troubles would be put. Children would play in the woods around the singers and provide warning should the masters come.
Daniel explained how many familiar verses from Gospel music have literal meanings when taken inthe context of their time. "Steal Away" makes reference to slaves gathering for worship away from the masters. "Wade in the Water" can be related to slaves getting away from hounds by wading in the rivers and streams to hide their scent. References to crossing the River Jordan were often an illusion to crossing the Ohio River into free states.
Gospel music today, with roots in the hardships and repression of the days of slavery, has become an expression of worship and pride and expression. Experiencing a Black Church service, said Daniel, "you can't help but be caught up in the music and the frenzy".
Desmon R. Daniel, Principal of Buena Vista High School and Associate Pastor of Bethel AME Church tells the story of Gospel Music.
Other Club Business:
Tim Moulthroup reported on the status if the Free Clinic sponsored by Bay Med. The clinic has been a major success seeing over a thousand patients since its start. The decision has been made to create a permanent fund to support the operation and that will require raising some 3.5 million dollars. Of that, over 1.75 million has already been raised.
Members are reminded of the District Conference April 29 through May 1. The club will pay the registration fee for any members who wish to attend.
Several clubs are sponsoring trips to the International Convention in Chicago in June. Durrand is arranging a train trip and Owosso is doing a motor coach trip.
The Bay City club will host a 10th grade high school exchange student from Brazil this year. Several members will be needed to provide a home for this young man during his stay.
The Group Study Exchange team from Japan will be in Michigan during April and May. Historically GSE teams start their trip by visiting Bay City. This year, Bay City will the the final stop on their trip. Several club members are needed to provide transportation and to entertain our visitors on their last few days in the country.
Brian Kay announced that fourth annual Rotary Open golf tournament will be held on June 6. Anyone interested in serving on the committed should contact Brian.
Members wishing to make contributions to Tsunami Relief can make donations through our club. The funds will be channeled through the Rotary Club in India which sent a Group Study Exchange team to Bay City in 1998. That club is located in an area of Southern India which was hard hit.
---
UPCOMING PROGRAMS:
April 5: 10 Minute Rotarians
April 12: Ed Rich Long Term Care Specialist
April 19: Dedication of Micro-Park at Delta Planetarium
GSE team visit.
April 26: Update on Zekeriyakoy, Turkey Twin Club
eClub-One
: Members with internet connections are encouraged to visit eClub-One monthly for a makeup. To get makeup credit you need to fill out the makeup form on that site. Print the acknowledgement for you receive and turn it in to receive credit. Be sure to enter our club's district number (
6310
) on that form.
Click this link to open eClubOne in a new window:
www.rotaryeclubone.org
.