Mazzeo Talks To Rotary About GM Powertrain
September 25, 2012
By: Stephen Kent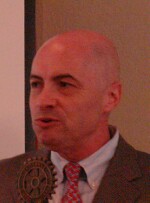 Joseph M. Mazzeo
Joe Mazzeo, Plant Manager at Bay City's GM Powertrain spoke to Rotary about the company's model for manufacturing. He started with a short video from years ago showing manual forging of parts in fire and smoke in huge factories manned by hundreds of men.
Today's vision is to "Design, Build and Sell the World's Best Vehicles", with emphasis on Build at Powertrain. After $7.3 billion in US investment, the company reported 2011 as the most profitable in the company's history. They have created or retained 18,600 jobs.
With an eye to building the world's best vehicles, GM has reduced complexity by going from 30 vehicle bodies to just 14 by 2018. It will also reduce the number of engine platforms. While doing this, Powertrain has shown a 16% increase in workforce since April 2011.
Powertrain's production of piston pins, connecting rods, camshafts, oil pumps, and balance shafts accounts for a bit over $19 million a year. This in a 1 million square foot facility.
Mazzeo illustrated the firms attention to quality by talking about tolerance measurements in microns. A micron, he said, is point 000039 of an inch where a human hair measures point 0035 of an inch.
GM today follows a Global Manufacturing System (GMS). Mazzeo talked about the five GMS elements of continuous improvement, standardization, short lead times, build-in-quality, and
people involvement
. He stressed that the old management formula with top management being most important has flipped upside down and now finds the operators, or "team members" at the top and leadership at the bottom.
He went on to say that GMS applies to more than just manufacturing. It can be applied to any business or industry and that GM has helped businesses of all types and sized to implement the ideas.
---
CLUB NEWS and ANNOUNCEMENTS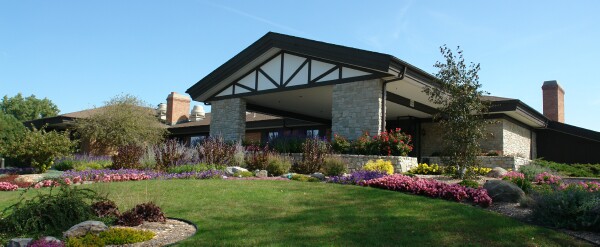 The Club held one its two off site meetings at the Bay City Country Club
Thanks to Rotarian Wendy Dore for arranging to host the meeting.
International Night
is almost here. Keep October 11 open for this premier event of the year. Lee Newton and Brenda Rowley both talked about the event and some of the great auction items. Be sure your team has auction items too. Check the club's International Night
web page
for teams and other information.
The district is still looking for a Rotarian to act as
GSE Team Leader
for the Group Study Exchange team that will go to South Korea March 29 to April 30, 2013. This is a great opportunity. If you're available and interested, please contact Kim as soon as possible!
Bob Chadwick reminded the club of the
Foundation Gala
to be held in Frankenmuth October 26. The Club will have a table if there enough members so let Bob or Kim know if you plan to attend.
In "honor" of the
NFL officiating fiasco
last night, Sgt. At Arms Jenna asked the color of the official's flags prior to 1965. The answer was white because white could be seen well on black and white TV.
Remember to contribute to the clean water campaign and contest:
Put SILVER in OUR JUG --- PUT BILLS (and checks) in the MORNING JUG
---
DATES TO REMEMBER
The Annual Golf Outing
will be held September 17. See the announcement and info page at
RotaryBayCity.org
or see Tim Holsworth for details.
International Night
,
Sea to Shining Sea
, is scheduled for October 11, 2012.
---
Upcoming Programs
(See the official schedule at RotaryBayCity.org )
Oct 2, 2012: Jeff Mayes
will talk about
Renewable Energy Ballot Proposal
Oct 9, 2012: Pam Clark
will talk about
Delta College Foundation
Oct 16, 2012: Alice Gerard
will talk about
McLaren Bay Region Hospitals.
Oct 23, 2012: Club General Assembly
---
Current and past
DISTRICT DISPATCH
newsletters are available on the District site shown in the LINKS section below.


Rotary Bay City on Facebook!
Click on the Blue Facebook to visit us there.

Remember! Check attendance sheets at the front desk.
---
LINKS