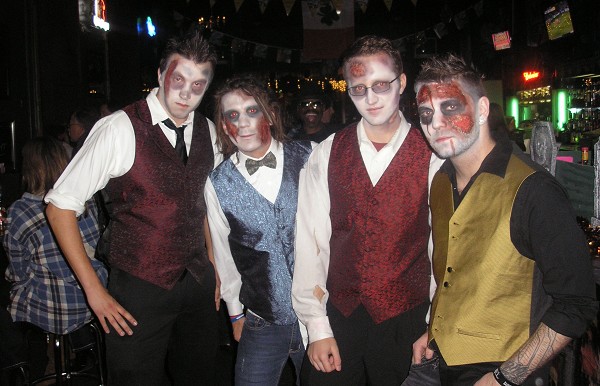 Local Band-'Every Night In Vegas'
---
Goblins, Ghouls and Zombies - Oh My!
Halloween 2012 - The Year of the Zombie
November 4, 2012
By: Diane Szczepanski
It was a fun mid-week Halloween this year for the adults out looking for entertainment. Whether you dressed up or just went out to people watch, there was entertainment everywhere.
Local band,
Every Night in Vegas
hosted their CD release party at
Westown Theatre
on Bay City's Midland Street. Band members include, Eric Schultz, Chase Horsfield, Alex Hewitt and Darin Distance, who call themselves a "pop-punk" group. Their music influences range from Taking Back Sunday, Brand New and others.
Joey Atchinson
also entertained with his talented musical style and performed several of his original songs.
Zombie attire was the predominant theme on Midland Street and at the Westown in particular for their 'Zombie Prom'. Rotting mottled flesh, grey skin and dripping blood was the gruesome setting for Halloween 2012!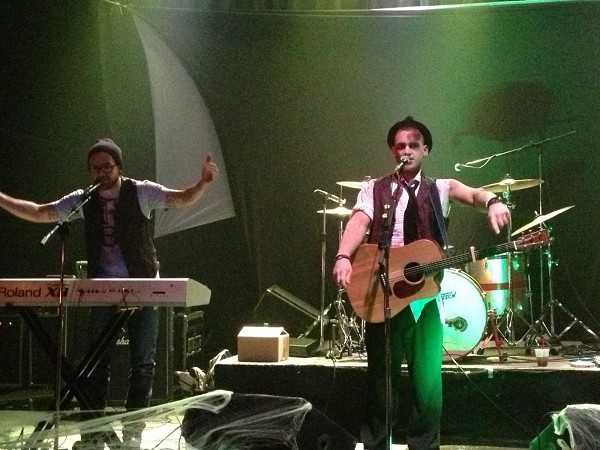 Talented local musicians, Joey Atchinson, center, and Matt Ferranti on keyboard,
opened up the night of music with a great set!
Photo by Diane Szczepanski
© MyBayCity.com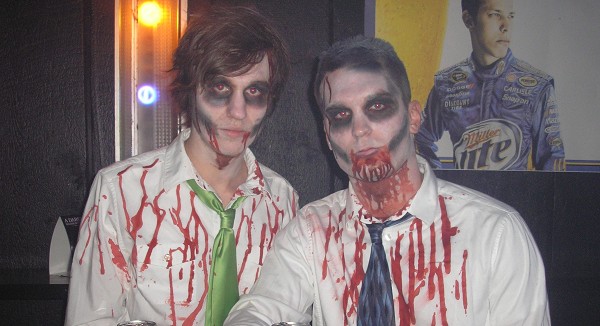 Uh-oh, looks like Austin Kasper, left and Tyler Kasper, right, were into some serious zombie trouble!
Photo by Diane Szczepanski
© MyBayCity.com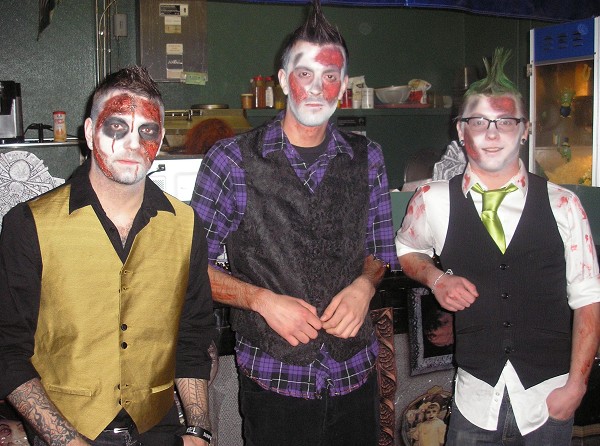 'Not Ur Mothers Music' company members brought the Zombie Prom to the Westown Theatre.
Photo by Diane Szczepanski
© MyBayCity.com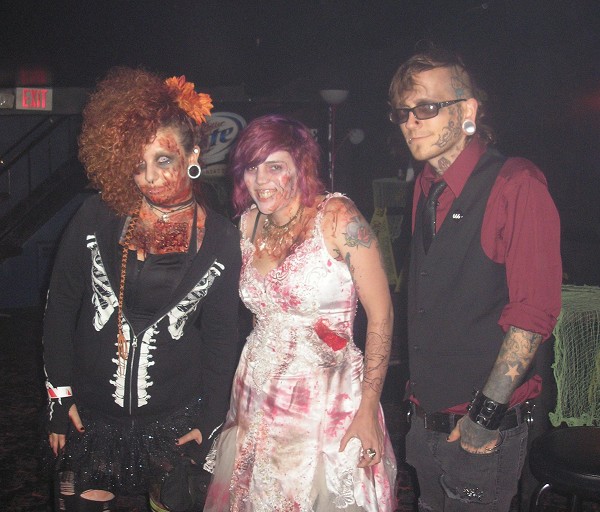 From left, Sarah Giacaolone, Jennifer Montague and Chris Gonyou, make some scary looking zombies
Photo by Diane Szczepanski
© MyBayCity.com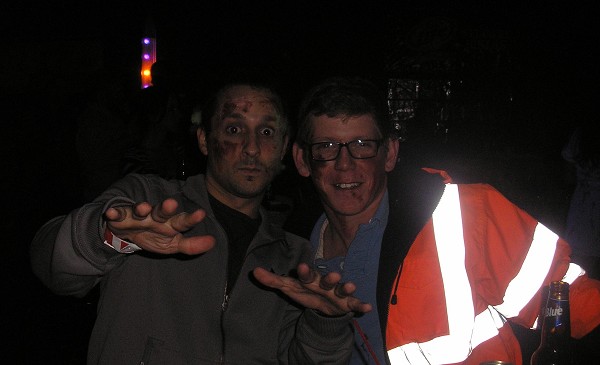 Having a great time, Kiel Henne, left and John Nugent, right
Photo by Diane Szczepanski
© MyBayCity.com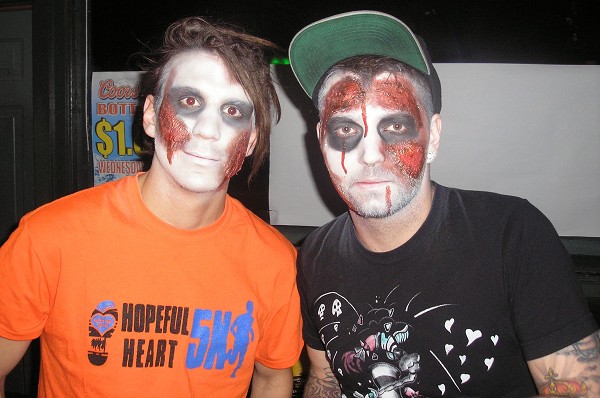 Darin Distance and Chase Horsfield, band members of 'Every Night in Vegas'
Photo by Diane Szczepanski
© MyBayCity.com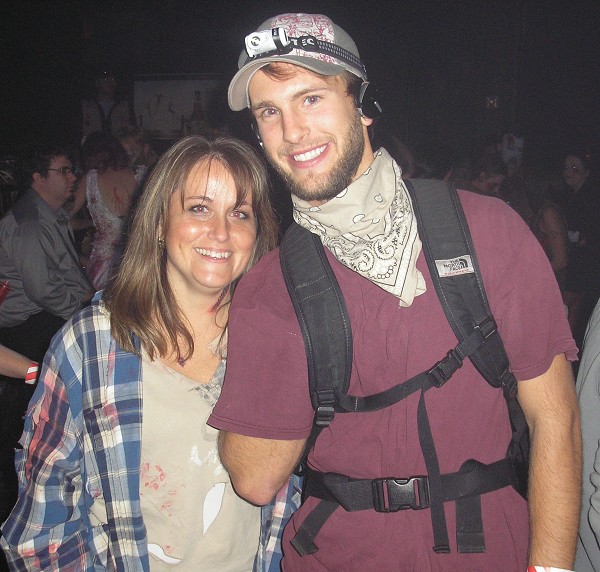 Zombie Marjorie Noykos and the "armless hiker", Steve Adair
Photo by Diane Szczepanski
© MyBayCity.com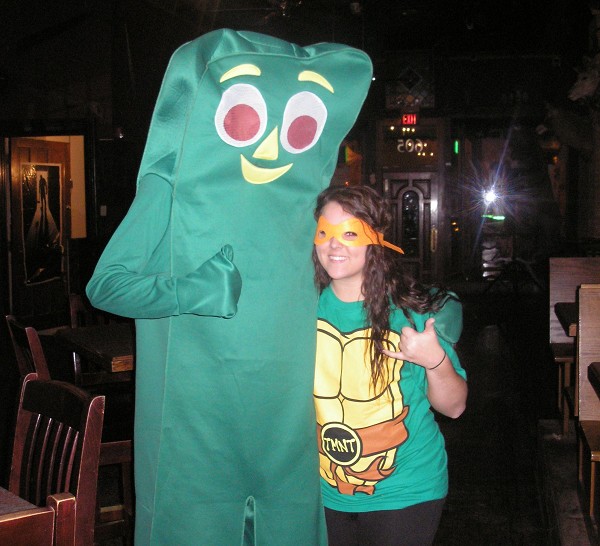 Some not so scary, just darn cute folks were out too,
such as John Miller, aka Gumby and Heather Sharrard, aka Teenage Mutant Turtle
Photo by Diane Szczepanski
© MyBayCity.com