McLaren Bay Region Hospital Topic of Rotary Program
October 16, 2012
By: Stephen Kent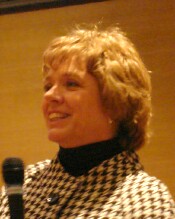 Alice Gerard
Alice Gerard
, President and Chief Executive Officer of McLaren Bay Regional Medical Center spoke to Rotary about the Hospital and health care in the United States.
McLaren's mission statement is "McLaren Health Care, through its subsidiaries, will be the best value in health care as defined by quality outcomes and cost."
Formerly Bay Regional Health Care, the hospital and it's many remote facilities serves a large region to the North and West and out into the Thumb. The facility is the major acute care hospital in Northeast Michigan. Statistics show
Main campus: 341 beds
Mental Health: 28 beds
South Tower: 22 beds
West Campus: 20 beds
14 Operating rooms
Emergency department: 35 beds

The system covers all major medical services including Cardiology, Oncology/Radiation, Open Heart, Women's Health, Emergency, Neurosurgery / Neurology, Graduate Education, and Diagnostics.

McLaren boasts 245 physicians and is the largest employer in the area with some 2,235 employees and an annual payroll in the $140 Million range. The system recruits every day and has added about 15 new physicians in 2012 alone.

Girard went on to talk about Medicare and Medicaid. Medicare represents 59% of McLaern bay Region's patients and Medicaid is another 10.7% Medicaid covers 1.9 million people in Michigan or one in 5.

Bay Region reported some $16.2 million in charity care and another $11.6 million in uncorrectable costs.

Addressing the Affordable Care Act, Girard talked about reimbursement cuts vs quality. She mentioned Accountable Care Organizations and the impact and requirements of electronic medical records.


---
CLUB NEWS and ANNOUNCEMENTS


Reminder: The Foundation Gala to be held in Frankenmuth October 26. The Club will have a table if there enough members so let Bob or Kim know if you plan to attend. Cindy Chadwick noted that tickets at the club table cost $31.25, which is a lower price.

Remember to contribute to the clean water campaign and contest:

Put SILVER in OUR JUG --- PUT BILLS (and checks) in the MORNING JUG




---
DATES TO REMEMBER
Foundation Gala in Frankenmuth - October 26.


---
Upcoming Programs
(See the official schedule at RotaryBayCity.org )


Oct 23, 2012: Club General Assembly

Oct 30, 2012: McKinley Technologies

Nov 6, 2012: Rotary Video ---- ELECTION DAY ----

Nov 13, 2012: 10 Minute Rotarian

Nov 20, 2012: Rotary Homecoming Oragnized by Rob Clark

---

Current and past DISTRICT DISPATCH newsletters are available on the District site shown in the LINKS section below.







Rotary Bay City on Facebook!
Click on the Blue Facebook to visit us there.

Remember! Check attendance sheets at the front desk.
---
LINKS




0202 nd 03-18-2019