Four District Governors Attend Bay City Rotary Club Meeting
Board, International Night Committee Meet Tuesday
April 10, 2005
By: Dave Rogers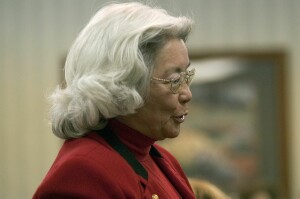 District Gov. Ruby Iwamasa
LAST WEEK'S PROGRAM: Bijou Orchestra performance; Ten Minute Rotarians, Harry Farris, Dave Rogers, Gail Bitzer.
THIS WEEK'S PROGRAM: Ed Rich, long term care specialist.
NUMBERS GAME: Amount raised at last year's International Night -- $34,000. Number of students hosted by Bay City Rotarians during Vocational Days: 162 (86 the first week, 76 the second).
District Gov. Ruby Iwamasa, two former district governors and the incoming district governor were on hand last week at the Bay City Rotary Club meeting.
Former governors Jerome Yantz of Bay City and Don Newport of Alpena were joined by Dalton Coe, Sebewaing, incoming governor slated to take office this July.
President Mike Stoner announcedthat a board meeting will be held Tuesday at 7:30 a.m. at the Bay Arenac Mental Health Building and a meeting of the International Night Committee will be held at 11 a.m. prior to this week's regular meeting.
Also, the Group Study Exchange team from Japan will be arriving May 16 for a four day stay, Mr. Stoner said.
Former president Rob Monroe is looking for a host family for a Brazilian exchange student arriving in August.
The annual Bay City Rotary Golf Tournament tees off Monday, June 6, at 12:30 p.m. at the Bay City Country Club, according to chair Brian Kay of Bay Regional Medical Center.
Attendees from the Bay City Rotary Club are still sought for the District 6310 Conference April 29-May 1 in Midland. Interested members should see Mike Stoner. The club will pay the registration fee.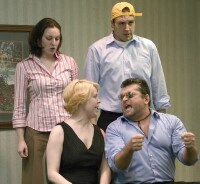 Empresario Leo Najar presented a complement of actors performing songs from the second act of the scheduled April 21 Bijou Orchestra performance of "I Love You, You're Perfect, Now Change."
Gail Bitzer was one of the Ten Minute Rotarians, tracing her life story from the Paw Paw wine country to Kalamazoo, Ann Arbor, Mt. Pleasant, Chicago and Lansing before arriving in Bay City.
A graduate of the Chicago Design School who gained valuable experience working at the Merchandise Mart and for an architect on Wells Street, she worked for AlliedOffice Interiors and Dow Corning.
Now an entrepreneur with her own studio, Form and Function located in the Landmark Plaza at Center and Washington avenues, she is also a yoga instructor with Heart of Michigan.
10 Minute Rotarian Gail Bitzer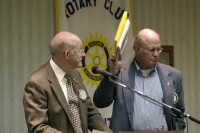 Harry Farris and Dave Rogers told of the cooperative work by many members that went into the 100th Anniversary book produced by the club.###
Photos by Andy Rogers