School Superintendents Panel Addresses Rotary Questions
December 4, 2012
By: Stephen Kent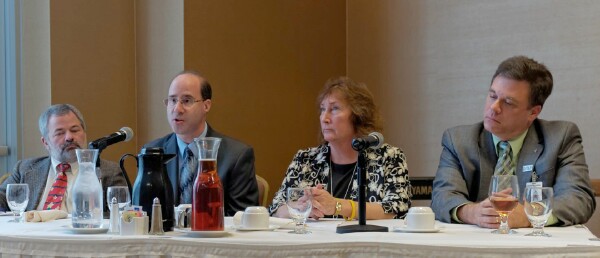 Michael Knoff, John Mertz, Deb Kadish, Doug Newcombe
Photo by Andy Rogers
Rotary welcomed four local school superintendents for a panel discussion of issues facing schools. Questions had been submitted in advance and were presented to the guests by Rotary's Eric Jyhla.
In his remarks before the opening prayer, Bill Soper described his father's teaching contract from 1933. The entire agreement fit on a half page. The date line year was pre-printed
190_
and the district used that form for over 30 years. "In the 80 years since then" said Bill "much has changed in education and perhaps prayer is in order".
Representing the schools were
Doug Newcombe, Superintendent, Bay City Public Schools
Deb Kadish, Interim Superintendent, Bay-Arenac ISD
John Mertz, Superintendent, Essexville-Hampton Public Schools
Mike Knoff, Administrator of Schools, Bay Area Catholic Schools

The first question was "what efforts do you make to collaborate on issues like education, solving problems, saving money and working with charter schools. John Mertz lead off the discussion. He and others agreed that the districts collaborate on many things that most people don't recognize. They also mentioned the school consolidation plans of the Michigan Department of Education, which include joint purchasing initiatives. The schools also participate in county wide training programs, curriculum support, transportation and partnerships.

Addressing the legislative front, Eric asked about the impact of Lansing as well as the current "Lame Duck" legislature. In response to that potentially broad topic Newcombe asked "what time does this meeting end?". There are certainly important issues. The panel appreciates the job of elected officials who may have the best of intentions, but there are differences between professional educators and state representatives who may not have the same background.

Regarding government Eric brought up a letter that Newcombe recently sent to all parents concerning current initiatives at the state level. At the request of Rotarians, and with Newcombe's permission, a PDF copy of that letter was distributed to the membership. The letter is available at www.mybaycity.com/upload/Newcombe-Letter-2012-11-30.pdf.

Other questions include how the districts work with homeless students, the issue of dropouts, the outward migration of graduates to other markets, and how our educational system stacks up in a global economy.

For additional information visit these web sites:
Bay Area Catholic Schools: www.bayareacatholicschools.org
Bay-Arenac ISD: www.baisd.net
Essexville-Hampton Schools: ehps.sharpschool.net
Bay City Public Schools: www.bcschools.net


---
CLUB NEWS and ANNOUNCEMENTS
Eric read the latest e-mail from Jency Schnettler, our ambassadorial scholar residing in Shanghai. In her report Jency mentioned that she's had to fend for herself. She commented that in America people want to help you. Over there you wait in line; there is little personal service. Asked about the holiday season she said it's basically non-existent. American companies like Starbucks, however, do have little Christmas sleeves over their cups.

Gena Gates noted that next week's program will be on the Rotary Foundation. She requested that all Paul Harris Fellows wear their pins and/or ribbons at the meeting.

Griff Acker announced that the date for Vocational Days has been set for March 12 and March 26. If you are available to let a student job shadow with you, please contact Griff.

In her monthly President's Auction, Kim Prime auctioned a plastic cutting board from Anne Trahan which featured a print of the tall ships docked in Bay City. The ships included the Bounty, which was sunk recently in Hurricane Sandy. The board brought $40 for the club's water project.

The club has learned that the glass picture in the historic kiosk at the planetarium, which was shattered for the second time this September, is to be replaced. The new glass is on order now.


---


SPECIAL FOOD The Doubletree wants all Rotarians to be aware that they will prepare special food items for those with dietary restrictions or requirements. Just ask one of the staff serving at the meeting.

Invoices for the first half of 2013 have been mailed. Please respond as soon as possible.

Remember to contribute to the clean water campaign and contest:

Put SILVER in OUR JUG --- PUT BILLS (and checks) in the MORNING JUG




---
DATES TO REMEMBER
Vocational Days, March 12 and March 26, 2012.

Rotary Concert April 11, 2013.


---
Upcoming Programs
(See the official schedule at RotaryBayCity.org )


Dec 11, 2012: Rotary Foundation.

Dec 18, 2012: Annual Holiday Sing Alone.

Jan 8, 2013: Legendary Rotarians of Bay City Ron Bloomfield will talk about Rotarians featured in his new book Legendary Locals of Bay City, which is available in the Museum Book Store.

Jan 15, 2013: General Assembly. Topic will be International Night plans for the future.



---

Current and past DISTRICT DISPATCH newsletters are available on the District site shown in the LINKS section below.







Rotary Bay City on Facebook!
Click on the Blue Facebook to visit us there.

Remember! Check attendance sheets at the front desk.
---
LINKS




0202 nd 03-20-2019