Rotary Hears Foundation Giving Update
December 11, 2012
By: Stephen Kent
Tuesday's program was an update on Club giving to the Rotary Foundation. Rotarians support the International foundation which underwrites numerous international causes. The emphasis and one of the largest efforts is the effort to eradicate Polio from the world. Today the stubborn disease is found in just a few eastern countries.
Gena Gates reviewed some of the grants, often multi-million, multi-year projects. RI also gives many matching grants. Our club and district participates in a number of these matching programs.
Bay City Rotarians took the lead in support of water projects in South America. Gena showed slides of home "bio-sand" filters as well as 275 gallon water harvesting barrels used to collect rain water and distribute to the homes. Our grant purchased 190 of these barrels, which was enough to support about 3,000 families. Large print on each barrel showed it was donated by Rotary Bay City, Michigan.
Gena also talked about sanitation projects. Before and after pictures of latrines illustrated the poor conditions before and how modern facilities improved the situation.
Rotarians travel, at their own expense, to work on projects in those countries. Funds contributed do not apply to those cost, instead going to the projects themselves.
Kathy Czerwinski followed Gena and gave some statistics about giving by the Bay City Club. Some 93 members have contributed to the foundation. All-time club giving is around $357,000. Among those giving, 68 members are Paul Harris Fellows, having given $1,000. Seven have contributed $10,000 or more. Six are members of the Bequest Society by including the foundation in their estate plans.
In 2012 the club gave a total of $13,149 for an average of $136 per Rotarian. The goal for clubs is $100 per Rotarian per year so we have exceeded that goal.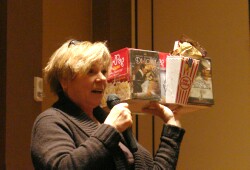 Kim's Auction for December
Each month President Kim draws the name of one Rotarian then holds an auction of "stuff from around her house". Proceeds go to the member's preferred cause.
This month Kim's stuff was a "genuine, unused (although I thought about it a few times) Whirley Pop popcorn popper." Included were TWO genuine plastic popcorn containers, a bag of Prime Time Popcorn, a box of Good-n-plenty, some butter toffee, and two unused movies. The auction was won by Wendy Dore for $60. Funds go in Cherri Burzynski's name to the Helen M. Nickless Volunteer Clinic.
---
CLUB NEWS and ANNOUNCEMENTS
The club board met this morning.
Tim Holsworth
reported that the Club Foundation has sufficient funds to complete the major project contributions and will have funds left over. The board voted to use a small part of those funds, plus money from the current budget to reinstate the
Thesaurus Project
and order the books.
Vocational Days
are scheduled for
March 12 and March 26
. The deadline for telling the committee that you will host students is January 15.
John Callahan
has volunteered to join the Vocational Days committee for next year. THANKS JOHN!
The
Club Foundation
will have an opening of one seat starting January 1. Anyone interested should see Tim Holsworth.
Club sympathy and prayers go to the family of former Rotarian
Margo Charlebois
, who passed away on December 7.
Birthday Tuesday will be held next week, Dec 18.
The club will not meet on Christmas day or New Years day, both of which fall on Tuesdays this year.
---
SPECIAL FOOD
The Doubletree wants all Rotarians to be aware that they will prepare special food items for those with dietary restrictions or requirements. Just ask one of the staff serving at the meeting.
Invoices
for the first half of 2013 have been mailed. Please respond as soon as possible.
Remember to contribute to the clean water campaign and contest:
Put SILVER in OUR JUG --- PUT BILLS (and checks) in the MORNING JUG
---
DATES TO REMEMBER
Vocational Days, March 12 and March 26, 2012.

Rotary Concert April 11, 2013.


---
Upcoming Programs
(See the official schedule at RotaryBayCity.org )
Dec 11, 2012: Rotary Foundation.
Dec 18, 2012: Annual Holiday Sing Alone.
Jan 8, 2013: Legendary Rotarians of Bay City
Ron Bloomfield will talk about Rotarians featured in his new book
Legendary Locals of Bay City
, which is available in the Museum Book Store.
Jan 15, 2013: General Assembly.
Topic will be International Night plans for the future.
---
Current and past
DISTRICT DISPATCH
newsletters are available on the District site shown in the LINKS section below.


Rotary Bay City on Facebook!
Click on the Blue Facebook to visit us there.

Remember! Check attendance sheets at the front desk.
---
LINKS