Annual Sing Along Program Celebrates Season
Morning Rotary and Optimists Are Guests
December 18, 2012
By: Stephen Kent
HAPPY HOLIDAYS!
Rotary held it's annual
Joint Meeting
and
Holiday Celebration
this past Tuesday. The Morning Rotary and the Optimists, as well as family members and guests joined the club for a festive lunch and program.
The next two meetings fall on Christmas and New Year's days.
Rotary will NOT meet on those two days.
We'll see everyone back in three weeks, January 8, 2013!
President Prime
commented on last week's tragic school shooting at Sandy Hook Elementary in Newtown, Conn and on the nine health care workers murdered in Pakistan last week by militants opposed polio vaccinations.
On a more positive note
she read from a letter by
Amanda Haag
, our exchange student to Germany (see
7/17/2012 Breezes
). Amanda said:
"Being an exchange student has taught me that I can take care of myself and do things that seem out of reach. It taught me that I can be friends with people around the world despite what seems to be an impossible barrier. I'm already dreading the day I have to leave, not knowing whether or if I'm ever going to see the great friends I've made. That means I have to make the most of the seven months I have left. A year ago I never would have thought that my life could be like this. I feel grateful for the opportunity to live abroad and I'm extremely excited to see what the rest of this year holds for me. One person at a time, one immunization at a time, we change the world."
With the last Tuesday of the month taken off, the club celebrated Birthday Tuesday today. Happy Birthday to all those Rotarians born in December. (Note that there is now a birthday page in the members section of the club web site.)
"I know You've probably been wondering when
Harry Farris
is going to auction something else off", said Kim, referring the Harry's recent auction of two, 1965 tickets to the Rotary Golden Anniversary dinner. Well, today Harry brought a program from the football game played September 25, 1948 at the dedication of Macklin Stadium, pitting Michigan State College against the University of Michigan. The winning bid brought $85 for the 25¢ program. Proceeds will go to the Rotary Water Project.
Sargent At Arms
Cindy Chadwick
the asked a Christmas related trivia question of every table. From "what was Frosty The Snowman's nose was made of" (a button nose), to "How many gifts would you receive if you take the song 'The 12 Days of Christmas' literally?" (364), most tables got it right!
For the seasonal
Music Program and Sing-Along
, past president
Rob Clark
introduced his father (
Bob Clark
) and mother (
Amber Clark
), both from Galesburg, Illinois. "It's really exciting for me to have my family here to do this Christmas Program. We used to do this... A LOT, before I moved to Michigan. Now we don't get to do it a lot and it's pretty special," said Rob. With Mom on keyboard and Dad on Flute (then clarinet, then sax), they sang seasonal songs.
As a special treat Amber took the mic to read a wonderful little Christmas story about Wallace (Wally) Purling and his part in the Christmas pageant in a certain little mid-western town. The full text of the touching story is found in a number of places on the Internet including
here
.
Rob then introduced his 95 year old grandfather
Cliff Nyman
from Menasha, Wisconsin. Cliff came to the stage and played keyboard for two more songs. The
YouTube video
of one of those songs is linked below.
Thanks the the Clarks, and to Ron Bloomfield who took care of the sound system, for a great Christmas program.
ROTARIANS... we'll see you on January 8, 2013!
Same time, same place.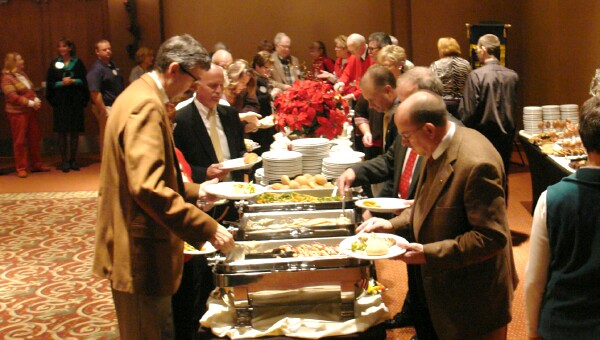 The extra large crowd enjoyed the Doubletree buffet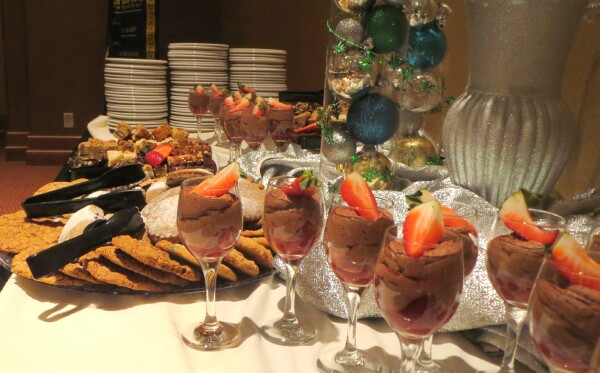 Scrumptious dessert table complimented the usual Birthday Tuesday cake provided by Nancy Greve.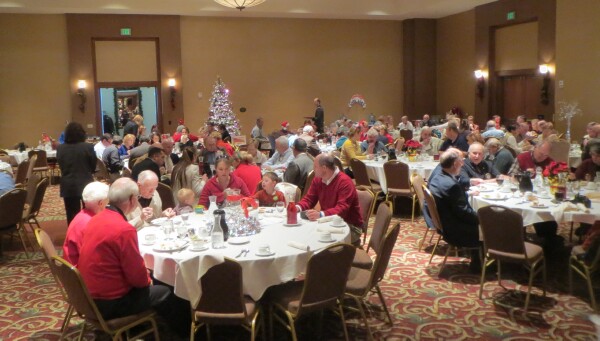 The Doubletree provided a double size room to accommodate the large crowd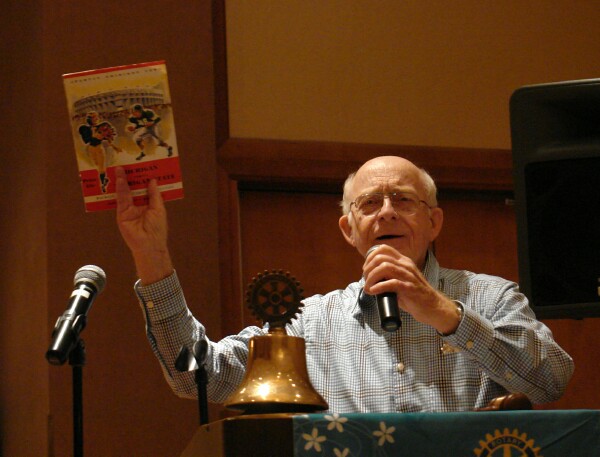 Harry Farris auctioned off a program from the first game played at the dedication of Macklin Stadium, September 25, 1948. Harry also welcomed the Optimists to the dinner and quipped: "You know, they say that the Rotarians own the town, the Kiwanians run the town, the Lions enjoy the town, and the Optimists keep hoping."

YouTube video of the Clarks performing "Don't Get Around Anymore"
Bob Clark on Clarinet, Rob Clark vocals, Cliff Nyman keyboard.
Rob's mother, Amber, and Rob's son are in the foreground.
---
CLUB NEWS and ANNOUNCEMENTS
Vocational Days
are scheduled for
March 12 and March 26
. The deadline for telling the committee that you will host students is January 15.
The
Club Foundation
will have an opening of one seat starting January 1. Anyone interested should see Tim Holsworth.
The club will not meet on Christmas day or New Years day, both of which fall on Tuesdays this year.
---
SPECIAL FOOD
The Doubletree wants all Rotarians to be aware that they will prepare special food items for those with dietary restrictions or requirements. Just ask one of the staff serving at the meeting.
Remember to contribute to the clean water campaign and contest:
Put SILVER in OUR JUG --- PUT BILLS (and checks) in the MORNING JUG
---
DATES TO REMEMBER
Vocational Days, March 12 and March 26, 2012.

Rotary Concert April 11, 2013.


---
Upcoming Programs
(See the official schedule at RotaryBayCity.org )
Jan 8, 2013: Legendary Rotarians of Bay City
Ron Bloomfield will talk about Rotarians featured in his new book
Legendary Locals of Bay City
, which is available in the Museum Book Store.
Jan 15, 2013: General Assembly.
Topic will be International Night plans for the future.
---
Current and past
DISTRICT DISPATCH
newsletters are available on the District site shown in the LINKS section below.


Rotary Bay City on Facebook!
Click on the Blue Facebook to visit us there.

Remember! Check attendance sheets at the front desk.
---
LINKS