Legendary Rotarians of Bay City
Bloomfield Relates Historical Individuals From Club's Early Years
January 8, 2013
By: Stephen Kent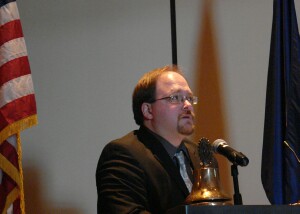 Ron Bloomfield
President-elect-elect,
Ron Bloomfield
spoke to the club about Legendary Rotarians of Bay City. Ron is the Director of Operations, Curator, and Chief Historian of the Bay County Historical Museum.
Ron drew material from his recently published book, Legendary Locals of Bay City. He also drew on minutes of the Rotary Club, which are archived at the Museum. Although the Club's records are not complete, it is clear that many of the important figures in Bay City history were also Rotarians.
Ron started with Leo Najar, meistro of the Bijou Orchestra, among other orchestras and groups. Leo, who we lost at age 58 in 2011, was larger than life in many ways. Going back in time, Leo was the most recent of many musical figures who were members of the club. Charles White of the Bay City Public Schools was known by many for his musical influence on the city.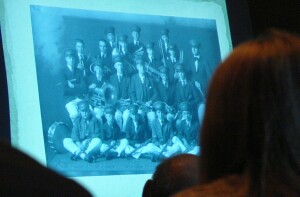 Charles White with one of his bands
The club's first president, Otto E. Soverign. Soverign was the marketing genius of the Aladdin Homes company, which he owned with his brother. Aladdin pioneered the catalog home business and operated until 1983.
Other notables played important parts in the early history of the Bay City Times, the Chamber of Commerce, ship building, American Hoist, and other businesses. Ron went on to mention notables such as Henry G. Rexer, Harry and Bill Defoe, Ron McGillvary. Living people of note included Peg and Paul Rowley, Don Carylon, Tom Hickner, and Eric Jylha and his parents.
(Please note that not all minutes are in the archives. Anyone who has copies of old minutes, or Breezes, are encouraged to contact Ron or Steve Kent.)
A full list of
Past Presidents
is on the club web site.
---
CLUB NEWS and ANNOUNCEMENTS
The board met this morning. Among the topics is the need for a third
host family
for our international
exchange student
. It was also noted that he broke a collarbone while skiing last week but is doing just fine.
President-elect Lee Newton will be going to PETS training March 14.
The Club will celebrate it's
100 year anniversary
during Ron Bloomfield's term as president (2014-15). He said that the club will form a committee to plan activities and programs for that year. Anyone wishing to server should see Ron.
Vocational Days
are scheduled for
March 12 and March 26
. The deadline for telling the committee that you will host students is January 15.
Chuck Cusick
announced that he had a handful of
extra dictionaries
. He said members could buy a copy for $5 each. They make good gifts for kids and grand kids because they have the Rotary Seal and Club's sticker inside. Any books that are left over will be donated to the literacy council.
The
Club Foundation
will have an opening of one seat starting January 1. Anyone interested should see Tim Holsworth.
There was a very good article in last week's
Time Magazine
about the effort to eradicate Polio. Rotary was prominently mentioned.
Congratulations to City Manager
Robert Bellman
on his new job in Saginaw. We appreciate his service to the city and to the club.
Congratulations to
Cheryl Burzynski
and
Barb Englehardt
who both received the
YWCA's
2013 Women of Achievement Award
. And to
Kim Prime
who received the
Lifetime Achievement Award
.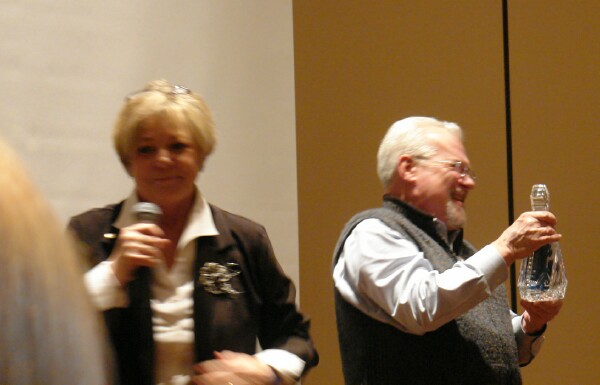 Some things are just too funny! President Prime auctions off "Kim's Krystal" and Eric just breaks up. The "Steuben like" piece (made in China), along with a bottle of fine liquor brought $70 for the Club's Water Project.
---
SPECIAL FOOD
The Doubletree wants all Rotarians to be aware that they will prepare special food items for those with dietary restrictions or requirements. Just ask one of the staff serving at the meeting.
Remember to contribute to the clean water campaign and contest:
Put SILVER in OUR JUG --- PUT BILLS (and checks) in the MORNING JUG
Check your Foundation giving status
on the
rotary.org
web site. To set up your own log-in there you need the club number (2830), district number (6310) and your RI number, which can be found on your Rotary magazine, your dues invoice, and in the club directory.
---
DATES TO REMEMBER
Vocational Days
, March 12 and March 26, 2012.
Rotary Concert
April 11, 2013.
---
Upcoming Programs
(See the official schedule at RotaryBayCity.org )
Jan 15, 2013: General Assembly.
Topic will be International Night, Major Projects, and other plans for the future. Is it time for a change?
Jan 22, 2013: SVSU 50th Anniversary
Dr. Jill Wetmore to speak.
Jan 29, 2013: Bay City Public Safety
Bay City Chief of Police Mike Cecchini to speak.
---
Current and past
DISTRICT DISPATCH
newsletters are available on the District site shown in the LINKS section below.


Rotary Bay City on Facebook!
Click on the Blue Facebook to visit us there.

Remember! Check attendance sheets at the front desk.
---
LINKS