Turkey Day at Rotary
Club recognizes Twin Club with slideshow and talk on Turkey
April 30, 2005
By: Stephen Kent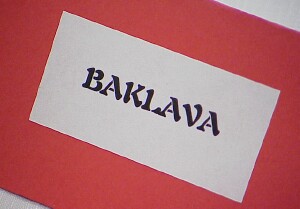 On Tuesday the 26th the Club had it's own form of Turkey Day honoring its Twin Club in Zekeriakoy, Turkey, a suburb of Istanbul. Holiday Inn chef Dave Hetzel, with assistance from club secretary (and retired librarian) Barb Fisher researched Turkish cuisine to prepare a menu of authentic food for the luncheon menu.
Rotarian Anita Bowden introduced speaker Nurten Ural from the Turkish / American Cultural Association in Detroit. Ms. Ural, an interior designer who has lived in the United Statessince she was three years old, travels to Turkey several times a year. She is the President Elect of the National Assembly of the Turkish / American Cultural Associations.
Turkey is a country with 10,000 years of history spanning 20 cultures and civilizations. It is a land of contrasts with mountains and beaches, ancient ruins in the middle of modern cities, traditional cultural life and modern society. Even the legend of Santa Clause is said to begin in the Turkish town of Demre, the home of St. Nicholas.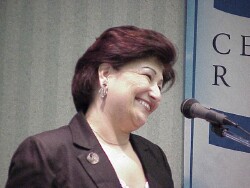 For a country that is 90% Muslim, Turkey is also the location of much of Christian history and home to many Christian historic sites. The term Christian was first used here. St. Paul traveled extensively in the country and St. Peter's Church, the first church, is in Antioch. Referred to as Asia Minor in the bible, Turkey is the "other holy land". It is the home of St. Paul, Timothy and Saul of Tarsus. The "House of the Virgin Mary", where she spent her final years, is a holy pilgrimage site recognized by the Catholic Church. The "Seven Churches of the Apocalypse" from Revelations are all located in Turkey
Ms. Ural presented a fascinating slide show about travel in Turkey. For travelers she noted that Turkey is like a mix of Hawaii, Europe and the Caribbean. The country, geographically in both Europe and Asia is one of the most popular vacation destinations for Europeans. Prices are very economical and English is widely understood.
French, Chinese and Turkish cuisine are considered the world's three great cuisines. Some recipes reach back to the kitchens of the Ottoman Sultans. Some dishes have familiar names like kebabs and baklava. The Rotary lunch included "domatesli bulgurlu pilic" (chicken with bulgur, tomatoes,peppers and tarragon), "Cacik" (cucumber salad with yogurt and mint sauce), "zeytinyagli fasulye" (white beans stewed withgarlic cloves and olive oil), and wonderful "baklava" for desert.
Other Club News
The Group Study Exchange team has arrived in the state. Make plans now for the farewell dinner to be held at the Doubletree on Thursday evening, May 19.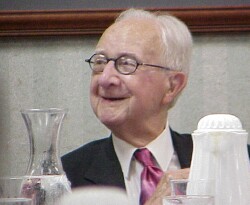 Kathy Czerwinski presented a Paul Harris Fellowship to Jeffrey Weenink. Wes Timm recived his level 6 plus Paul Harris pin which includes a ruby. This year the club has contributed $100 to the Rotary Foundation in the name of each new member as a "starter" on their way to a Paul Harris Fellowship.
On Saturday, April 30 club members who were not participating in the District Conference in Midland took part in the annual Rail Trail and River Walk cleanup sponsored by the Bay Area Community Foundation.
---
Upcoming Programs
May 3 --- Leo Najar - Bijou Orchestra
May 10 --- Gretchen Irish - Created for Caring
May 17 --- Japanese Group Study Exchange Team
May 24 --- Dave Rogers - Paul Bunyon Renaissance


June 7 -- Bay Regional Medical Center - Nation's Top 100 Hospitals
June 14 --- End of Life Issues - Keith Markstrom programmer
June 21 --- Cool Cities Advisory Committee
June 28 --- OldPresident Out - New President In
---
eClub-One
: Members with internet connections are encouraged to visit eClub-One monthly for a makeup. To get makeup credit you need to fill out the makeup form on that site. Print the acknowledgement for you receive and turn it in to receive credit. Be sure to enter our club's district number (
6310
) on that form.
Click this link to open eClubOne in a new window:
www.rotaryeclubone.org
.