Rotary Holds Club Assembly
January 15, 2013
By: Stephen Kent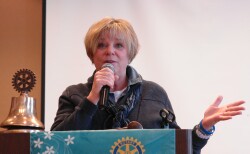 President Kim Prime
After a number of years, the board came to the conclusion that it's time to re-examine our major fund raiser,
International Night
. After an introduction by President Kim, the members were given printed guidelines and asked that each table discuss the issues and try to make some suggestions. At the end of the meeting each table was asked to report their conclusions to Gena Gates.
Following the meeting, a questionaire was distributed to all members by e-mail. Anyone who was not at the meeting, or anyone who had other ideas were asked to use the questionaire as a guide to report back to Gena Gates.
Gena's e-mail said:
This International Night Survey is provided for people who were not present at today's meeting (Jan 15, 2013) or who wish to add additional comments. This is an opportunity, not a requirement.

Thanks much! I'm looking forward to reading all of the comments from today's meeting!

Gena Gates

NOTE: This Survey is provided in 3 formats: DOC, DOCX and PDF.
You should be able to open one of them.
Please fill out and e-mail to Gena Gates gjgates@mac.com no later than January 19, 2013.

Links:

International Night Survey 01/15/2013 WORD 2003 (DOC) format

International Night Survey 01/15/2013 WORD 2007+ (DOCX) format

International Night Survey 01/15/2013 PDF file

Please fill out and e-mail to Gena Gates gjgates@mac.com no later than January 19, 2013.
---
CLUB NEWS and ANNOUNCEMENTS
President Kim read several letters from school kids who had received the dictionaries.
Members of the Rotary Club,
Thank you for the dictionary.
My favorite part of the book was that you made it in A-B-C order!
Kim said we'll certainly take credit for that innovation.
Brenda Scramlin
is coordinating the
Thesaurus Project
. The books have been delivered and she is working on scheduling deliveries. She has arranged to have high school students who need community service hours to label and organize the books for delivery.
The Club Foundation board will meet next Tuesday at 11:00, prior to regular meeting next. All members are welcome to attend this open meeting.
The Club will celebrate it's
100 year anniversary
during Ron Bloomfield's term as president (2014-15). He said that the club will form a committee to plan activities and programs for that year. Anyone wishing to server should see Ron.
Vocational Days
are scheduled for
March 12 and March 26
. The committee will be meeting with counselors on the 23rd. Rotarians are still needed to act as hosts.
Gena Gates reported that the club's RI Foundation goal for the year is $14,000. Near the half way point we are at 40%. Several new
Paul Harris Fellow's
were announced today:
Plus 1 level: Jim Roller and Steve Kent.
Plus 2 level: Rod Sundstrom,
First time PH: Robert Bellemann
---
SPECIAL FOOD
The Doubletree wants all Rotarians to be aware that they will prepare special food items for those with dietary restrictions or requirements. Just ask one of the staff serving at the meeting.
Jug Deadline - March 31
Contribute to the clean water campaign and contest
The President of the losing club sings at the Rotary Concert
Put SILVER in OUR JUG --- PUT BILLS (and checks) in the MORNING JUG
Check your Foundation giving status
on the
rotary.org
web site. To set up your own log-in there you need the club number (2830), district number (6310) and your RI number, which can be found on your Rotary magazine, your dues invoice, and in the club directory.
---
DATES TO REMEMBER
Vocational Days
, March 12 and March 26, 2012.
Rotary Concert
April 11, 2013.
---
Upcoming Programs
(See the official schedule at RotaryBayCity.org )
Jan 22, 2013: SVSU 50th Anniversary
Dr. Jill Wetmore to speak.
Jan 29, 2013: Bay City Public Safety
Bay City Chief of Police Mike Cecchini to speak.
---
Current and past
DISTRICT DISPATCH
newsletters are available on the District site shown in the LINKS section below.


Rotary Bay City on Facebook!
Click on the Blue Facebook to visit us there.

Remember! Check attendance sheets at the front desk.
---
LINKS