Rotarians Identify Dozens of Cultural Improvements in Bay City
Bijou Orchestra's Leo Najar Leads Cheers for Dynamic Tourism Developments
May 5, 2005
By: Dave Rogers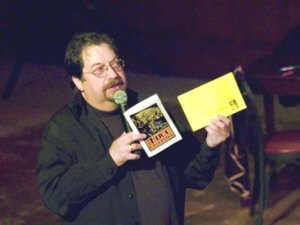 Leo Najar leads the cheers for cultural developments in Bay City. (Photo by Andrew Rogers)
THIS WEEK'S PROGRAM: Gretchen Irish, Created for Caring.
LAST WEEK'S PROGRAM: Bijou Orchestra, Maestro Leo Najar, artistic director.
UPCOMING EVENTS: Group Study Exchange meeting Tuesday, 11 a.m.; potluck for GSE May 17 at Mike Stoner's farm in Pinconning; June 6 golf outing.
NEW INTERNATIONAL MOTTO: "They Profit Most Who Serves Best."
NEW MEMBER TO BE INDUCTED: Maurice Hopgood.
Little more than two years ago the Bijou Orchestra was just an idea.
There was no Cool City concept, no Waterfall Park in planning stages, no Rotary historic heritage kiosks in micro-parks.
The Madison Avenue Masonic Temple's soaring presence was expected to disappear under the wrecker's ball.
Many people thought the new Central Library would never be built on Center Avenue at Jefferson Street.
Rock piles on the river seemed a permanent fixture.
---
--- Advertisements ---

---
All those things have changed in Bay City's last two years,and Leo Najar, for one, and the Rotary Club of Bay City, for many, are more than just excited about it.
Maestro Najar did a little group brainstorming session and members at each of about 10 tables at the Rotary meeting came up with 15-20 improvements, attractions, developments that will help accelerate the revitalization of the city, especially downtown.
Besides those mentioned already, other improvements include:
State Theatre renovation,
New gallery at the Bay County Historical Museum,
Planned renovation of the Pere Marquette Union Station Depot,
7th Michigan Cavalry Civil War Round Table,
Sister ship to the Princess Wenonah taking to the waves this season,
Bay City show at the Delta College Planetarium,
A&J Galleries,
Water Street Market and Antrim Place condominiums,
Interlude Magazine,
Renovated Sage Library,
Bay City Independents vintage baseball team ready to take the field May 2l,
Van Buren Street Dinner Theatre set to open,
Sidewalk art,
Sister ship to the Appledore,
Planned location here of the destroyer USS Edson, a former attraction at the New York City Air, Sea and Space Museum.
Winter activities are needed to fill out the year's offerings of activities, said Mr. Najar. "We're two hours from 5 million people and this should be an ultimate weekend destination," he added.
The Bijou has played to 11,000 people in 20 concerts over the past two years. The group has used a variety of venues, the State Theatre, Scottish Rite Masonic Center, Central High Auditorium, Wenonah Park and the DoubleTree Hotel - Bay City Riverfront.
The orchestra also has played Grand Rapids, Jackson and Sebewaing and plans more outreach to spread the message that Bay City is a center of culture.
Among local groups which have presented with the orchestra are Central High Varsity Choir and Resounding Harmony, Western High Concert Choir, Bay Chorale, Second Baptist Church Choir, St. Stanislaus Men's Chorus, Midland Men of Music and seven local singers and a magician.
Upcoming Programs at the Bay City Rotary Club:
May 10 --- Gretchen Irish - Created for Caring
May 17 --- Japanese Group Study Exchange Team
May 24 --- Dave Rogers - Paul Bunyan Renaissance
June 7 -- Bay Regional Medical Center - Nation's Top 100 Hospitals
June 14 --- End of Life Issues - Keith Markstrom programmer
June 21 --- Cool Cities Advisory Committee
June 28 --- Old President Out - New President In
---
RotaryBayCity.org Rotary Club of Bay City Web Site
eClub-One
: Members with internet connections are encouragedto visit eClub-One monthly for a makeup. To get makeup credit you need to fill out the makeup form on that site. Print the acknowledgement for you receive and turn it in to receive credit. Be sure to enter our club's district number (
6310
) on that form.
Click this link to open eClubOne in a new window:
www.rotaryeclubone.org
.
The Bay City Rotary Club meets at Noon each Tuesday at the Lumber Barons resturant on the West Side.
Rotary Club of Bay City Web Site
District 6310 meeting schedule