SVSU GRAD MOVES UP: Lt. Jimmie D. Baber Named Mott Corrections Instructor
January 25, 2013
By: Dave Rogers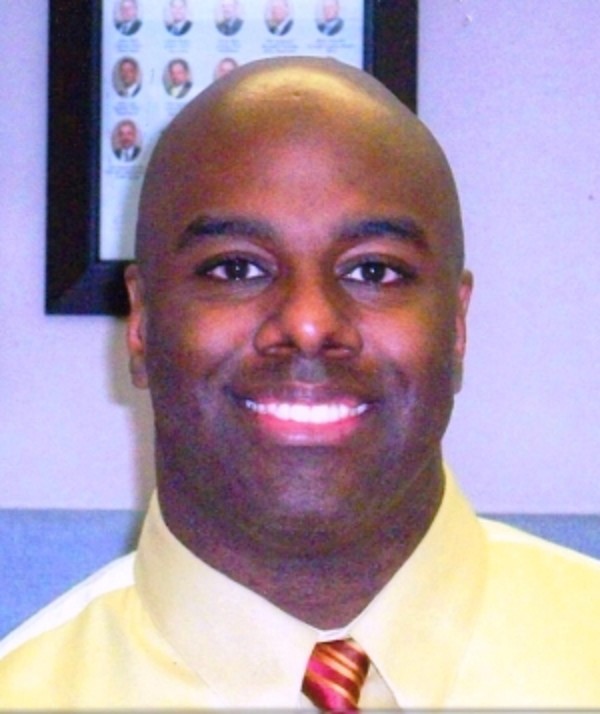 Jimmie D. Baber, now instructor in Corrections at Mott Community College, Flint.
Police chief or professor?
Bay City native Jimmie D. Baber, one of the most versatile local athletes ever, decided after a decade in police work to take the academic route.
This fall the 40-year-old lieutenant at the Davison Township Police Department began a new career as a criminal justice instructor at Mott Community College, Flint.
Baber has done it all in athletics, starting with tennis tournaments as a youngster, Central High football and track and GLIAC conference champion in shot put at Saginaw Valley State University.
He was first to compete in both shot put and sprints at SVSU. He also was two time Saginaw Valley League champion in shot put and twice member of the Bay County 4x100 meter relay champion team at Central.
In his spare time he became a national champion in judo and karate and has black belts in judo and hapkido.
He also rose from part-time police officer at Saginaw Valley State University to lieutenant on the Davison Township police force, where he served more than 10 years while continuing higher education.
"I'm leaving for a lot of personal reasons," Baber told the Davison Index last fall. "More time with my family. This job is a great job, but it's a lot of long hours. It's what's required by the job."
The college classroom had somewhat more appeal than his other choice -- becoming a police chief, although that is still an option, he said.
As a member of the Davison Township Police Department, Baber served as a patrol officer, a police liaison officer at Davison High School and was promoted to lieutenant in 2009.
At Davison he was an officer six years, sergeant a year and lieutenant four years.
Baber worked previously as detention youth care specialist at the Saginaw County Juvenile Home, school service worker for Bay City schools adult and alternative education, and as part-time police officer on the Saginaw Valley State University (SVSU) Police Department.
He also was a probation-parole officer for the Michigan Department of Corrections in Grand Rapids and Saginaw County.
Lt. Baber was a member of the Bay County Boys and Girls Club Board of Directors for several years and was an adjunct professor at Ferris State University.
He is a 1991 graduate of Bay City Central School, has a bachelor's degree in criminal justice from SVSU, a master's degree in criminal justice from Ferris State University and was graduated from the School of Police Staff & Command at Michigan State University.
Police work has its interesting moments, but teaching, he said, will also be exciting work as Baber said he wants to help mold and guide a new generation of law enforcement officers, teaching them the latest techniques and procedures.
"I'll be teaching people to come in and do it right," said Baber. "Law enforcement officers are under a lot more scrutiny today. It's more than just putting on a gun and a badge."
Davison Township Police Chief Rick Freeman told the newspaper he is sorry to see Baber leave, but he is extremely happy for him.
"I've discussed with him his reasons and I wish him nothing but success," said Freeman. "We're losing one heck of an officer."
Baber said Mott graduates serve throughout Genesee County, and called the Mott law enforcement program one of the best in the state. He and Freeman said they are certain they will work together again, possibly through joint efforts of the law enforcement program and the township police department.
"You have to stay involved in law enforcement," said Baber. "Crime changes and technology with it, nothing stays the same. (Law enforcement has) to evolve with it."
###