Gilbertson Presents SVSU 50th Anniversary Talk to Rotary
January 22, 2013
By: Stephen Kent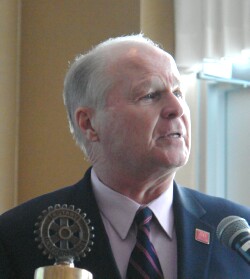 Eric R. Gilbertson
Eric Gilbertson
,President of
Saginaw Valley State University
(SVSU) spoke to Rotary on the occasion of the University's 50th anniversary. SVSU was founded in 1963 following Delta College, which was founded in 1957. SVSU is the most recent of Michigan's 15 state schools. Gilbertson became President in August, 1989.
SVSU's first class consisted of 119 students who met in the basement of
Delta College
. The university has grown steadily and today boast almost 11,000 students. Gilbertson said this is the target size and he feels that the University will stay around this level.
The majority of SVSU's students come from the east-central section of the state. About 40% come from the tri-county, 22% from the 13 counties around that core, and 21% from the Detroit metro area. Of the remaining students, 9.4% come from Michigan, half of one percent are from out of state, and 5.9% are international students.
There are about 620 international students who represent some 29 countries. The majority of students are from China or Saudi Arabia.
About 2,700 students live on campus, which has resulted in much construction of campus housing.
Along with traditional course work, the university provides numerous opportunities for students, include special programs for high-achieving students. A recent example was that of a group of students who designed, funded, and partnered with local companies to invent a prototype "muck cleaning" machine for use on the Saginaw Bay.
In response to a question, Gilbertson said that SVSU has elected to not offer a doctoral degree. A number of Michigan schools do that now and that number may be too high. SVSU will continue to offer the highest level in its current degrees.
Gilbertson also commented on various degrees and their prospects for employment. He noted that teaching does not keep our professionals. "If they want go to Texas, perhaps teaching is a good choice". Engineering, however, is a good choice.
Other areas of interest included international study, which is a growing offering. Students also have opportunities to learn in the field with local hospitals, businesses, laboratories, and schools. Gilbertson talked about offerings in the arts including the Rhea Miller Concerts and the Marshall Fredericks Sculpture Museum. Of course sports is an important part of any such institution.
SVSU represents about $170.5 million in the local economy. 60% of that revenue comes from outside the tri-county area. On the other hand, 63% of those funds are spent within the area. This results in a very positive impact on the local area.
For more information visit
www.svsu.edu
.
---
CLUB NEWS and ANNOUNCEMENTS
President Kim, reporting on last week's discussion of
major projects
and
fund raising
, said there will be a
special meeting
for interested members at 11:00 next Tuesday to continue the discussion. She noted that the recent survey by the Administrative Work-group found that over half the responders said we should keep International Night.
Brenda Scramlin
, coordinator for the
Thesaurus Project
, continued to ask for volunteers to deliver books to schools. If you have an interest be sure to talk to Brenda.
The Club Foundation board will meet next Tuesday at 11:00, prior to regular meeting next. All members are welcome to attend this open meeting.
The Club will celebrate it's
100 year anniversary
during Ron Bloomfield's term as president (2014-15). He said that the club will form a committee to plan activities and programs for that year. Anyone wishing to server should see Ron.
Vocational Days
are scheduled for
March 12 and March 26
. The committee will have met with school counselors by the time you read this.
Tim Holsworth
, reported that the
Club's foundation
, raised $35,281 for the year from International Night, the Golf Outing, and the Rotary Concert. The foundation balance is about $41,000. After paying $20,000 to the YMCA about $20,000 will remain, with only a few expenses outstanding. The Foundation board anticipates presenting giant checks to recent recipients to publicise Rotary's gifts to the community.
Ron Bloomfield
continues to invite members to serve on the
Club's 100th Birthday Committee
.
President Kim reminded the club to make donations to the water project jugs.
Mac Quinn, Morning club president, insists that his club will win the contest
and Kim will have to sing at the concert.
Kim strongly disagrees!

Jug Deadline - March 31
Contribute to the clean water campaign and contest.
The President of the losing club sings at the Rotary Concert.
Put SILVER in OUR JUG --- PUT BILLS (and checks) in the MORNING JUG
Dee Dee
has tickets for Lansing's Wharton Center production of Sister Act on February 17. She also has tickets to the Whiting Auditorium's presentation of "Rock of Ages" on Feb 21 in Flint. Proceeds from each will go to the Club's Water Project.
Dave Rogers
announced that Consumers Power cut down 17 trees on his property. Cutting was without charge. His problem is that he has lots of logs. Anyone wanting firewood is welcomed to this wood.
Bob Rogers
will be heading for the isle of Aruba. Anyone who happens to find themselves down there should let him know. He'll pick up up at the boat and show you the sights! Eric reminded the membership that we have a policy of meeting off site twice a year. Perhaps this would be an opportunity!
Sgt. At Arms
Eric Jylha
noted that this day in
1880
saw the first international phone call between Detroit and Windsor. In
1813
Michigan's bloodiest battle was fought around Monroe in the War of 1812. In
1976
the Zilwaukee grain elevator exploded.
---
SPECIAL FOOD
The Doubletree wants all Rotarians to be aware that they will prepare special food items for those with dietary restrictions or requirements. Just ask one of the staff serving at the meeting.
Check your Foundation giving status
on the
rotary.org
web site. To set up your own log-in there you need the club number (2830), district number (6310) and your RI number, which can be found on your Rotary magazine, your dues invoice, and in the club directory.
---
DATES TO REMEMBER
Major Projects Meeting
, 11:00am Tuesday Jan 29 (before the regular meeting)
All members invited!
Vocational Days
, March 12 and March 26, 2012.
Rotary Concert
April 11, 2013.
Upcoming Programs
(See the official schedule at RotaryBayCity.org )
Jan 29, 2013: Bay City Public Safety
Bay City Chief of Police Mike Cecchini to speak.
Feb 5, 2013: Central Michigan University Medical School
Feb 12, 2013: Chocolate!
presented by Anne Kukla
Feb 19, 2013: Bay City Public Schools Co-Op Program
presented by Ed Clements
Feb 25, 2013: Michigan Archeology
presented by "Paleo-Joe" Kchodl.
March 5, 2013: New Edge Training
presented by Dennis Beson
---
Current and past
DISTRICT DISPATCH
newsletters are available on the District site shown in the LINKS section below.


Rotary Bay City on Facebook!
Click on the Blue Facebook to visit us there.

Remember! Check attendance sheets at the front desk.
---
LINKS