Police Chief Michael Cecchini Speaks About Public Safety Officers
Bay City Moving to Cross Trained Police and Fire Departments
January 29, 2013
By: Stephen Kent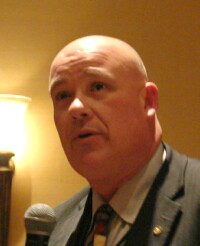 Chief Michael Cecchini
Chief Michael Cecchini, a member of the Morning Rotary Club, joined the Police Chief of the Bay City Police Department in December 2006. He's the tenth Chief since the Department was started in 1877. Prior to coming to Bay City, Cecchini had spent 20 years in the Phoenix Arizona Police Department.
Cecchini talked to Rotary about the City's recent change to a consolidated public safety department employing firefighters, police officers and cross trained public safety officers.
The concept of a single department actually started in Michigan when Grosse Pointe Shores combined their services into a single department in 1911. Today there are 53 such departments in the state.
Transition to this format is both practical and effective. It is also essential. Costs of these services ran a $1.2 million deficit in FY 2010 and will reach $2 million this year. The Police Dept. staff has been reduced from 88 in 2001 to 56 today.
Cecchini explained that police officers would carry special fire kits in their cars. They would make the first response to most fires where they would assess the situation and either respond or call for additional help. Citing statistics the Chief showed that this would be an appropriate response to most calls.
Responding to a question the Chief said that currently a call for medical help will result in a fire engine, a McLaren ambulance and another from MMR. This policy would need to be addressed by the city commission if change is appropriate.
For more information visit
www.baycitymi.org/departments/police-department
.
---
CLUB NEWS and ANNOUNCEMENTS
Gena Gates presented a
Paul Harris Plus 1
award to
Nancy Greve
. She then presented a
PLUS EIGHT to Nancy Cusick
. The club and Rotary expresses their appreciation for the support by these two individuals!
Following the recent survey and club assembly concerning
International Night
and
Fund Raising
, a number of members gathered an hour before the regular meeting today to continue the discussion. The results of the survey itself are available in PDF form on the download page of the member's section of the Club web site.
A result of these discussions was to change the policy of the President Elect chairing the committee. It was decided that the committee will run in rotating two or three year terms. President Kim also called for a volunteer to chair the International Night committee.
Members are reminded that the
District Conference
will be in Alpena this year. As a special treat, the
District Governor will be taking a little dip in the lake
. "Yeah, it's gonna be cold", said President Kim. More information to come.
Noting the pattern of calling auction items "
Kim's K...
" items, President Kim announced that a special drawing will be held at the concert for anyone wearing a blue water bracelet. (She wants to sell those things). The price will be a "
Kim's Ca...
" You have to guess what, but it will be really great. Buy those bracelets!
Brenda Scramlin
, reported that the
Thesaurus Delivery
, list is filled up.
Lee Newton
reported on plans for the
Rotary Concert
. The club will be selling program ads as well as tickets.
Bob Chadwick
announced that the
GSE team
from
South Korea
will be here April 5 to 10. They will present the program on April 9.
John Callahan
said that 150 slots have been filled for
Vocational Days
, which are coming up on March 12 and 26.
The Club will celebrate it's
100 year anniversary
during Ron Bloomfield's term as president (2014-15). He said that the club will form a committee to plan activities and programs for that year. Anyone wishing to server should see Ron.
Jug Deadline - March 31
Contribute to the clean water campaign and contest.
The President of the losing club sings at the Rotary Concert.
Put SILVER in OUR JUG --- PUT BILLS (and checks) in the MORNING JUG
---
SPECIAL FOOD
The Doubletree wants all Rotarians to be aware that they will prepare special food items for those with dietary restrictions or requirements. Just ask one of the staff serving at the meeting.
Check your Foundation giving status
on the
rotary.org
web site. To set up your own log-in there you need the club number (2830), district number (6310) and your RI number, which can be found on your Rotary magazine, your dues invoice, and in the club directory.
---
DATES TO REMEMBER
Vocational Days
, March 12 and March 26, 2012.
Rotary Concert
April 11, 2013.
Upcoming Programs
(See the official schedule at RotaryBayCity.org )
Feb 5, 2013: Central Michigan University Medical School
Feb 12, 2013: Chocolate!
presented by Anne Kukla
Feb 19, 2013: Bay City Public Schools Co-Op Program
presented by Ed Clements
Feb 25, 2013: Michigan Archeology
presented by "Paleo-Joe" Kchodl.
March 5, 2013: New Edge Training
presented by Dennis Beson
---
Current and past
DISTRICT DISPATCH
newsletters are available on the District site shown in the LINKS section below.


Rotary Bay City on Facebook!
Click on the Blue Facebook to visit us there.

Remember! Check attendance sheets at the front desk.
---
LINKS