Dr. Yoder Updates Rotary On CMU Medical School
February 5, 2013
By: Stephen Kent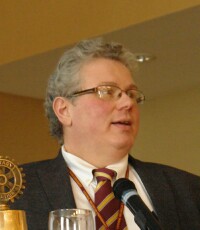 Dr. Ernie Yoder
Ernie Yoder
, MD, PhD, MACP and Founding Dean of the
CMU College of Medicine
, brings impressive credentials to the job. He was previously VP of Medical Education at St. Johns Health System and Clinical Professor of Medicine at Wayne State School of Medicine. He boasts many awards and has wide experience in both medicine and education.
The CMU College of Medicine is ready to launch. All approvals are in place. The organization has been accredited for the next 5 years, and the first class of 64 students should start in the Summer of 2013. The following classes are planned for 100 students each.
The college will focus on generalist practice. This include such initials as FM, IM, Peds, GS, Ob/Gyn, Psych, and EM taught in a patient-centered curriculum, new residency programs and partnerships with other schools and hospitals.
The CMU medical school adds one more to the four already in the state. This helps address the shortage of physicians. Currently between 1,800 and 2,000, that gap is expected to grow to 4,000+ by 2020.
Yoder cited numerous facts from recruitment and retention of physicians in rural areas to the type of physicians who will come to the area then stay.
Challenges include the accelerating pace of scientific discovers, calls for public accountability, the economy, rising health care costs, shortfalls, and the rising burden of chronic illness and disability with an aging population.
He talked about CMU's plan for improving medical education by developing teaching and mentoring skills. "Lecturing does not facilitate learning...", teachers must prepare students to work as team members.
Yoder discussed the economic impact of the school. Nationally every dollar spent by a medical school can generate $1.30 in indirect revenue. Schools draw new business to a region and have a substantial economic and social impacts.
The schools will be adding buildings at St. Mary's of Michigan and Covenant Hospital. Combined, the buildings will approach 130,000 sq feet. Ground should be broken in 2013 for completion in 2015.
---
CLUB NEWS and ANNOUNCEMENTS
President
Kim Prime
noted that the club expects to see a good uptick in members over the next month. Between six and seven are in line to be inducted.
The
Frankenmuth
morning club has planned a wine tasting event on Valentine's day. Their web site is
www.frankenmuthrotary.org
.
Rotary's goal is to give
dictionaries
to every 3rd grade student in the US. 2,010,771 dictionaries have been distributed this school year. The Bay City club is responsible for 16,469 dictionaries.
Kim again promoted her
clean water bracelets
, selling for $5 each. Buy a bracelet and wear it to the Rotary Concert to be entered into a drawing for
"something very, very, very, very... you'll want it
". Kim also said that Diane, the head of our wait staff, told her that "those money jugs are getting heavy!". Keep putting your coins and bills in to insure that Mac Quinn will sing at the concert.
Tim Holsworth
announced that the
golf outing
will be Monday, June 24th this year. Mark your calendars.
Brenda Scramlin
said that students came in to label all of the Thesauruses for fourth graders. One of those students had been a recipient when he was in the fourth grade and he still has his copy.
Members are reminded that the
District Conference
will be in Alpena this year. As a special treat, the
District Governor will be taking a little dip in the lake
. "Yeah, it's gonna be cold", said President Kim. More information to come.
The Club will celebrate it's
100 year anniversary
during Ron Bloomfield's term as president (2014-15). He said that the club will form a committee to plan activities and programs for that year. Anyone wishing to server should see Ron.
Jug Deadline - March 31
Contribute to the clean water campaign and contest.
The President of the losing club sings at the Rotary Concert.
Put SILVER in OUR JUG --- PUT BILLS (and checks) in the MORNING JUG
---
SPECIAL FOOD
The Doubletree wants all Rotarians to be aware that they will prepare special food items for those with dietary restrictions or requirements. Just ask one of the staff serving at the meeting.
Check your Foundation giving status
on the
rotary.org
web site. To set up your own log-in there you need the club number (2830), district number (6310) and your RI number, which can be found on your Rotary magazine, your dues invoice, and in the club directory.
---
DATES TO REMEMBER
Vocational Days
, March 12 and March 26, 2012.
Rotary Concert
April 11, 2013.
Annual Golf Outing
June 24, 2013.
Upcoming Programs
(See the official schedule at RotaryBayCity.org )
Feb 12, 2013: Chocolate!
presented by Anne Kukla
Feb 19, 2013: Bay City Public Schools Co-Op Program
presented by Ed Clements
Feb 25, 2013: Michigan Archeology
presented by "Paleo-Joe" Kchodl.
March 5, 2013: New Edge Training
presented by Dennis Beson
---
Current and past
DISTRICT DISPATCH
newsletters are available on the District site shown in the LINKS section below.


Rotary Bay City on Facebook!
Click on the Blue Facebook to visit us there.

Remember! Check attendance sheets at the front desk.
---
LINKS