CHOCOLATE - Need We Say More?
Anne Kukla Gives Rotary The History And The Lore
February 12, 2013
By: Stephen Kent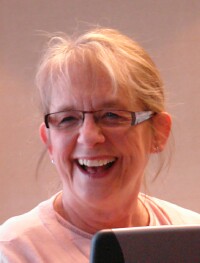 Anne Kukla
Chocolate is good for your heart! What more do you need to know? As it turns out there's a lot.
Anne Kukla
took the opportunity Tuesday to give Rotarians some of those facts. (She had samples too!)
The question of the day was where the name Baby Ruth came from. Most people thought the legend was right and the candy bar was named for Babe Ruth, the baseball player. Kukla says that may be possible but that the official story was that it was named for Grover Cleveland's daughter. But that may have been to avoid a law suit. Cleveland had been out of office for 30 years and his daughter had been dead for 17 years when the bar was named.
Chocolate comes from the seeds of the Theobroma cacao tree, which grows only in tropical countries. One tree can grow about 2,000 pods a year and each pod holds 30 to 40 seeds. Those seeds, which are very bitter, are harvested, fermented, dried then processed.
Chocolate use dates back to Mayan use from at least 500 AD. It was historically used in bitter drinks, which still occurs in many growing regions.
Many American candy brands have been around for over 50 years. Early used were in medicine where chocolate was thought to remedy almost everything including skin eruptions, liver disease, insomnia, constipation, hangovers, anemia and asthma.
Chocolate was a staple in WWI soldier's rations and the use continues to this day. Hershey made heat-resistant "Desert Bars" for troops in the Gulf War.
Kukla had many more interesting facts and myths about the popular treat. It was noted that there were no left over samples on the tables after the meeting.
---
CLUB NEWS and ANNOUNCEMENTS
The
Club Board
met today. Among other business was the approval of
six new members
. The names were read to the membership and induction will occur soon.
Members are reminded of the
district conference
coming up April 19 and 20 in Alpena. The club will pay half of the registration fee for members who request it. Visit the district web site and sign up.
www.rotary6310.org
The
District Governor is scheduled to take a little dip in the lake
. It'll be cold and well worth the cost of admission!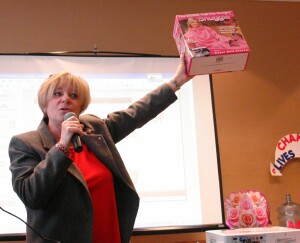 Snuggie and Paper Roses
President
Kim Prime
held her monthly auction today. Since it's Valentine's Day she presented a bouquet of paper roses guaranteed to last. She also had an unopened box of chocolate and a genuine Snuggie. The auction was won by Bob Chadwick who said it got him off the hook since Cindy told him not to get flowers since they just die.
Kim again promoted her
clean water bracelets
, selling for $5 each. Buy a bracelet and wear it to the Rotary Concert to be entered into a drawing for
"a very special prize!"
Barb Englehardt announced that she asked her partner for any change he might have and he gave her a bunch. She said "Just ask! You may get more than you expect."
The club needs a chair for
International Night
. There will be plenty of help. Someone needs to step up.
Tim Holsworth
announced that the
golf outing
will be Monday, June 24th this year. Mark your calendars.
Andrea Hales
still needs one more family for our
exchange student
. If you can help please contact her.
Bob Chadwick says he needs hosts for the GSE team soon.
Brenda Scramlin
said that the Thesauruses are in her office and ready for delivery.
The Club will celebrate it's
100 year anniversary
during Ron Bloomfield's term as president (2014-15). He said that the club will form a committee to plan activities and programs for that year. Anyone wishing to server should see Ron.
Kathy Czerwinski presented a Paul Harris Plus 8 to Andreas Teich. Congratulations and thanks to Andreas for this contribution to the Rotary Foundation.
Jug Deadline - March 31
Contribute to the clean water campaign and contest.
The President of the losing club sings at the Rotary Concert.
Put SILVER in OUR JUG --- PUT BILLS (and checks) in the MORNING JUG
---
SPECIAL FOOD
The Doubletree wants all Rotarians to be aware that they will prepare special food items for those with dietary restrictions or requirements. Just ask one of the staff serving at the meeting.
Check your Foundation giving status
on the
rotary.org
web site. To set up your own log-in there you need the club number (2830), district number (6310) and your RI number, which can be found on your Rotary magazine, your dues invoice, and in the club directory.
---
DATES TO REMEMBER
Vocational Days
, March 12 and March 26, 2012.
Rotary Concert
April 11, 2013.
Annual Golf Outing
June 24, 2013.
Upcoming Programs
(See the official schedule at RotaryBayCity.org )
Feb 19, 2013: Bay City Public Schools Co-Op Program
presented by Ed Clements
Feb 25, 2013: Michigan Archeology
presented by "Paleo-Joe" Kchodl.
March 5, 2013: New Edge Training
presented by Dennis Beson
---
Current and past
DISTRICT DISPATCH
newsletters are available on the District site shown in the LINKS section below.


Rotary Bay City on Facebook!
Click on the Blue Facebook to visit us there.

Remember! Check attendance sheets at the front desk.
---
LINKS