Bay City Public Schools Co-Op Program
February 19, 2013
By: Stephen Kent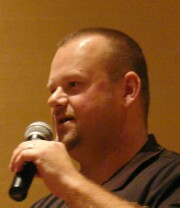 Ed Clements
Ed Clements, Coordinator of Bay City Public Schools Cooperative Education, and a member of this club, spoke to Rotary about the Co-op program and how it works.
A Co-op is a program to provide supervised work as a learning experience. It's a partnership between business, the school and the student. As a laboratory for on-the-job instruction, co-op programs help students develop occupational competence that become work skills.
Bay City Public School's co-op program started 1944. Since then the system has partnered with over a thousand employers and more than 15,000 students have benefited. Today there are 150 students in the program.
There are several requirements for a student to join the Co-Op program. First, there must be time in the student's schedule. Required courses take priority. Some jobs require minimum grade point averages and there are attendance and discipline rules.
Students apply for jobs in the program. The coordinator finds the openings and advertises openings in the schools. Students apply for those as they would for most jobs. There are resumes, transcripts and interviews. Eventually the student is hired.
Generally a student works about ten hours a week. They are paid minimum wages. They get school credit and receive a letter grade. Students get the opportunity to see if the job is what they want. Some come back to the same more than once, some are eventually hired as full time employees.
Employers have rules as well. Safety is a primary consideration. Students receive safety training and some jobs are actually off limits.
Rotarians who might have Co-Op positions should contact Ed, who works at both Central and Western High Schools.
---
CLUB NEWS and ANNOUNCEMENTS
Members are reminded of the
district conference
coming up April 19 and 20 in Alpena. The club will pay half of the registration fee for members who request it. Visit the district web site and sign up.
www.rotary6310.org
Be sure to buy your
clean water bracelets
, selling for $5 each, before the Rotary Concert. Those who wear a bracelet to the Rotary Concert will be entered into a drawing for a very special prize! "I spent a lot on that prize and everyone will want it" said President Kim.
The club needs a chair for
International Night
. There will be plenty of help. Someone needs to step up.
Brenda Rowley
announced that
Jeffrey and Jeanne Weenink
have agreed to be the third host family for our exchange student.
Bob Chadwick says he needs hosts for the GSE team soon.
Brenda Scramlin
said that the Thesauruses are in her office and ready for delivery.
The Club will celebrate it's
100 year anniversary
during Ron Bloomfield's term as president (2014-15). Anyone wishing to serve on the planning committee should see Ron.
Jug Deadline - March 31
Contribute to the clean water campaign and contest.
The President of the losing club sings at the Rotary Concert.
Put SILVER in OUR JUG --- PUT BILLS (and checks) in the MORNING JUG
---
SPECIAL FOOD
The Doubletree wants all Rotarians to be aware that they will prepare special food items for those with dietary restrictions or requirements. Just ask one of the staff serving at the meeting.
Check your Foundation giving status
on the
rotary.org
web site. To set up your own log-in there you need the club number (2830), district number (6310) and your RI number, which can be found on your Rotary magazine, your dues invoice, and in the club directory.
---
DATES TO REMEMBER
Vocational Days
, March 12 and March 26, 2012.
Rotary Concert
April 11, 2013.
Annual Golf Outing
June 24, 2013.
Upcoming Programs
(See the official schedule at RotaryBayCity.org )
Feb 25, 2013: Michigan Archeology
presented by "Paleo-Joe" Kchodl.
March 5, 2013: New Edge Training
presented by Dennis Beson
---
Current and past
DISTRICT DISPATCH
newsletters are available on the District site shown in the LINKS section below.


Rotary Bay City on Facebook!
Click on the Blue Facebook to visit us there.

Remember! Check attendance sheets at the front desk.
---
LINKS