"Paleo-Joe" Kchodl Talks To Rotary About Archeology
Josh Hales Talks About Year As Exchange Student In Mexico
February 26, 2013
By: Stephen Kent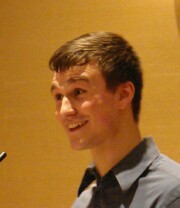 Josh Hales
The club welcomed
Josh Hales
who spent last year in Zacatecas, in Central Mexico as a Rotary Outbound Exchange Student. Josh, son of Rotarian Andrea Hales, spoke today because he's on spring break from U of M where he's majoring in biology. Describing his stay he mentioned the food and commented that he gained 25 pounds while there; he liked the food. He showed a few slides of the area he was in and described some of his experiences.
There were 90 exchange students in the Rotary District, which covered about a 1,400 mile stretch; the largest district in Mexico. The group got together for various events and excursions.
Josh said "being away from my family and friends gave me a deep appreciation for what you have. Until you go on an exchange for a year you really don't know what you have." Commenting on his Spanish speaking abilities, he noted that in his current part time job at the Children's Hospital of Detroit he's found himself acting as interpreter more than once.
---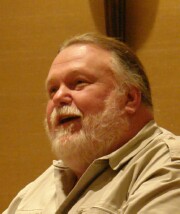 "Paleo-Joe" Kchodl
"Paleo-Joe" Kchodl
also spoke to the club. Joe is just wrapping up an extended exhibition at the Bay County Historical Society's museum just down the street. The traveling exhibit will be moving on to other museums in Michigan and surrounding states.
Joe gave a brief description of the paleographic history of Michigan. He noted that we have no dinosaurs because of most of those fossils were scrapped away by the glaciers which are responsible for what Michigan and the Great Lakes are today. He did note that we have the fossils of a number of more recent extinct species like woolly mammoths.
Michigan's main claim to paleographic fame is it's wealth of fossils shells and plants. Millions of years ago the area was a tropical sea. Plate tectonics have cause the state to drift north and the glaciers reshaped the land.
Kchodl is the author of a well respected children's book series and was pleased to note that the series is going to be made into a movie. He noted that he had to audition for the part of himself and was pleased to say he got the role. "There's apparently only one Paleo-Joe and it's me". Joe also does radio and TV appearances and hosts his own podcast.
Joe noted that the Museum is sponsoring a fossil digging bus trip to Alpena on May 4. "You're guaranteed to find all the ancient coral and sea shell fossils you want on that trip", he said.
For more information visit
www.paleojoe.com
---
CLUB NEWS and ANNOUNCEMENTS
The club welcomed four new members on Tuesday.
Nikki Burgeson
, a Senior Manager with Rehmann in Saginaw;
Diane Hurley
, Interim Superintendent of Bangor Schools;
Lynne Moore
, HR Director Bangor Schools;
Cathy Schell
, well known community volunteer in Bay City. Welcome to all of these new members.
Members are reminded of the
district conference
coming up April 19 and 20 in Alpena. The club will pay half of the registration fee for members who request it. Visit the district web site and sign up.
www.rotary6310.org
Rob Clark made note of the upcoming Rotary Concert coming up April 11. Andrea is selling ads and tickets are available. Tickets are only $10 and patron sponsor tickets are $20. The concert lineup gets better every week so don't miss it.
Also be sure to buy your
clean water bracelets
, selling for $5 each, before the Concert. Those who wear a bracelet to the Rotary Concert will be entered into a drawing for a very special prize! "I spent a lot on that prize and everyone will want it" said President Kim.
Eileen Curtis noted that a
Club Grants Survey
will be taken via the club web site. Everyone should have received an
e-mail announcement
, with link, by the time you read this. If you have not taken the survey, or have not seen the announcement, please tell one of us: Eileen Curtis, Gary Riedlinger, Gena Gates, or Steve Kent.
If you wish to serve on the club's
100 year anniversary
committee, please contact Ron Bloomfield.
Jug Deadline - March 31
Contribute to the clean water campaign and contest.
The President of the losing club sings at the Rotary Concert.
Put SILVER in OUR JUG --- PUT BILLS (and checks) in the MORNING JUG
---
SPECIAL FOOD
The Doubletree wants all Rotarians to be aware that they will prepare special food items for those with dietary restrictions or requirements. Just ask one of the staff serving at the meeting.
Check your Foundation giving status
on the
rotary.org
web site. To set up your own log-in there you need the club number (2830), district number (6310) and your RI number, which can be found on your Rotary magazine, your dues invoice, and in the club directory.
---
DATES TO REMEMBER
Vocational Days
, March 12 and March 26, 2012.
Rotary Concert
April 11, 2013.
Annual Golf Outing
June 24, 2013.
Upcoming Programs
(See the official schedule at RotaryBayCity.org )
March 5, 2013: New Edge Training
presented by Dennis Beson
March 12, 2013: Vocational Days; Bay Commitment, College Resource Network
presented by Eileen Curtis
March 19, 2013: 10 Minute Rotarian
March 26, 2013: Vocational Days; SVSU Career Services
presented by Mike Major, SVSU Director of Career Services
---
Current and past
DISTRICT DISPATCH
newsletters are available on the District site shown in the LINKS section below.


Rotary Bay City on Facebook!
Click on the Blue Facebook to visit us there.

Remember! Check attendance sheets at the front desk.
---
LINKS