Riedlinger Talks TAXES!
March 5, 2013
By: Stephen Kent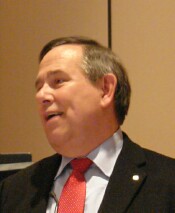 Gary Riedlinger
Member
Gary Riedlinger
was kind enough to step in on a few hours notice when the scheduled speaker could not make the meeting. Gary shortened the tax talk he gives for Yeo and Yeo so that he could hit the high points that would be of interest.
Of course the most interesting of these points of the talk dealt with changes to the tax code that might affect Rotarians. Everyone took special note of the rates for those making over $400,000... even it it was only to look with wishful eyes. More interest was paid to those rates and changes which touch everyone.
The talk was very well received but was too technical to re-cap in the venue of a newsletter. Therefore we can only say "individual cases may vary. See your tax advisor concerning your own situation."
---
CLUB NEWS and ANNOUNCEMENTS
BOARD MEETING THIS WEEK
The Board will meet this Tuesday, March 12, 2013.
11:00 am at the Doubletree, before the regular meeting.
An e-mail announcement will be sent to ALL MEMBERS as every member is welcome to attend.
Lee Newton
reminded members about the
Rotary Rocks Concert
, which will be held April 11. Tickets are $10 each or $20 for patrons. Lee ran down the list of some of the great acts that will be performing, including the Hughes Elementary Fourth Grade Choir, The Central High Senior Choir, Jeff Yantz and the Noname String Band, The Toyz, Lee and Molly Newton, and Rob Clark.
President Kim
spoke up to remind everyone of another act of distinction:
Mac Quinn
, the president of the Morning Rotary is anticipated to sing for every one's entertainment and enjoyment. This assumes that our club wins the fund raising contest... which seems all but assured at this time.
Andrea Hales
is selling tickets as well as ads in the program. Rotarians are encouraged to tell your friends, and family to come. Talk to Andrea if you'd like to sell tickets.
See the club web site for more information.
Kim also said to be sure you buy
clean water bracelets
! Everyone wearing a bracelet to the Concert will be entered into a drawing for a "brand new, still in the box, Google Chrome Computer".
COUNT ON IT!
You don't want to miss this fun evening!
Andrea Hales passed out "Anatoily's wish list" from our current exchange student. The items listed range from eye care (to be donated by member Dr. Lee Newton) to "Try sushi". Be sure to see Andrea if you'd like to give Anatoily some uniquely Michigan experiences!
Members are also reminded that the
district conference
is coming up April 19 and 20 in Alpena. The club will pay half of the registration fee for members who request it.
Visit the district web site and sign up.
www.rotary6310.org
If you wish to serve on the club's
100 year anniversary
committee, please contact Ron Bloomfield.
Two
district reports
are available to members as PDF documents:
February Attendance Report
March 2013 District Newsletter
Jug Deadline - March 31
Contribute to the clean water campaign and contest.
The President of the losing club sings at the Rotary Concert.
Put SILVER in OUR JUG --- PUT BILLS (and checks) in the MORNING JUG
---
SPECIAL FOOD
The Doubletree wants all Rotarians to be aware that they will prepare special food items for those with dietary restrictions or requirements. Just ask one of the staff serving at the meeting.
Check your Foundation giving status
on the
rotary.org
web site. To set up your own log-in there you need the club number (2830), district number (6310) and your RI number, which can be found on your Rotary magazine, your dues invoice, and in the club directory.
---
DATES TO REMEMBER
Second Vocational Day
, March 26, 2012.
Rotary Concert
April 11, 2013.
Off Site Meeting
at Country Club June 18, 2013
Annual Golf Outing
June 24, 2013.
Upcoming Programs
(See the official schedule at RotaryBayCity.org )
March 12, 2013: Vocational Days; Bay Commitment, College Resource Network
presented by Eileen Curtis
March 19, 2013: 10 Minute Rotarian
March 26, 2013: Vocational Days - SVSU Career Services
presented by Mike Major, SVSU Director of Career Services
June 18, 2013: OFF SITE MEETING at Bay City Country Club.
---
Current and past
DISTRICT DISPATCH
newsletters are available on the District site shown in the LINKS section below.


Rotary Bay City on Facebook!
Click on the Blue Facebook to visit us there.

Remember! Check attendance sheets at the front desk.
---
LINKS