Bay City Son Paul Bunyan Interest Growing
New articles, an international opera, maybe even a movie
May 31, 2005
By: Stephen Kent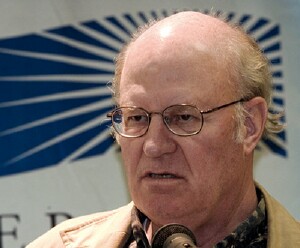 Last Tuesday's program featured our own Dave Rogers, the "world's foremost authority on the legend of Paul Bunyan". Dave made it clear that he holds that distinction because he's probably the ONLY living author or scholar to have studied the Bunyan legend in the last 50 years!
Rogers' book
Paul Bunyan - How a Terrible Timber Feller Became a Legend
makes the case that the legend of Paul Bunyan was based on a real person, one who made his name and met his end right here in Bay City.
The legend of Paul Bunyan first appeared in print as a story by James H. MacGillivray in the Oscoda, Michigan weekly newspaper in 1906. MacGillivray (uncle of our club's own Ron MacGillivray) "shaped the oral tales about Paul Bunyan he had heard as a boy in the lumber camps into a story" which was published in the paper. In 1906 MacGillivray "reworked and embellished the Bunyan tales for the
Detroit News-Tribune
". The tale later became a poem co-authored by MacGillivray and Douglas Malloch and published in a lumbering journal.
The story became a true American legend when Paul Bunyan was given a picture identity and was used in marketing mailings by the Red River Lumber Co. of Minnesota and California. There was no stopping Paul Bunyan after that. In the 1920's author James Stevens wrote a series of Bunyan stories in the "American Mercury" magazine and later in a series of books.
A CRUSHING BLOW
Dealt with a Ship Carpenter's Mallet
Caves in the Skull of a Notorious Bay City Rough
And Fells Him to the Earth in a Lifeless Corpse
Blinky Robinson Supposed to Have Done the Business
He is No Where to be Found
Arrest of Three Men and Two Women
From the Saginaw Daily Courier November7, 1875
In 1970 Rogers became interested in the legend and the possibility of a factual basis in a real person when he read an article about Fabian "Joe" Fournier in
The Lumbermans Gazette
. Fournier was a notorious timber boss, and brawler in the Saginaw Valley lumber camps of the 1860's and 1870's. He was murdered in 1875 while disembarking a boat full of other lumbermen in "Hell's Half Mile" in downtown Bay City. The ensuing chase and trial of his killer was a sensation in during the period.
Like the Davy Crockett fads of the 1950's, the Paul Bunyan legend has come and gone over time. The first newspaper articles appeared in 1906, the ad campaign was around 1910, the books in the 20's. During World War II, "servicemen alone bought 140,000 of the Bunyan books by Stevens." There was even a musical play (which may have been seen once). Today the wheel may be turning again. Rogers said that the musical was revived in Europe and is scheduled to play in a number of U.S. cities. Rogers' book continues to sell well and he has even been contacted about a potential movie.
---
Other Club News
GOLF TOURNAMENT
The Fourth Annual Rotary Golf Tournament is scheduled for June 6. This is one of the club's major fund raisers. Contact Jeff Yantz or Brian Kay for more information.
Upcoming Programs at the Bay City Rotary Club:
June 7 -- Bay Regional Medical Center - Nation's Top 100 Hospitals


June 14 --- End of Life Issues - Keith Markstrom programmer


June 21 --- Cool Cities Advisory Committee


June 28 --- Old President Out - New President In
---
Sargent at Arms Jeff Yantz makes a Fashion Statement
---
RotaryBayCity.org Rotary Club of Bay City Web Site
eClub-One
: Members with internet connections are encouragedto visit eClub-One monthly for a makeup. To get makeup credit you need to fill out the makeup form on that site. Print the acknowledgement for you receive and turn it in to receive credit. Be sure to enter our club's district number (
6310
) on that form.
Click this link to open eClubOne in a new window:
www.rotaryeclubone.org
.
The Bay City Rotary Club meets at Noon each Tuesday at the Lumber Barons resturant on the West Side.
Rotary Club of Bay City Web Site
District 6310 meeting schedule