High School Students Explore Options On Vocational Day
The first of two Vocational Days welcomes large group of students
March 12, 2013
By: Stephen Kent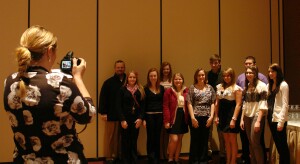 Jenna Schrumpf photographs students
from one school for the Club's facebook page.
The Rotary Club hosted the first of two annual vocational days last Tuesday. A large group of students visited local businesses such as McLaren Bay Medical Center and McLaren Bay Special Care Hospital, Anne Trahan Photography, Newton Eye Care, MLive, the Police and the Schools.
The club thanks members
Ed Clements
and
John Callahan
who have taken over this committee from
Griff Acker
and
Ralph Knopp
. We also thank the
counselors
from the schools, without whom the program would never work.
---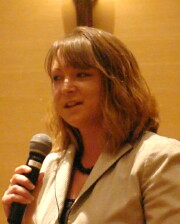 Renee Courier
The day's program featured
Renee Courier
, Program Officer for the
Bay Commitment College Access Network
, which is a operated by the Bay Area Community Foundation. Renee reviewed the free services provided by the Commitment which include scholarship and financial aid guidance, help choosing a career, college resources and the Internet, as well as free College Prep Survival Kits.
College admittance can be a challenge to any student. Financing can be even harder. The Commitment helps students with things as essential as completing the Free Application for Federal Student Aid (FAFSA) to getting grants, scholarships and loans.
A group of advisers are on staff to aid students or prospective students. Help is not limited to high school students. Anyone, including adults are welcomed.
The Community Foundation provides a number of scholarships and works with individuals, families, businesses and organizations to create a permanent endowment to help students in our region meet the challenges of higher education.
The Bay Commitment College Access Network serves as a free resource for local students, promoting post secondary education by offering a variety of services. These services include
For more information visit
http://www.baycommitment.org
---
CLUB NEWS and ANNOUNCEMENTS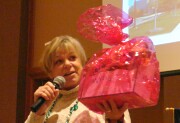 President Kim
held her monthly auction, this time for "Kim's Communicator". Unlike the smart phones student guests might be accustomed to, this communicator uses items like pens, pencils, paper, crayons, highlighters, post-it notes, etc. All of these items were housed in a handy-dandy wooden caddy. The winner was Bob Chadwick at $30. Proceeds went to the water fund in Wendy Dore's name.
Reminder...
Andrea Hales
is selling
Rotary Rocks Concert
tickets as well as ads in the program. Rotarians are encouraged to tell your friends, and family to come. Talk to Andrea if you'd like to sell tickets.
See the club web site for more information.
The club welcomed two new members today: Harvey Schneider and Dr. David Songer. In the words of the induction rite "We are expecting much from you in the form of help and inspiration, which we hope will enable us to become better Rotarians."
Members are also reminded that the
district conference
is coming up April 19 and 20 in Alpena. The club will pay half of the registration fee for members who request it.
Visit the district web site and sign up.
www.rotary6310.org
If you wish to serve on the club's
100 year anniversary
committee, please contact Ron Bloomfield.
Jug Deadline - March 31
Contribute to the clean water campaign and contest.
The President of the losing club sings at the Rotary Concert.
Put SILVER in OUR JUG --- PUT BILLS (and checks) in the MORNING JUG
---
SPECIAL FOOD
The Doubletree wants all Rotarians to be aware that they will prepare special food items for those with dietary restrictions or requirements. Just ask one of the staff serving at the meeting.
Check your Foundation giving status
on the
rotary.org
web site. To set up your own log-in there you need the club number (2830), district number (6310) and your RI number, which can be found on your Rotary magazine, your dues invoice, and in the club directory.
---
DATES TO REMEMBER
Second Vocational Day
, March 26, 2012.
Rotary Concert
April 11, 2013.
Off Site Meeting
at Country Club June 18, 2013
Annual Golf Outing
June 24, 2013.
Upcoming Programs
(See the official schedule at RotaryBayCity.org )
March 19, 2013: 10 Minute Rotarian
March 26, 2013: Vocational Days - SVSU Career Services
presented by Mike Major, SVSU Director of Career Services
June 18, 2013: OFF SITE MEETING at Bay City Country Club.
---
Current and past
DISTRICT DISPATCH
newsletters are available on the District site shown in the LINKS section below.


Rotary Bay City on Facebook!
Click on the Blue Facebook to visit us there.

Remember! Check attendance sheets at the front desk.
---
LINKS