Rotarian And Exchange Student Speak to Rotary
March 19, 2013
By: Stephen Kent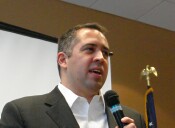 Matt Felan
New member
Matt Felan
took his turn at the 10-Minute Rotarian talk to give a little of his background. Born and raised in Bay City, Matt went on to take his degree from Michigan State. While there he needed to work and loved politics so he worked in the State Capitol.
Matt's career took him to jobs with Jim Barcia, Joe Rivet, Joe Lieberman, and eventually Tim Kaine, governor of Virginia. In 2005 he Matt became friends with Barack Obama when Obama was new in Washington. Since Obama was not running in 06, Matt interviewed with others and landed with Hillary Clinton for several years, ending up as her National Deputy Finance Director.
After running his own company for a time, Matt recently returned to Bay City where he followed Keith Markstrom as Director of the McLaren Bay Medical Foundation.
Matt says that today's US political system is broken and it's largely the fault of people like him and the money they represent. He says there are two ways to fix the system but also says that neither has a chance.
The first fix would be to take money out of the equation by allowing congressional and presidential candidates to only campaign from the day after labor day until election day. And all TV ads would be free. He doesn't know how it would be paid for, and big money media would not allow it, but it would work.
Secondly, the country needs a third party. Both the far left and the far right "are nuts". But there are many people in the middle who want to work together to solve problems. A viable third party is needed to represent these people.
Matt closed by saying that he is thankful every day that he's out of politics. He's glad that he now raises money for a community hospital in Bay City, Michigan.
---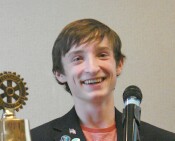 Anatoliy Lotarev
Anatoliy Lotarev
is Rotary's current exchange student living and studying in bay City. A native of Russia, Anatoliy now hails from Spain. He speaks English almost like a native but also speaks Russian and Spanish. He is living with the Weeninks at the present time and will stay with two other families during his year here.
Anatoliy told the club a little about each of his home countries and about his school back home. He talked about the differences in the two areas and about the things he likes here in the states.
Speaking to clubs may be one of the toughest parts of being an exchange student and Anatoliy did a great job. It's new to Anatoliy now but will be a lot easier by the time he leaves.
---
CLUB NEWS and ANNOUNCEMENTS
President-elect
Lee Newton
announced that the club's president nominee, to serve in 2015-2016 year, will be
Brenda Scramlin
. By tradition, presidents are nominated by a committee made up of the current, past and future presidents. These individuals review members and make the nomination. The candidate is interviewed and asked if he or she will server. The nomination is then ratified by the Board of Directors.
Reminder...
Andrea Hales
is selling
Rotary Rocks Concert
tickets as well as ads in the program. Rotarians are encouraged to tell your friends, and family to come. Talk to Andrea if you'd like to sell tickets.
See the club web site for more information.
Ron Bloomfield
offered more details about the concert. A promotional YouTube video will be produced soon. An e-mail will tell members how to view that video. As part of the concert the club will dedicate a plaque honoring former
Rotarian Leo Najor
whos
Bijou Orchestra
was so closely identified with the State Theater.
Members are also reminded that the
district conference
is coming up April 19 and 20 in Alpena. The club will pay half of the registration fee for members who request it.
Visit the district web site and sign up.
www.rotary6310.org
If you wish to serve on the club's
100 year anniversary
committee, please contact Ron Bloomfield.
Jug Deadline - March 31
Contribute to the clean water campaign and contest.
The President of the losing club sings at the Rotary Concert.
Put SILVER in OUR JUG --- PUT BILLS (and checks) in the MORNING JUG
---
HATE THAT DIRECTORY PHOTO?
Remember that Anne Trahan will take your Rotary Directory photo at no charge.
Give her a call or see her at the meeting to schedule a sitting. The directory picture is free. Retouched digital photos and portraits for your own use are available for a small charge.
Ron Bloomfield promotes upcoming
Rotary Rocks Concert.
April 11 at the State Theater.
Tickets $10 each

Justyne and Jamie Weenink
(Daughters of member Jeffrey)
and Exchange Student Anatoliy Lotarev
---
DATES TO REMEMBER
Second Vocational Day
, March 26, 2012.
Rotary Concert
April 11, 2013.
Off Site Meeting
at Country Club June 18, 2013
Annual Golf Outing
June 24, 2013.
Upcoming Programs
(See the official schedule at RotaryBayCity.org )
March 26, 2013: Vocational Days - SVSU Career Services
presented by Mike Major, SVSU Director of Career Services
April 02, 2013: Rotary Club Community Grants Club Assembly
April 09, 2013: GSE Exchange Program
April 16, 2013: Chamber of Commerce Update
by Chairman Pat O'Brien.
June 18, 2013: OFF SITE MEETING at Bay City Country Club.
---
Current and past
DISTRICT DISPATCH
newsletters are available on the District site shown in the LINKS section below.


Rotary Bay City on Facebook!
Click on the Blue Facebook to visit us there.

Remember! Check attendance sheets at the front desk.
---
LINKS