Bay Regional Medical Ctr. Poised for Expansion;
Rated 2nd in Heart Care
End of Life Issues to be Discussed Tuesday: Programmer, Keith Markstrom
June 12, 2005
By: Dave Rogers
THIS WEEK: End of Life Issues; Keith Markstrom, programmer.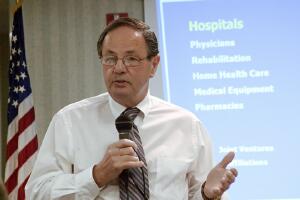 LAST WEEK: Bay Regional Medical Center Update; William Bowen, presenter.
"A few years ago we weren't doing so good; now we may be as good as anybody in the state."
That was the statement of William Bowen, board chairman of Bay Regional Medical Center, summing up the status of the hospital for Rotarians, and the community, last Tuesday.
His update was very good news to local residents who depend on the health facility for top notch care and a wide variety of services in a stable atmosphere of medical excellence.
---
--- Advertisements ---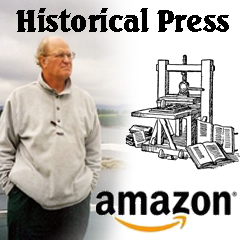 ---
The hospital that was in financial difficulty before its merger with McLaren Health Care of Flint a few years ago now has on hand $73 million in cash and liquid securities, said Mr. Bowen.
And the Bay Regional Medical interventional heart care (cardiovascular) services have received a Five-Star Award and the hospital is rated second in the state. William Beaumont Hospital, Detroit, was rated first. Bay Regional also received a Five Star rating for orthopedic care.
Bay Regional Medical Center also has been named a Top 100 Hospital by Solucient, a national health care quality and safety assessment agency. The local facility was chosen in the top 100 of 4,800 hospitals rated nationally, hospital officials pointed out.
"Bay Regional Medical Center is the region's only hospital to earn both the 2004 Distinguished Hospital Award for Patient Safety and Top 100 Hospital Honors from Solucient," officials stated.
Other news points made by Mr. Bowen:
The medical center is on the verge of a massive $53 million expansion that will provide additional facilities for growth. Construction is slated for completion by the endof 2007.
The old General Hospital section is coming down and a new four story wing will take its place, including a new expanded emergency room, outpatient surgery on the second floor, cardiac care area on the third level and eventually a new obstetrics and nursery on the fourth floor. Cardiac and radiology services will be "significantly enlarged," he said.
The expansion is being financed as part of a $150 million bond issue sold by the McLaren Health Care Corporation and the use of some of the local hospital's cash. "There should be no disruption of current services" while construction is underway," said Mr. Bowen.
Bay Regional Medical Center has recently acquired a West Branch campus and a 19 member physician practice.
Two neurosurgeons have been added to the Bay Regional staff of 260 physicians, managed by McLaren Medical Management. The hospital is affiliated with Michigan State University for graduate medical educationand is ranked as a teaching hospital because of the presence of 10-12 interns.
The awards for cardiovascular care put the local hospital in the top five percent of 6,000 hospitals nationally, said Mr. Bowen.
A ban has been imposed on the wearing of acrylic nails by employees because the nails have been found to be germ carriers.###
---
Other Club News
---
--- Advertisements ---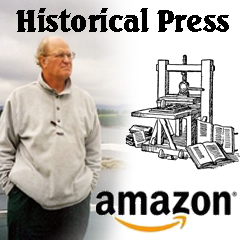 ---
Upcoming Programs at the Bay City Rotary Club:
June 14 --- End of Life Issues - Keith Markstrom programmer


June 21 --- Cool Cities Advisory Committee


June 28 --- Old President Out - New President In
---
Rotary Highlights in Pictures

Tech Crew" fails to get the organ working

Sargent at Arms Cindy presents "Mens List"

Ten-Minute Rotarian Al Hicks
---
RotaryBayCity.org Rotary Club of Bay City Web Site
eClub-One
: Members with internet connections are encouragedto visit eClub-One monthly for a makeup. To get makeup credit you need to fill out the makeup form on that site. Print the acknowledgement for you receive and turn it in to receive credit. Be sure to enter our club's district number (
6310
) on that form.
Click this link to open eClubOne in a new window:
www.rotaryeclubone.org
.
The Bay City Rotary Club meets at Noon each Tuesday at the Lumber Barons resturant on the West Side.
Rotary Club of Bay City Web Site
District 6310 meeting schedule