Dubai: View From The Ground
Slide show and talk outline life in Dubai
April 23, 2013
By: Stephen Kent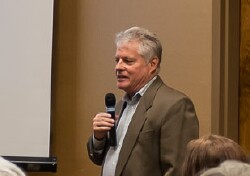 Alan Rowlands
(Photo by Rogers)
Alan Rowlands
friend of Rotarian Frank Janca and resident of Dubai for the last five years, spoke to Rotary about life in the city of Dubai. Alan is the General Manager of Novus Community Management. His company manages some ten thousand residential units as well as commercial units.
"Not many people know that Dubai is not really a country. Dubai is a city. It is known as an emirate and is one of seven that make up the United Arab Emirates" said Alan.
Although one of the wealthiest places in the world, oil contributes only 8% to the economy. Dubai has transformed itself from an oil generating country into a country which has created investment opportunities. Anyone can go to Dubai and purchase property, unlike anywhere else in the Arab world.
Dubai has become known as a "safe haven" in the Arabic world. It embraces and welcomes western ways and the world of global finance. At the same time, it does not tolerate inappropriate behavior. "If a western man and woman were to engage in inappropriate behavior in a cab, they could expect that the driver would take them directly to the police station where they would be arrested", said Alan.
When asked about alcohol consumption in a Muslim country, Alan said that Westerners can get a permit card provided they have the necessary credentials and approvals. "Although that never stopped a Westerner from drinking", he said. He did point out, however, that public drinking could also land you in jail very quickly.
One of the most striking parts of the presentation was that Dubai boasts the largest of everything: buildings, malls, hotels, indoor ski slopes, etc. At the same time, the city has been built on the desert. Sand forms the foundation of everything.
The world economic downturn of a few years ago hit Dubai very hard. The city still boasts wonders to behold, but many projects were put on hold or were abandoned part way through. The famous man-made palm islands, visible from space, are fully inhabited. A second set of islands, twice as large were built but are vacant. The third set was planned but not built. Of the "World Islands", only one is inhabited.
Alan went on to comment on the people imported to build the city, the infrastructure, the sewer systems, and the contrast of women in traditional Arab coverings on the same beach as bikini clad young ladies. The picture he painted and shows in slides was of an amazing place that fascinated everyone.
---
CLUB NEWS and ANNOUNCEMENTS
Past President
Deb Lutz
stood in for President Kim, who was unable to attend. Thanks Deb!
Reminder that the club will again man the
Tall Ships Welcome Tents
when the ships return this summer. Talk to Nancy Greve if you want to participate in this "premier" event of the summer.
Also remember the off site meeting at the Country Club on June 18.
If you wish to serve on the club's
100 year anniversary
committee, please contact Ron Bloomfield.
HATE THAT DIRECTORY PHOTO?
Or was it JUST TAKEN TOO LONG AGO?
Remember that Anne Trahan will take your Rotary Directory photo at no charge.
Give her a call or see her at the meeting to schedule a sitting. The directory picture is free. Retouched digital photos and portraits for your own use are available for a small charge.
---
DATES TO REMEMBER
Off Site Meeting
at Country Club June 18, 2013
Annual Golf Outing
June 24, 2013.
Upcoming Programs
(See the official schedule at RotaryBayCity.org )
April 30, 2013: Bay-Arenac Community High School
by Erin Sullivan
May 7, 2013: Great Lakes Bay Regional Alliance
by Terry Moore
May 14, 2013: Bay City River Walk History
by Peg Rowley
May 21, 2013: Optimal aging, and how it relates to the wellness concepts
by Dr. K. Rumi Shahzad
June 18, 2013: OFF SITE MEETING at Bay City Country Club.
---
Current and past
DISTRICT DISPATCH
newsletters are available on the District site shown in the LINKS section below.


Rotary Bay City on Facebook!
Click on the Blue Facebook to visit us there.

Remember! Check attendance sheets at the front desk.
---
LINKS