Rotary Hears About Alternative High School
April 30, 2013
By: Stephen Kent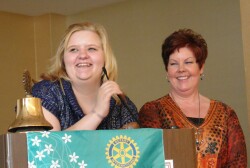 Stephanie Wazny and Erin Sullivan
Erin Sullivan Superintendent of the Bay-Arenac Community High School and her student Stephanie Wazny spoke to Rotary about the Alternative High School. With 27 years of history, the local Alternative High School is one of the longest running such school in the state.
Shelly Kennedy and Gary Minor were teaching at the juvenile home. After seeing students repeatedly come in and out of their school they came to the realization that something was wrong. They had a dream and started a school with a single classroom rented from St. Stan's church. The first year they had 20 students, which expanded to three classes and 35 students.
The program is founded on the principles of consensus building, where everyone has a voice, and on conflict resolution. The school follows a zero tolerance policy. "We don't have fights in our school", said Erin. "There may be conflicts, but they're brought to an adult and we work through them." Students are taught that "in the real world you can't just start a fight with a co-worker."
In 1988 the school moved to its current, rented home at St. Johns in Essexville. More students were added and the school soon added a day care facility for the kids of student mothers. In 1995 they became a Public School Academy chartered under the ISD. Prior to that they were an ISD program.
Sullivan was please to announce the next change in the life of the school. Soon they will no longer be renters. They have come to an agreement with Essexville/Hampton Schools to purchase the old Hughes Elementary school.
Students come to the Alternative school for many reason. Most are behind on credits or have difficulty fitting into the traditional school. Many of the 150 students feels they are a square peg trying to fit a round hold. At the Alternative school they find a home and a caring staff that addresses their needs.
"Our students may take a different path to how they get to the diploma," said Sullivan, "but they get to a Michigan Merit Curriculum Diploma. That's the same diploma that every other child in Michigan gets".
Sullivan introduced Stehpanie Wazny, one of the school's top students. Stephanie moved here from North Carolina in 2011. She was a high school dropout and came here to live with her grandparents.
Coming from "a hard life back home", Stephanie didn't want to go to the any of the large high schools. Preferring a small school, she was enrolled in the Alternative High where she has flourished. She finished her sophomore and junior levels in one year and this year is at the top of her senior class.
"I never thought I would see myself in this place, getting ready to graduate." But she will, and she's set to leave in July for college in Ohio where she'll enter the diesel and automotive technician program.
Stephanie went on "I'll also take business courses then get my bachelor's so I can own my own trucking company someday." Sullivan added that this is a non-traditional role for females but Stephanie has excelled. Besides being a top student, Stephanie won the 2013 state award for "Breaking Traditions in Michigan".
Like the Bulldogs on Facebook
---
CLUB NEWS and ANNOUNCEMENTS
President Kim announced an upcoming event by the
Rotary International Alumni Foundation
is presenting a
Brews and Bites
fundraiser for the Bay City Hell's Half Mile Film Festival. In response to several questions, members in the know explained that this organization is primarily for non-Rotarians who have been on international exchanges. The Alumni can, however, include people from many backgrounds and connections to Rotary. For more information link here to
Rotary.org
.
Deb Lutz
is recruiting members to sign up for "
club service
" and help work the sign-in table and as greeter at meetings.
Reminder that the club will again man the
Tall Ships Welcome Tents
when the ships return this summer. Talk to Nancy Greve if you want to participate in this "premier" event of the summer.
Also remember the off site meeting at the Country Club on June 18.
The annual
Golf Outing
will be held June 24, also at the Country Club.
If you wish to serve on the club's
100 year anniversary
committee, please contact Ron Bloomfield.
---
DATES TO REMEMBER
Off Site Meeting
at Country Club June 18, 2013
Annual Golf Outing
June 24, 2013.
Upcoming Programs
(See the official schedule at RotaryBayCity.org )
May 7, 2013: Great Lakes Bay Regional Alliance
by Terry Moore
May 14, 2013: Bay City River Walk History
by Peg Rowley
May 21, 2013: Optimal aging, and how it relates to the wellness concepts
by Dr. K. Rumi Shahzad
June 18, 2013: OFF SITE MEETING at Bay City Country Club.
---
Current and past
DISTRICT DISPATCH
newsletters are available on the District site shown in the LINKS section below.


Rotary Bay City on Facebook!
Click on the Blue Facebook to visit us there.

Remember! Check attendance sheets at the front desk.
---
LINKS