Great Lakes Bay Regional Alliance
May 7, 2013
By: Stephen Kent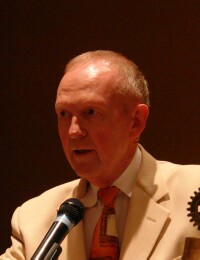 Terry Moore
President of the
Great Lakes Bay Regional Alliance
spoke to Rotary about the organization and its mission. The organization started in the late 1980's as the Vision Tri-County. That group was given a new life in 2005 and later became today's Alliance, a group representing Bay, Saginaw, Midland, and now Isabella.
"Bay City is really important to you; it's important to me." said Moore. "Saginaw is important, Midland and Isabella Counties are important. The Regional Alliance represents us all."
Describing the Alliance, Moore said that the board of directors has 42 members. The organization is then run by a staff of 3. He went on to name some of the key leaders, who represent some of the most significant players in the area. He named businesses, corporations, health care systems, Universities, banks, and the four chambers of commerce. All of these organizations are part of the Alliance.
The board is organized around councils covering Economic Development, Advocacy, Education, Branding and Communications, Arts and Entertainment, and a Leadership Institute.
Moore observed that when talking about people and collaboration there are three groups. "Group 1 says they want to collaborate; know what it means to share and 'walk the walk'. Group 2 says they want to collaborate; but in the final analysis, they really don't want to share or change. Group 3 tells others right up front they have no intention of collaborating."
"The 'trick'" said Moore "is to keep Groups 2 and 3 from compromising Group 1." The primary objectives of the Alliance are
Increase collaborative behavior and promote esprit de corps within the Great Lakes Bay Region.
Advocate for our region with government officials.
Empower community organizations by: decreasing duplication, identifying gaps, and leveraging investments.

The Alliance has shown significant growth since 2006 when it was housed in a poor location and cramped quarters at the Tri-cities Airport. In 2011 they moved to new offices in Freeland. 2012 saw the new Great Lakes Bay Regional magazine, regional connections, and an improved website. It also increased councils, committees and task forces by 50% and regional "gatherings" by 100%.

In summary, Moore pointed to the Alliances current activities, collaboration examples, regional challenges, and positive "happenings". He talked about the Institute for Leaders, educational activities, advocacy, arts & entertainment, and an emerging group of young professionals in the area.

For more information visit greatlakesbay.com.


---
CLUB NEWS and ANNOUNCEMENTS


Thanks to Anne Trahan, who stood in for President Kim and presided over the meeting.

Lee Newton and Ron Bloomfield reported on the Rotary Rocks concert. 357 people attended, 110 of them students. This year, after expenses, the club made $5,000 on the event! Congratulations to the committee and performers who make it all possible.

Jeff Yantz reminded members about the Rotary Alumni's "Brews and Bites" event this Friday. The event will raise money for the upcoming Hells Half Mile Film Festival.

Tim Holsworth says "remember the golf outing at the Bay City Country Club on June 24.

Doug Rise and Andy Rogers updated everyone on the status if Regina Turner, widow of member Leo Najar. Regina is moving back home next week. Several members including Andy and Sandy, Jeffrey, and the Chadwicks are getting her house in shape. A fund with Wildfire Credit Union to help cover some of her living expenses. A facebook page has been set up under Friend of Regina Turner, where you can get updates.

Reminder that the club will again man the Tall Ships Welcome Tents when the ships return this summer. Talk to Nancy Greve if you want to participate in this "premier" event of the summer.



Remember the off site meeting at the Country Club on June 18.



If you wish to serve on the club's 100 year anniversary committee, please contact Ron Bloomfield.




---
DATES TO REMEMBER

Off Site Meeting at Country Club June 18, 2013

Annual Golf Outing June 24, 2013.


Upcoming Programs
(See the official schedule at RotaryBayCity.org )


May 14, 2013: Bay City River Walk History by Peg Rowley

May 21, 2013: Optimal aging, and how it relates to the wellness concepts by Dr. K. Rumi Shahzad

June 04, 2013: Delta College Gray Water Reuse Facility

June 11, 2013: Rotary Program Day

June 18, 2013: Rotary Youth Leadership Academy
Presented by Area High School Students that attended 2013 RYLA
OFF SITE MEETING at Bay City Country Club.



---

Current and past DISTRICT DISPATCH newsletters are available on the District site shown in the LINKS section below.







Rotary Bay City on Facebook!
Click on the Blue Facebook to visit us there.

Remember! Check attendance sheets at the front desk.
---
LINKS