Rotary Youth Leadership Students Address Club
June 25, 2013
By: Stephen Kent
Four of Rotary's five
RYLA students
spoke to the club about their recent experience at Camp Rotary. These young ladies attended from June 9 to 13 on scholarships provided by our club. Each student will be a high school Senior next year.
"
Rotary Youth Leadership Awards
" (RYLA) is the Rotary Youth Leadership training program for young people ages 14 to 30. Club coordinator
Brenda Scramlin
outlined RYLA. "The program emphasizes leadership, citizenship, and personal growth. Its aim is to demonstrate Rotary's respect and concerns for youth, provide an effective training experience for selected youth and potential leaders, encouraging leadership of youth by youth, and it recognizes publiclly young people who are rendering service to their community."
A core curriculum covers fundamentals in ethics and positive leadership, the importance of communication skills, problem solving and conflict management. The program teaches what Rotary is and what it does. It builds self confidence and self esteem and the elements of community and global citizenship.
"Does this sound like a camp you'd like to go to?" Brenda Asked. "And they swam too!".
Four of the five students this club sent to the District 6310 camp spoke to the club. Each emphasized the positive effect it had on their lives. A consistent thread was that camp changed the student's outlooks on life. One student noted that she had been painfully shy before going to camp and the experience made a real difference in her outlook and ability to speak to a group such as the Rotary meeting.
In response to questions about activities, each student talked about a favorite experience. Each student had some activity that was a favorite, from obstacle courses to games of skill; each was a team building effort.
For more information visit
Rotary.org/RYLA
.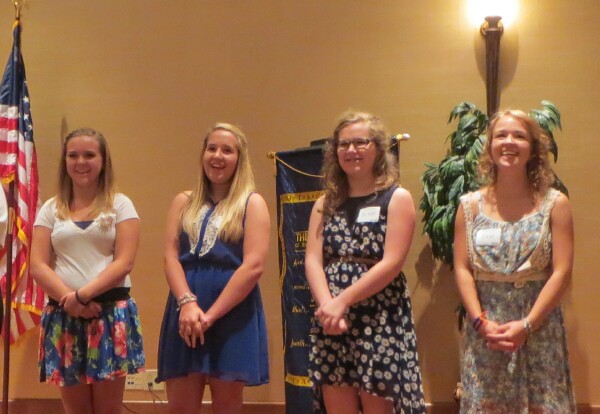 Raegen VerHaeghe (Garber High), Denise London (Central High),
Blake Krzyminski (John Glen High), Dani Cianek (Western High)
---
CLUB NEWS and ANNOUNCEMENTS
Tim Holsworth
recapped the successful
Golf Outing
yesterday (June 24). There were 64 golfers, many volunteers to help, great weather and good food. A full accounting will be given soon, but Tim did note that the club made over $1,500 on the TV raffle alone. Special thanks to
Wendy Dore
and the Country Club for all the work they did to make it a great outing.
Reminder that the club will again man the
Tall Ships Welcome Tents
when the ships return this summer. Talk to
Nancy Greve
if you want to participate in this premier event of the summer.
The club's
100 year anniversary
committee held its first meeting today. You can still serve on this committee if you want. Please contact
Ron Bloomfield
for more information.
Lee Newton
announced that with the Golf Outing done, we can start thinking about the next big event,
INTERNATIONAL NIGHT
. The event will be October 3rd and the theme will be "Mardi Gras, The World's Greatest Party". Traditionally the president-elect has chaired this event. Starting next year a regular committee will be established with a chair who will serve three years. Lyn Weaver has volunteered to be the first to take that position.
---
DATES TO REMEMBER
Annual Golf Outing
June 24, 2013.
100 Year Committee
June 25, 2013 at 11:00 before the regular meeting.
---
Upcoming Programs
(See the official schedule at RotaryBayCity.org )
June 25, 2013:
Rotary Youth Leadership Academy.
Presented by Area High School Students that attended 2013 RYLA
July 2, 2013: Dr. Kim Prime passes the Presidential gavel to Dr. Lee Newton
July 16, 2013: MDOT; Bay Region; Traffic, Safety, and Operations
Speaker: Greg Brunner, Kim Zimmer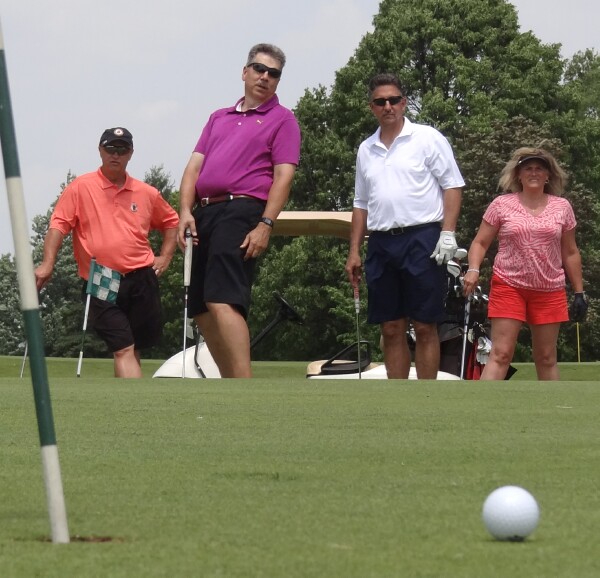 Can you believe that? So close!
---
Current and past
DISTRICT DISPATCH
newsletters are available on the District site shown in the LINKS section below.


Rotary Bay City on Facebook!
Click on the Blue Facebook to visit us there.

Remember! Check attendance sheets at the front desk.
---
LINKS