Passing The Gavel
New President Takes Rotary Reins
July 2, 2013
By: Stephen Kent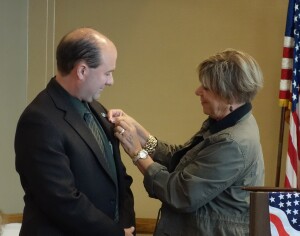 Passing the 80 year old President's Pin
In a time honored tradition, Outgoing President Kim Prime passed the 80 year old President's Pin to Incoming President Lee Newton. A short time later, Lee passed his President-Elect pin to Ron Bloomfield.
Before leaving office, Kim offered some parting words of wisdom and a short wrap up of the things the club accomplished during her tenure. Among these:
Added 12 new members
Supported our village in Guatemala
Continued the dictionary and thesaurus project
Held two successful vocational days
Sent five students to Camp Rotary RYLA week.
Received the district Presidential Citation.
Formed a Ways and Means committee
Passed a balanced budget with a small surplus to the next administration.

Kim also talked about some of the projects we've supported. She said that her now famous "Kim's Auctions" on board meeting Tuesdays raised over $1,000 for local charities.

After receiving the President's pin and the gavel, Lee presented some of his visions and plans for the club. He began by saying that, fearful of losing the antique President's pin, he purchased another pin at PETS. He promised to take the antique pin and lock it in a reinforced concrete safe in his basement that he calls the "Vault of Lee".

Lee's two main goals are for the club to continue to grow and mature, and secondly to develop a knowledge and perception of Rotary. Among his specific goals are:
Continue the 10 minute Rotarian.
Have presentations to teach about Rotary
Encourage more fellowship.
Hold a Rotary "town hall meeting"
Commit to children by continuing the dictionary and thesaurus projects.
Continue the by-laws update.
Streamline some of the club policies
Work closer with other clubs.

Lee closed by thanking all those who have agreed to serve as committee chairs and members, board members, and other positions in the club. He encouraged the club to be mindful of Rotary International President's theme. Finally he closed the meeting for the first time.


Kim Prime






The
Gavel Is
Passed.

The
Tradition
Continues.

Lee Newton
---
CLUB NEWS and ANNOUNCEMENTS
Eric announced that the Bill and Melinda Gates Foundation has extended their match to the Rotary Foundations? Polio-Plus campaign until 2018. They have also increased their match to $2 for every $1 contributed.

Nancy Greve, coordinator for our club's Tall Ships volunteers, passed out T-shirts to members signed up to work the ships. If you still want to participate, be sure to contact Nancy.

The club's 100 year anniversary committee held its first meeting today. You can still serve on this committee if you want. Please contact Ron Bloomfield for more information.

Lyn Weaver announced that the INTERNATIONAL NIGHT committee will hold a meeting on July 16th at 11:00, before the regular meeting. She also put flyers on each table outlining the event.




---
DATES TO REMEMBER


International Night Committee Meets July 16, 2013 at 11:00 before the regular meeting.

International Night "Mardi Gras... off season"
October 3, 2013 at the Doubletree.
A celebration of the Food, Fun & Festivities of "America's Greatest Party".


---
Upcoming Programs
(See the official schedule at RotaryBayCity.org )


July 9, 2013: 10 Minute Rotarians

July 16, 2013: MDOT; Bay Region; Traffic, Safety, and Operations Speaker: Greg Brunner, Kim Zimmer

August 20, 2013: How to increase your asset value as an employee. Greg Stanley immerses the audience into his Toonalution world by using illustrations that interact with each other and iconic characters to teach the importance of taking a path of continual learning.



---

Current and past DISTRICT DISPATCH newsletters are available on the District site shown in the LINKS section below.







Rotary Bay City on Facebook!
Click on the Blue Facebook to visit us there.

Remember! Check attendance sheets at the front desk.
---
LINKS




0202 nd 03-20-2019