Bateman Gives 10 Minute Rotarian Talk
July 9, 2013
By: Stephen Kent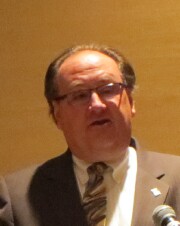 Bill Bateman
Bill Bateman
, President of Northwood University, gave a
"10" Minute Rotarian
talk on Tuesday. Bill was raised in Royal Oak, Michigan. His Mother was in banking and his Dad was a UAW worker. "Dad would get up every day at 4:00 am. He went to work not because he loved his job, but because he loved his family."
Bill knew from an early age that he wanted to be in banking. Unlike many, though, he aspired to be an auditor. "I liked that these guys could come in and strike fear in everyone."
Eventually going to work for Comerica, Bill rose through the banking world, including work as a bank auditor, and ended up on south Florida. His jobs included being a National Business Manager for the bank, which allowed him to travel.
After 25 year and a great career he had done all but work for another bank. He took a job with a bank in Virginia Beach and spent a few years there.
Fulfilling one of his goals, Bill began teaching college at night. Along the way Bill earned his MBA then a Doctorate. "Nobody told me I couldn't do that, although I wasn't that great a student." His dissertation was on the relationship of humor to leadership style.
An important philosophy came from one of Bill's mentors. Wondering how that man had achieve success, Bill learned that his approach was to never say no. That became one of Bill's guides.
Some seven years ago Bill was invited by another associate, who was then president of Northwood, to come to Michigan to teach. Following his "never say no" philosophy, Bill did that and taught finance and strategy in the MBA program. Recently his friend retired and Bill was offered the position of President.
Bill went on to talk about the programs offered by Northwood at its numerous campuses around the world. He noted that after coming to the school he had the opportunity to teach for a period at the campus in Switzerland on Lake Geneva.
As a member of a number of local organizations, Bill wanted to join a service club such as Rotary. A number of his colleagues from the college are in the Midland Rotary and that lead him to come to the Bay City club following his friend and sponsor Harry Leaver.
Bill has been married to Kim for 25 years. She is currently a librarian at Dow and at Mid-Michigan Hospital. They have a number of children. They also have a home in the Blue Ridge Mountains, which they continue to improve with the thought of retiring there someday.
---
CLUB NEWS and ANNOUNCEMENTS
The Club Board met on the 9th. Among the actions taken was the decision to move surplus funds from the club's account to the Club Foundation. $1,000 will be retained for a contingency. This action is in line with policy defined some years ago.
Proposed new members were approved. Their names will be read at the meeting.
The Board discussed the major project, how the foundation funds can be distributed and other related items.
Andrea Hales called for an additional host family for the Club's incoming exchange student. A family is needed for the first months. Our student's arrival is rapidly approaching so the family is needed soon.
Gena Gates gave an update on the Rotary International Foundation and noted an article in a recent Wall Street Journal that talked about the effort to eradicate Polio and Rotary's role in that effort.
Gena also presented additional Paul Harris Fellow recognition to two members. Ruth Jaffe has made contributions bringing her to the Plus Two level and Cindy Chadwick has reached the Plus Six level. Rotary extends its thanks to both of these Rotarians.
The club's
100 year anniversary
committee held its first meeting today. You can still serve on this committee if you want. Please contact
Ron Bloomfield
for more information.
Lyn Weaver
announced that the
INTERNATIONAL NIGHT
committee will hold a meeting on July 16th at 11:00, before the regular meeting.
---
DATES TO REMEMBER
International Night Committee
Meets July 16, 2013 at 11:00 before the regular meeting.
100 Year Anniversary Committee
Meets July 30, 2013 at 11:00 before the regular meeting.
International Night
"Mardi Gras... off season"
October 3, 2013 at the Doubletree.
A celebration of the Food, Fun & Festivities of "America's Greatest Party".
---
Upcoming Programs
(See the official schedule at RotaryBayCity.org )
July 16, 2013: MDOT; Bay Region; Traffic, Safety, and Operations
Speaker: Greg Brunner, Kim Zimmer
August 20, 2013: How to increase your asset value as an employee.
Greg Stanley immerses the audience into his Toonalution world by using illustrations that interact with each other and iconic characters to teach the importance of taking a path of continual learning.
---
Current and past
DISTRICT DISPATCH
newsletters are available on the District site shown in the LINKS section below.


Rotary Bay City on Facebook!
Click on the Blue Facebook to visit us there.

Remember! Check attendance sheets at the front desk.
---
LINKS