MDOT Talks To Rotary About Highways and Roads
More goes into scheduling road repair than you might expect
July 16, 2013
By: Stephen Kent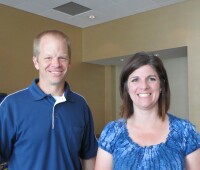 Gregg Brunner, Kimberly Zimmer
MDOT
Gregg Brunner and Kimberly Zimmer from Michigan's Department of Transportation (MDOT) spoke to Rotary about MDOT Traffic Safety and Operations.
MDOT operations focus on the engineering disciplines of Traffic and Safety, and Maintenance with special attention to mobility and safety.
Even though some drivers might not know it, in winter MDOT strives to get traffic back to normal speeds in two hours or less during 80% of winter events. They actively work to limit delays and costs associated with construction and limit the number of incidents closing lanes for over 2 hours.
The largest cause of delays are bottlenecks (40%) followed by traffic incidents (25). Bay weather slows traffic 15% of the time and work zones only 10%.
Brunner discussed the effects of the transportation and infrastructure costs on both construction and on the state's economy. Congestion alone costs the state almost $100 billion a year. Crashes cost nearly $300 billion annually.
Nationally, the vision of highway safety is zero deaths. In reality, the interim goal is to cut fatalities in half by 2030. A "Toward Zero Deaths" (TDZ) program aims to do this and to help end a "sense of complacency" about highway deaths. Charts show a steady decline in deaths since the 1970's.
Zimmer talked about traffic safety and engineering. Unlike typical engineering, this discipline combines engineering with human behavior. It relies on research, data analysis and experience.
"Michigan has over 7 million traffic engineers... everyone with a driver's license is an expert", she said. She went on to describe typical suggestions, questions, and answers pointing out differences in popular thoughts and reality.
Where engineers once "chased the dots" of statistics, today they focus on a more systematic approach, low cost improvements, and proven countermeasures. Michigan fatalities actually increased from 2011 to 2013. The state also repealed the motorcycle helmet law about that time.
Brunner and Zimmer answered a number of questions about specific roads and intersections. They knew the majority and what was going on. "We're on the road a lot and drive all those areas" they said.
MDOT helps drivers through their
www.michigan.gov/drive
. Brunner encouraged drivers to try this site. You'll find a map showing construction (and planned construction), current speeds, incidents, and traffic cameras along with current conditions.
---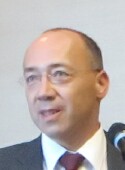 Michael Littig
Rotary welcomed guest Michael Littig visiting from Kaiserslautern, Germany (commonly called K-town). Michael has friends in the area and his son is in the area at a basketball camp. This is his second visit to the area.
Michael presented the club with a photo book on his area of Germany. Then then spoke briefly about his city and the country.
Back home Michael owns a financial company specializing in banking, insurance, and technology companies. They develop software and provide services to large companies in Germany.
Michael and Lee exchanged club flags. The K-town flag is available to view in our collection of flags in the
Germany
section.
---
CLUB NEWS and ANNOUNCEMENTS
SPECIAL BOARD MEETING THIS WEEK
The Board will meet this Tuesday, July 23, 2013.
11:00 am at the Doubletree, before the regular meeting.
A vote is needed to adopt a funding focus of "Youth and Literacy" for one year.
It is important that this be approved so that we can use it with International Night material.
Lee talked about International Night coming on October 3. (That seems a long way off but it'll be here sooner than anyone expects!) A funding focus should be approved by next week. Wine tasting is back. And helpers are needed. "When you're asked, please say yes." said Lee.
Andrea Hales needs an additional host family for the Club's incoming exchange student. This family is needed for the first months. Our student's arrival is rapidly approaching so the family is needed soon.
Kathy Czerwinski thanked the many Rotarians who helped make the Tall Ship Celebration the success that it was. Several other Rotarians spoke and expressed similar feelings.
The club's
100 year anniversary
committee will meet on the 30th. Please contact
Ron Bloomfield
for more information.
---
DATES TO REMEMBER
100 Year Anniversary Committee
Meets July 30, 2013 at 11:00 before the regular meeting.
International Night
"Mardi Gras... off season"
October 3, 2013 at the Doubletree.
A celebration of the Food, Fun & Festivities of "America's Greatest Party".
---
Upcoming Programs
(See the official schedule at RotaryBayCity.org )
August 20, 2013: How to increase your asset value as an employee.
Greg Stanley immerses the audience into his Toonalution world by using illustrations that interact with each other and iconic characters to teach the importance of taking a path of continual learning.
---
Current and past
DISTRICT DISPATCH
newsletters are available on the District site shown in the LINKS section below.


Rotary Bay City on Facebook!
Click on the Blue Facebook to visit us there.

Remember! Check attendance sheets at the front desk.
---
LINKS