Bloomfield Screens Sunken Treasure Video For Rotary
Preserving Michigan's Shipwrecks
July 23, 2013
By: Stephen Kent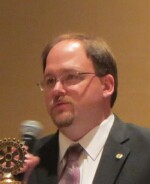 Ron Bloomfield
Ron Bloomfield, Chief Curator of the Historical Society, among numerous other hats he wears, screened the documentary Sunken Treasure, which was produced by himself and Ric Mixter under a grant from the Michigan Underwater Preserve Council, inc.
The video is in two parts. The longer version is designed for PBS stations, which are anticipated to pick the show up this year. A shorter version, which was screened for Rotary, is 12 minutes long and is intended to be shown in dive shops and venues like Rotary where the public would benefit from an overview.
The video talks about the responsibility of divers to respect the underwater wrecks that abound in the Great Lakes. Today there are laws in place to protect these relics. In the past divers were free to take souvenirs or otherwise damage or change the wrecks.
After screening the video, Ron answered a number of questions from the audience. Although wrecks are accessible to a limited group of visitors with the equipment, training and ability to dive, the wrecks are of interest to everyone. They represent a mystery and wonder of the lakes.
The video is available at the Historical Museum next to City Hall. A diver's guide booklet is also available.
---
CLUB NEWS and ANNOUNCEMENTS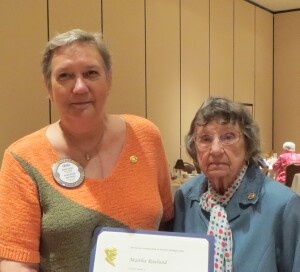 Gena Gates and Martha Roulund
Gena Gates presented two Paul Harris awards today. Dee Dee Wacksman received her Paul Harris PLUS EIGHT! Gena also presented a Paul Harris to Martha Roulund. Martha volunteers with many organizations in the area. Rotary is proud of her accomplishments and her receiving the Paul Harris Fellow designation!
The Club Board met in special session today to approve a one year funding focus of Youth and Education. This theme will be used in promotions for the upcoming International Night fund raiser.
Andrea Hales announced that Anatoliy Lotarev, our exchange student for the past year has returned to his home. Andrea said that he said he really wished he could stay here longer.
Andrea also said that our incoming student will be here in three weeks. She's still looking for a host family to take this student for the first few months. (She sounded a bit desperate.) Please contact Andrea if you can help.
The club's
100 year anniversary
committee will meet on the 30th before the regular meeting. Please contact
Ron Bloomfield
for more information.
---
DATES TO REMEMBER
100 Year Anniversary Committee
Meets July 30, 2013 at 11:00 before the regular meeting.
International Night
"Mardi Gras... off season"
October 3, 2013 at the Doubletree.
A celebration of the Food, Fun & Festivities of "America's Greatest Party".
---
Upcoming Programs
(See the official schedule at RotaryBayCity.org )
July 30, 2013: Big Brothers/Big Sisters Bay County
. Michele Poora will speak to the club about the local chapter of Big Brothers/Big Sisters and apprise us of volunteer opportunities.
August 6, 2013: Rotary Youth Exchange
. Amanda Haag, back from Germany, and Tanner Norton, back from Paraguay, will share with the club their experiences from their involvement with this recent Youth Exchange.
August 13, 2013: 10 Minute Rotarian
. The club's own Dr. David Songer will speak to us about his personal and professional background.
August 20, 2013: How to increase your asset value as an employee.
Greg Stanley immerses the audience into his Toonalution world by using illustrations that interact with each other and iconic characters to teach the importance of taking a path of continual learning.
---
Current and past
DISTRICT DISPATCH
newsletters are available on the District site shown in the LINKS section below.


Rotary Bay City on Facebook!
Click on the Blue Facebook to visit us there.

Remember! Check attendance sheets at the front desk.
---
LINKS