Big Brothers and Big Sisters Presented to Rotary
July 30, 2013
By: Stephen Kent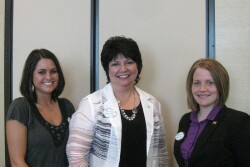 Morgan Jackson, Susan Putnam, Michelle Porra
Morgan Jackson, Susan Putnam and Michelle Porra from Big Brothers Big Sisters of the Great Lakes Bay Region spoke to Rotary about the program. According to their information, "Being a Big Brother or Big Sister is about sharing simple, magical moments with a child."
Most people had some "special person" who acted as a mentor when they were young. It may have been a parent, relative, teacher, or just an adult friend that helped them find the way through the world.
For various reasons there are many kids who don't have that type of adult in their lives. Volunteering as a "Big" gives people the opportunity to provide that guidance. Rotarians are invited to explore the opportunities by calling BBBS at (989) 631-5360. For more information you may also visit the web site at
bbbsgreatlakesbay.org/
.
---
CLUB NEWS and ANNOUNCEMENTS
Martha Roulund, who received a Paul Harris Fellow designation last week returned to show a quilt made for her by the Students at St. James where she is known as the "I-Pad lady", since she donates I-Pads to the school.
Andrea Hales made another appeal for a family to host our incoming exchange student. She has a prospective family but if you are interested you should still contact Andera.
The club's
100 year anniversary
committee met under the leadership of
Ron Bloomfield
. If you have the names of past members, pictures, keep-sakes, or other interesting items pertaining to the club, please contact Ron or any member of the committee!
Both the International Night and the By-Laws Review committees will meet next week, August 6, at 11:00 before the regular meeting. If you are on one of those committees, or are interested in the topic, please plan to attend.
---
DATES TO REMEMBER
International Night and By-Laws Review Committees
Meet August 6, 2013 at 11:00 before the regular meeting.
International Night
"Mardi Gras... off season"
October 3, 2013 at the Doubletree.
A celebration of the Food, Fun & Festivities of "America's Greatest Party".
---
Upcoming Programs
(See the official schedule at RotaryBayCity.org )
August 6, 2013: Rotary Youth Exchange
. Amanda Haag, back from Germany, and Tanner Norton, back from Paraguay, will share with the club their experiences from their involvement with this recent Youth Exchange.
August 13, 2013: 10 Minute Rotarian
. The club's own Dr. David Songer will speak to us about his personal and professional background.
August 20, 2013: How to increase your asset value as an employee.
Greg Stanley immerses the audience into his Toonalution world by using illustrations that interact with each other and iconic characters to teach the importance of taking a path of continual learning.
---
Current and past
DISTRICT DISPATCH
newsletters are available on the District site shown in the LINKS section below.


Rotary Bay City on Facebook!
Click on the Blue Facebook to visit us there.

Remember! Check attendance sheets at the front desk.
---
LINKS