Rotary Exchange Students Speak to Club
August 6, 2013
By: Stephen Kent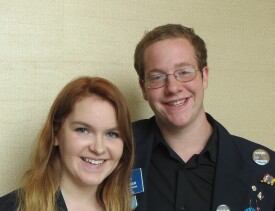 Amanda Haag and Tanner Norton
Rotary Youth Exchange
students
Amanda Haag
, back from Germany, and
Tanner Norton
, back from Paraguay, spoke to Rotary sharing their experiences from the past year.
Rotary sends over 8,000 students on exchanges each year. These students go to over 80 countries in one of three programs: the one-year exchange, a short term exchange, and a "new generations" exchange for 3 to 6 weeks. The program dates back to the 1920's in Europe. The modern program grew in the 50's and the current program dates to 1972.
Each student showed slides of the places they lived, went to school and visited. Even when visiting countries as different as Germany and Paraguay, there are parallels for all exchange students. They are immersed in the culture of the country, they struggle the language at first, they learn to eat different food. They also gather with other exchange students in the country to tour the country and see the important sights.
Tanner found Paraguay in central South America to be quite a departure from what he was used to. He said he wondered that he couldn't just wander around until someone was murdered just outside his host families compound. Even so, he felt safe. Each block in the city hired its own security guard and people knew what they could not and not do.
Amanda had a more familiar experience in Germany. She struggled with the language at first but at some point realized she understood what was being said. Another student came for a shorter visit and stayed with her hose family. She said it gave her a chance to see the way she started and found that it was a good experience to help the new girl get over the first weeks.
Both students showed slides of the country, where they stayed, the food, and the sights they got to see. They also both said that the experience changed their lives. They'll never look at the world the same way again.
---
CLUB NEWS and ANNOUNCEMENTS
BOARD MEETING THIS WEEK
The Board will meet this Tuesday, August 13, 2013.
11:00 am at the Doubletree, before the regular meeting.
An e-mail announcement will be sent to ALL MEMBERS as every member is welcome to attend.
Andrea Hales was pleased to announce that she has a family to be host to our incoming exchange student.
Lynn Weaver reported on International Night. She said that the auction items will be put together by teams as they were last year. You can check the club web sites for the names of those teams and see which you'd like to work with. Lynn went to the Pinconning/Standish club on Aug 8 to talk to them about participating again this year.
The by-laws committee also met today. They will meet again in a month or so then present a report and recommendations to the board and the club.
Dues past-due invoices have been mailed. If you have not paid yet, please do so. We wait until we're sure of the numbers before paying our bill to Rotary International, which is due NOW.
HATE THAT DIRECTORY PHOTO?
Or was it JUST TAKEN TOO LONG AGO?
Remember that Anne Trahan will take your Rotary Directory photo at no charge.
Give her a call or see her at the meeting to schedule a sitting. The directory picture is free. Retouched digital photos and portraits for your own use are available for a small charge.
---
DATES TO REMEMBER
Board Meeting
This Tuesday at 11:00 before regular meeting.
International Night
"Mardi Gras... off season"
October 3, 2013 at the Doubletree.
A celebration of the Food, Fun & Festivities of "America's Greatest Party".
---
Upcoming Programs
(See the official schedule at RotaryBayCity.org )
August 13, 2013: 10 Minute Rotarian
. The club's own Dr. David Songer will speak to us about his personal and professional background.
August 20, 2013: How to increase your asset value as an employee.
Greg Stanley immerses the audience into his Toonalution world by using illustrations that interact with each other and iconic characters to teach the importance of taking a path of continual learning.
---
Current and past
DISTRICT DISPATCH
newsletters are available on the District site shown in the LINKS section below.


Rotary Bay City on Facebook!
Click on the Blue Facebook to visit us there.

Remember! Check attendance sheets at the front desk.
---
LINKS