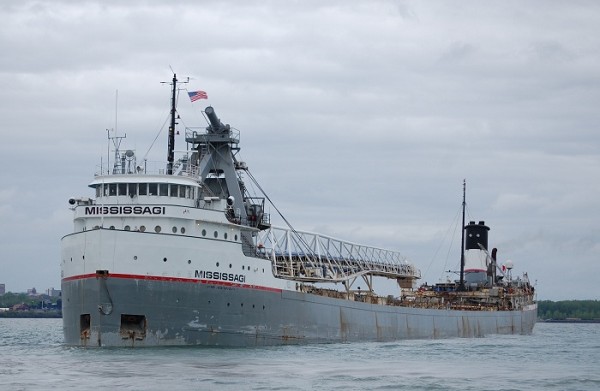 Mississagi, 620 foot long straight decker, calls often at the Port of Bay City along with fleet-mates Cuyahoga and Saginaw.
---
RIVER CLASS: New More Agile Ships Displace 1,000 Foot Behemoths
Revolutionary Green Marine $1 Billion Fleet Soon to Grace the Lakes
August 14, 2013
By: Dave Rogers
River-watchers, have you noticed anything changing in ship traffic?
Brian Ferguson of boatnerd.com has an insightful analysis of the shift of Great Lakes ships from the massive 1,000 footers to the more manageable 600 foot "river class" vessels.
Two of the latter called here in the Saginaw River last few weeks, the Manitowoc and the Calumet-3, both 630 feet long.
But you haven't seen anything yet!
"Shipowners are investing more than $1 billion Canadian to bring a new generation of super efficient, environmentally-friendly ships to the Great Lakes - St Lawrence Seaway System over the next three years," states the new industry group Marine Delivers.
These first-class vessels, which include both ocean-going and domestic ships, will have the latest engine technology and hull design to increase fuel efficiency and decrease air emissions; double hulls to prevent spills in the event of an accident and state-of-the-art cargo handling systems to minimize dust and cargo residue.
The new domestic Great Lakes ships will emit up to 60 percent fewer emissions than the oldest steamships still operating on the Great Lakes and up to 40 percent lower emissions than existing motor vessels. The new ships have been designed to accommodate future installation of engine-exhaust gas scrubbers, equipment that will further reduce emissions.
Leading ocean ship operators serving the Great Lakes - St Lawrence Seaway System have also announced new investments. These new vessels consume up to 28 percent less fuel and produce up to 28 percent less greenhouse gas emissions than the previous class of ships. The vessels are also equipped with Tier II engines, which will significantly reduce nitrogen oxide (NOx) emissions. The ships incorporate more powerful ballast pumps and have been designed to accommodate future installation of ballast water treatment equipment.
Craig Middlebrook, St. Lawrence Seaway Development Corporation (SLSDC) Acting Administrator, stated: "We continue to feel encouraged about the 2013 navigation season. The significant public and private reinvestments currently being made in the North American economy and the Great Lakes region are laying the groundwork for sustained future growth."
The Great Lakes-St. Lawrence Seaway maritime industry supports 227,000 jobs in the U.S. and Canada, and annually generates $14.1 billion in salary and wages, $33.5 billion in business revenue, and $4.6 billion in federal, state/provincial and local taxes.
North American farmers, steel producers, construction firms, food manufacturers, and power generators depend on the 164 million metric tons of essential raw materials and finished products that are moved annually on the system. This vital trade corridor saves companies $3.6 billion per year in transportation costs compared to the next least-costly land-based alternative.
The industry group explains: "The Great Lakes - St. Lawrence Seaway navigation system is dominated by specialty ships designed to serve the region's agricultural and manufacturing economy.
"These vessels transport large quantities of bulk cargo such as iron ore for the steel industry, coal for power generation, stone for construction, and grain for domestic and overseas consumption.
"Other Great Lakes ships are designed for general cargoes such as machinery, steel and bagged food products. Still others are more specialized as tug and work boats, tankers, and ferries."
"Throughout the history of shipping on the Great Lakes the trend for shipbuilding has been to build larger and more elaborate vessels," wrote Ferguson, adding:
"Each decade since the construction of the present Soo Locks Vessel Managers have stretched there respective ships to fit the maximum amount of cargo from Lake Superior through the limited space offered by the canal walls."
The efficiency of a vessel increases with its carrying capacity. For that reason, ship owners seek to maximize vessel size within the constraints of the navigation system, according to Marine Delivers. In the Great Lakes- St Lawrence Seaway System, ship size is limited by lock infrastructure.
St. Lawrence Seaway locks measure 233.5 m (766 feet) long x 24 m (80 feet) wide x 9.14 m (30 feet) deep. Therefore, many vessels have been constructed to "Seawaymax" dimensions. These vessels measure 226 m (740 feet) in length and 24 m (78 feet) in width and have a draft of 7.92 m (26.5 feet).
The Soo Locks in northern Michigan are larger. At that location, the largest lock chamber is 366 m (1200 feet) long x 34 m (110 feet) wide x 10 m (32 feet) deep. Several ships have been constructed to take full advantage of these dimensions. These ships are referred to as thousand footers," the largest of which is 309 m (1013 feet) in length and 32 m (105 feet) in width.
Because of their size, 1000 footers are only able to operate in the four upper Lakes (Superior, Huron, Michigan and Erie), being too large to fit through the TSt. Lawrence Seaway locks.
The 1,000 footers with 105 foot beam that were the norm in the 1970s can carry as much as three World War II era vessels, with no larger crews, says Ferguson.
The giants now have been pared down to more manageable size with self-unloading capabilities.
"Almost overnight the 600-foot straight decks that had been the iron horses of the Great Lakes were paraded one by one to the scrapper's torch," recalled Ferguson.
However, the behemoths had a problem: most ports couldn't handle their out-sized hulls. They seldom could even turn around in the Saginaw River and often had to back out from Saginaw docks.
Cleveland, where many steel mills are located on the Cuyahoga River, toyed with the idea of a conveyor system, a notion discarded because of costs and design nightmares.
"The most practical idea was to build a new 'River Class' sized ship," observed Ferguson. "This would be the first ship in decades not built to maximum Soo or Saint Lawrence lock size. The proposed ships would be between 600 and 640 feet in length, with beams of around 68 feet. Vessel depth would be 36 to 40 feet, far less then the giant 1,000 footers but more then the previous 600-foot class."
Laura Price wrote about these ships for boatnerd.com: "The Calumet was built in 1973 as the William R. Roesch by the American Shipbuilding Co., Lorain, OH, at a cost of $12.4 million. She was the first vessel completed under Title XI of the 1970 Merchant Marine Act and is virtually identical to the Paul Thayer (now Earl W. Oglebay) and nearly identical to the Wolverine."
In 2006, Oglebay Norton Marine Services Co. completed the sale of the David Z. Norton and her 2 "river class" fleet mates Wolverine and Earl W. Oglebay to the Wisconsin and Michigan Steamship Co. of Lakewood, OH for $18.7 million. With this sale, Oglebay Norton Co. phased out its subsidiary Oglebay Norton Marine Services Co. and removed itself from the marine shipping industry thus bringing to a close a long tradition of service on the Great Lakes. ###