Dr. Songer Speaks to Rotary
August 13, 2013
By: Stephen Kent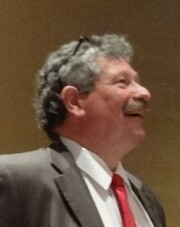 Dr. David Songer
New member Dr. David Songer, owner and operator of the
Songer Chiropractic Clinic
, 4354 Wilder Rd., presented a "Ten Minute Rotarian" talk and told the club a little about his background, his daughter, and his home north of town.
David started in the Chicago area and said he had some challenges. He set his sights and goals and left "the ghetto" of Chicago to became a Chiropractor. Moving to Pinconning, he worked in an established clinic which he ended up owning in a short time. He move his practice to Bay City and has been her for 27 years.
Living in the AuSable State Forest, David described a simpler, rustic way of life that seemed to draw wishful looks from around the room. He said "I like to tinker and can fix or build about anything". David grows all his own food and lives in a natural setting.
He had a daughter a few years ago, and she was his guest at Rotary on Tuesday. He says that he is soon going to auction off his collections of "stuff" and relocate to Bay City, largely for her benefit.
When asked if he got cable where he lives, David said he doesn't even own a television. He also noted that he's come to appreciate Rotary as his social outlet.
---
CLUB NEWS and ANNOUNCEMENTS
Welcome our newest member, the Reverend Ann Grady. Ann, sponsored by Anne Trahan, is a former Rotarian from Elkhorn, Wisconsin. She is the Priest-in-charge at Trinity Episcopal and will also serve as Chaplain at McLaren Bay Region Hospital.
Lynn Weaver reported on International Night. She said that the auction items will be put together by teams as they were last year. You can check the club web sites for the names of those teams and see which you'd like to work with. Lynn went to the Pinconning/Standish club on Aug 8 to talk to them about participating again this year.
Dues past-due invoices have been mailed. If you have not paid yet, please do so. We wait until we're sure of the numbers before paying our bill to Rotary International, which is due NOW.
HATE THAT DIRECTORY PHOTO?
Or was it JUST TAKEN TOO LONG AGO?
Remember that Anne Trahan will take your Rotary Directory photo at no charge.
Give her a call or see her at the meeting to schedule a sitting. The directory picture is free. Retouched digital photos and portraits for your own use are available for a small charge.
---
DATES TO REMEMBER
International Night
"Mardi Gras... off season"
October 3, 2013 at the Doubletree.
A celebration of the Food, Fun & Festivities of "America's Greatest Party".
---
Upcoming Programs
(See the official schedule at RotaryBayCity.org )
August 20, 2013: How to increase your asset value as an employee.
Greg Stanley immerses the audience into his Toonalution world by using illustrations that interact with each other and iconic characters to teach the importance of taking a path of continual learning.
---
Current and past
DISTRICT DISPATCH
newsletters are available on the District site shown in the LINKS section below.


Rotary Bay City on Facebook!
Click on the Blue Facebook to visit us there.

Remember! Check attendance sheets at the front desk.
---
LINKS