From Gilligan to MacGyver
August 20, 2013
By: Stephen Kent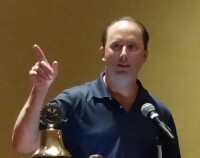 Greg Stanley
The talk was styled "Gillingan to MacGyver: How to Increase Your Asset Value as an Employee". With that introduction,
Greg Stanley
presented a fun and informative talk on how to evaluate your worth as an employee and then insure that you're an indispensable "MacGyver" to your employer.
With a "daytime job" at Nabisco and Cadbury, Greg spoke in his role as a cartoonist, author, and motivational speaker. Using a highly interactive slide show run from his phone, he illustrated the characteristics of typical employees. He showed the shortcomings of some and the qualities of others.
As a cartoonist, Greg has published a book, which he had available at the meeting. The title is "The Toonalution of Big Business" and Greg defines the made up word Toonalution as the evolution from a realistic, complex form to a simplistic, cartoon form.
Using the lovable Gilligan, a character virtually everyone knows, and contrasting him with MacGyver, proved to be an excellent form of illustration. Where Gilligan bumbles along, MacGyver is known as the Fixer of Problems, the Scientist, the Bomb Expert, and the Encyclopedia of Knowledge.
Greg posed the question "Do you want more from your career? What are YOU doing about it". His talk illustrated positive steps anyone can take if they want to make the transition to become a MacGyver.
---
CLUB NEWS and ANNOUNCEMENTS
Lynn Weaver reported on International Night. She updated the information on auction item teams. You can check the club web sites for the names of those teams and see which you'd like to work with.
Plans are being made for delivery of dictionaries and thesauruses to schools. If members have kids or grand kids at a particular school they can be scheduled to go to that school.
The Centennial Committee will meet next week, Aug 27, before the regular meeting.
The "K-Town" book presented to the club by Michael Littig visiting from Kaiserslautern, Germany, is in the bottom drawer of the silver cabinet at the meeting check-in desk. Any member is welcomed to borrow it.
Dues past-due invoices have been mailed. If you have not paid yet, please do so. We wait until we're sure of the numbers before paying our bill to Rotary International, which is due NOW.
HATE THAT DIRECTORY PHOTO?
Or was it JUST TAKEN TOO LONG AGO?
Remember that Anne Trahan will take your Rotary Directory photo at no charge.
Give her a call or see her at the meeting to schedule a sitting. The directory picture is free. Retouched digital photos and portraits for your own use are available for a small charge.
---
DATES TO REMEMBER
Centennial Committee
meets Tuesday, August 27, 2013 at the Doubletree before the regular meeting.
International Night
"Mardi Gras... off season"
October 3, 2013 at the Doubletree.
A celebration of the Food, Fun & Festivities of "America's Greatest Party".
---
Upcoming Programs
(See the official schedule at RotaryBayCity.org )
August 27, 2013: Rotary Polio Update.
The club's own Chuck Cusick will present a Rotary International Polio Update on where we are at globally with its eradication.
September 03, 2013: Healthy Body as a key to Longevity.
Local wrestling coach and fitness instructor Steve Goss will present recommendations for a healthy body and heathy life, as well as highlight his coaching experience in the Olympics.
September 10, 2013: District Governor Visit.
Duane Reyhl, from Saginaw, will make the annual DG club visit to learn about what our club is doing and give us an update from Rotary.
September 17, 2013: Club Assembly.
Eileen Curtis and Gary Riedlinger will continue their presentation on the fundraising focus(es) of our club as a result of club surveys.
September 24, 2013: Just For Kids Charitable foundation.
Lisa Rechsteiner (Graff Chevrolet, Bay City) is President of Just for Kids - Maier & Associates Charitable Foundation. She will give us an overview of the Foundation, its history, and services.
October 08, 2013: Energy Efficiency Programs.
Mary Kulis, Darlene Kusterer from Consumers Energy will talk about the Helping Neighbors program, an income-qualified energy assistance program. They will also provide an overview of our overall program of rebates and incentives.
---
Current and past
DISTRICT DISPATCH
newsletters are available on the District site shown in the LINKS section below.


Rotary Bay City on Facebook!
Click on the Blue Facebook to visit us there.

Remember! Check attendance sheets at the front desk.
---
LINKS