Cusick Updates Club on PolioPlus Campaign
August 27, 2013
By: Stephen Kent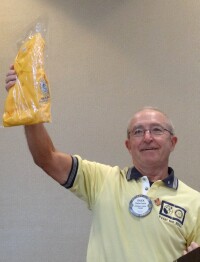 Chuck Cusick
If anyone knows about Rotary's PolioPlus Campaign it would be Chuck Cusick. Chuck and his wife Nancy have made multiple trips abroad to administer the vaccine to kids in the few remaining countries where it is found. Last Tuesday Chuck gave an update on the campaign and how it works. Although most Rotarians are familiar with the program, there are many new members who have not heard the talk. And a refresher is always good for everyone.
Polio is a big campaign. Rotary teams up with UNICEF, the CDC, the Bill and Melinda Gates foundation, and governments from around the world. Of the three major type of Polio, type 2 is eradicated and types 1 and 3 are almost beat. The only countries where it remains are Nigeria, Pakistan, and Afghanistan.
Currently an "Endgame Strategic Plan" has been arrived at for 2013-18. The effort is anticipated to cost $5.5 billion. Of that $700 million is confirmed and another $3.3 billion has been pledged. That leaves about $1.5 billion to be raised.

The Bill and Melinda Gates Foundation has been a strong supporter of the Rotary program for a number of years. Their commitment has been increased from 2013 to 18 so that every $1 million that Rotary commits in direct support for Polio immunization (up to $35 million) will be matched by an additional $2 million from the Gates Foundation.
Gifts from Rotarians are essential, but members can do other things. They can also build awareness, reach out and encourage advocacy. On the fund raising side they can contribute, hold a fundraiser, ask non-Rotarians to contribute, and encourage DDF support.
Eradication of Polio is within reach. Among the top 5 reasons to accomplish this goal are 1) the human cost, 2) it's achievable, 3) it's a good investment, 4) it strengthens the system and 4) it sets the stage.
---
CLUB NEWS and ANNOUNCEMENTS
Beto Dominguez
Andrea Hales introduced our new exchange student
Beto Dominguez.
She noted that his wish-list includes such items as travel to other cities, going to a Detroit Lions game, to try golfing, to try downhill skiing, to go to the beach, and to visit New York. If anyone is doing one of these and would like to invite Beto, it would be appreciated.
Ron Bloomfield
updated members on the meeting of the Centennial Committee which was held today. The small but enthusiastic committee is making good progress. They are looking for anything that members might have relating to the early years of the club.
Pictures, Old copies of the Breezes, Rotary related photos, stories, etc.
If you have anything of interest be sure to tell Ron.
Remember that the District Governor will make his visit to the club in 2 weeks. We will induct new members that day as well. Everyone is encouraged to attend to make a good showing.
Since both of our piano players were unable to attend today's meeting, President Lee brought his saxophone and accompanied the club in the opening song and in singing happy birthday to members born in August.
Tim Holsworth announced that a final accounting has been completed for the golf outing and the club cleared $7,306 for the day. Great job everyone!
Lynn Weaver reported on International Night. This will be the 20th anniversary for the event. Teams for auction items are working hard. The only team without a leader at this time is "Guilty Pleasures".
---
DATES TO REMEMBER
International Night
"Mardi Gras... off season"
October 3, 2013 at the Doubletree.
A celebration of the Food, Fun & Festivities of "America's Greatest Party".
---
Upcoming Programs
(See the official schedule at RotaryBayCity.org )
September 03, 2013: Healthy Body as a key to Longevity.
Local wrestling coach and fitness instructor Steve Goss will present recommendations for a healthy body and healthy life, as well as highlight his coaching experience in the Olympics.
September 10, 2013: District Governor Visit.
Duane Reyhl, from Saginaw, will make the annual DG club visit to learn about what our club is doing and give us an update from Rotary.
September 17, 2013: Club Assembly.
Eileen Curtis and Gary Riedlinger will continue their presentation on the fundraising focus(es) of our club as a result of club surveys.
September 24, 2013: Just For Kids Charitable foundation.
Lisa Rechsteiner (Graff Chevrolet, Bay City) is President of Just for Kids - Maier & Associates Charitable Foundation. She will give us an overview of the Foundation, its history, and services.
October 08, 2013: Energy Efficiency Programs.
Mary Kulis, Darlene Kusterer from Consumers Energy will talk about the Helping Neighbors program, an income-qualified energy assistance program. They will also provide an overview of our overall program of rebates and incentives.
---
Current and past
DISTRICT DISPATCH
newsletters are available on the District site shown in the LINKS section below.


Rotary Bay City on Facebook!
Click on the Blue Facebook to visit us there.

Remember! Check attendance sheets at the front desk.
---
LINKS