Goss Speaks to Rotary About Fitness And A Healthy Body
September 3, 2013
By: Stephen Kent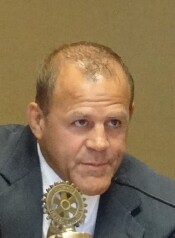 Steve Goss
Steve Goss was introduced by his friend and student Lee Newton. "Steve's topic is how to put more money in the (heart) bank", said Lee.
As wrestling team captain at CMU, Steve's team logged the most wins in history at that time. He was a US National Champion and qualified for and participated in Olympic trials in 1984, 92, 96, 2000. As a seven time member of Team USA he traveled to events around the world. Steve was also a two time Toughman Contest winner in boxing and kickboxing.
He's also been politically active as a multi-term city commissioner. He has worked in behavior management, family mediator, mental health counselor and a Realtor. He has been a coach for USA Wrestling and the Olympic team and is currently wrestling coach at Bay City Western High and has his own fitness training business.
Noting that there's a lot of fitness knowledge out there, Steve added a few thoughts on the subject. He spoke about food and American eating habits. He used this to illustrate how good habits are as to health as money in the bank is to wealth.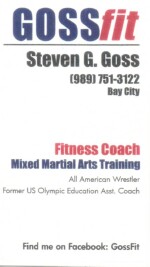 Aerobic activity is one of the best ways to control blood pressure. One of the benefits is that it reduces stress, which business people know too much about. The highest level you can handle is best. Start wherever you are and build from there. If nothing else, just keep moving.
Goss also talked about the amount of meat vs. vegetables in the diet. He related an example from history and WW II. At the time meat was in short supply and as meat intake went down so did heart disease. When meat returned so did heart issues.
Goss also talked about wrestling in the Olympics. Although it's the oldest event in the modern games, there has been a movement to take the sport out of the games. Some of the movement seems politically motivated. The current speculation is that the weight divisions will be changed, and women will be included, but wrestling will continue to be an Olympic event.
---
CLUB NEWS and ANNOUNCEMENTS
DISTRICT GOVERNOR TO VISIT

Remember that the District Governor will make his visit to the club in 2 weeks. We will induct new members that day as well. Everyone is encouraged to attend to make a good showing.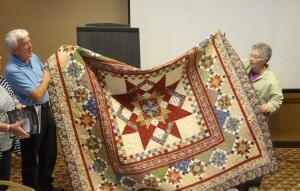 Mike Stoner and Barb Fisher with quilt
Lynn Weaver reported on International Night. This will be the 20th anniversary for the event. Teams for auction items are working hard. The only team without a leader at this time is "Guilty Pleasures".
Lynn asked for a volunteer to head up the "Guilty Pleasures" auction item group. After the meeting Matt Felan stepped up and will head that group. If you have appropriate items to donate, contact Matt.
Mike Stoner and Barb Fisher, representing the Norther Bay and Arenac Club, brought an award winning quilt that was donated by the Bittersweet Quilt Shop in Pinconning. The quilt will be featured in the September issue of Better Homes and Gardens "Quilt Sampler" magazine.
---
DATES TO REMEMBER
International Night
"Mardi Gras... off season"
October 3, 2013 at the Doubletree.
A celebration of the Food, Fun & Festivities of "America's Greatest Party".
---
Upcoming Programs
(See the official schedule at RotaryBayCity.org )
September 10, 2013: District Governor Visit.
Duane Reyhl, from Saginaw, will make the annual DG club visit to learn about what our club is doing and give us an update from Rotary.
September 17, 2013: Club Assembly.
Eileen Curtis and Gary Riedlinger will continue their presentation on the fundraising focus(es) of our club as a result of club surveys.
September 24, 2013: Just For Kids Charitable foundation.
Lisa Rechsteiner (Graff Chevrolet, Bay City) is President of Just for Kids - Maier & Associates Charitable Foundation. She will give us an overview of the Foundation, its history, and services.
October 08, 2013: Energy Efficiency Programs.
Mary Kulis, Darlene Kusterer from Consumers Energy will talk about the Helping Neighbors program, an income-qualified energy assistance program. They will also provide an overview of our overall program of rebates and incentives.
---
Current and past
DISTRICT DISPATCH
newsletters are available on the District site shown in the LINKS section below.


Rotary Bay City on Facebook!
Click on the Blue Facebook to visit us there.

Remember! Check attendance sheets at the front desk.
---
LINKS