Rotary District Governor Addresses Club
September 10, 2013
By: Stephen Kent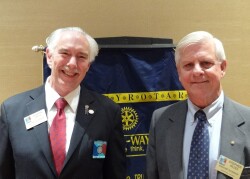 Duane Reyhl
and
Steve Wildes
The new District Governor,
Duane Reyhl
of the Saginaw Sunrise club, visited the Bay City Club on Tuesday. He met with the Board of Directors before the regular meeting and reviewed the club's current position and its goals for the future. He also asked what the District could do for the club.
During the regular meeting Reyhl spoke to the club about Rotary and the role of the local club. He congratulated the Bay City club on it's upcoming 100th anniversary next year. "It says something for a service club to reach that age."
Reyhl talked about the Polio campaign and the other works of Rotary. He related from childhood experience how the gifts of others can mean so much to a family. "Why contribute?" he asked. "Because it makes a difference".
He also talked about the public image of Rotary. "None of us join for the public image", he said. "But that makes a difference too. It's the simple things we do.". He told members to wear their Rotary pins. "Not everyone is going to ask about that pin. But every now and then someone will." He related a story about how someone once asked about his pin and how his simple explanation will probably stick with that person because his club had done something simple but meaningful in the local community.
Reyhl said members should invite someone to come to a program. "If an accountant asks you to come to a
meeting
" said the CPA, "would you come? That may not sound like a fun time." But if someone asks you to come to a program about an interesting topic, there's a better chance you might go.
Reyhl was joined by Assistant Governor
Steve Wildes
from the Midland Noon club. Wildes was actually a member of the bay City club around 1991.
---
CLUB NEWS and ANNOUNCEMENTS
The club inducted
Joe Cericola
and
Laura Taylor
today. Welcome to both new members of the Club.
Members were asked to sign up for
Dictionary and Thesaurus
delivery. Both books will be delivered at the same time this year. In the past each was done at a different time. If you have kids or relations at specific schools you are encouraged to try to deliver to that school.
Lynn Weaver
reported on
International Night
. This will be the 20th anniversary for the event. Several auction item team leaders spoke and encouraged members to bring items for their special interest groups.
Cindy Chadwick
reminded people that the
Bijou Orchestra
will present a reunion concert at the State Theatre on Sept 22. The orchestra was the brainchild of the late
Leo Najar
, a member of Rotary. In many ways, the Bijou was conceived in this club. Proceeds of the concert will go to Leo's widow
Regina Turner
, who is suffering from brain cancer. Tickets are selling fast so members are encouraged to purchase their tickets now.
---
DATES TO REMEMBER
Bijou Orchestra Reunion Concert
September 22, 2013 at the State Theatre.
Proceeds to benefit
Regina Turner
, widow of the late
Leo Najar
.
International Night
"Mardi Gras... off season"
October 3, 2013 at the Doubletree.
A celebration of the Food, Fun & Festivities of "America's Greatest Party".
---
Upcoming Programs
(See the official schedule at RotaryBayCity.org )
September 17, 2013: Club Assembly.
Eileen Curtis and Gary Riedlinger will continue their presentation on the fundraising focus(es) of our club as a result of club surveys.
September 24, 2013: Just For Kids Charitable foundation.
Lisa Rechsteiner (Graff Chevrolet, Bay City) is President of Just for Kids - Maier & Associates Charitable Foundation. She will give us an overview of the Foundation, its history, and services.
October 08, 2013: Energy Efficiency Programs.
Mary Kulis, Darlene Kusterer from Consumers Energy will talk about the Helping Neighbors program, an income-qualified energy assistance program. They will also provide an overview of our overall program of rebates and incentives.
---
Current and past
DISTRICT DISPATCH
newsletters are available on the District site shown in the LINKS section below.


Rotary Bay City on Facebook!
Click on the Blue Facebook to visit us there.

Remember! Check attendance sheets at the front desk.
---
LINKS