Rotary Says 'Good-bye' To Anna Pleth
Ambassadorial Scholar from Denmark
July 18, 2005
By: Stephen Kent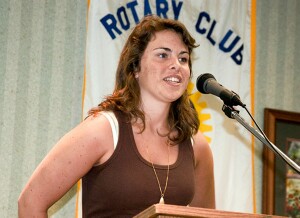 Anna Pleth, Rotary Ambassadorial Scholar from Denmark said goodbye to the club and to America as she prepared to leave for home. Rob and Deb Monroe hosted Anna during her one year stay. Rob introduced her as his "Viking Daughter".
Among the many things she liked about school in America was being on the tennis team. She does not have that at home and will miss it. When asked what was her biggest surprize about America she replied that everything was so much bigger. In particular the super sized food which just keeps coming. During her year in Michigan, Anna attended Bay City Central High School. She goes to a private school in Denmark with 50 to 60 students; Central High has an enrollment of about 1,000!
When asked what she looked forward to on going home she immediately said "bread", then added "normal boiled potatoes and fish". The fish dish she described sounded like it would have to be an "acquired taste" for most Americans.
The year in America was much more than Bay City and tennis and food. Anna visited Philadelphia on arrival. She went to Chicago on Spring Break, spent two weeks touring out West including San Francisco and the Grand Canyon. She made a trip to New Jersey and New York with the Monroe's and she got to see Niagra Falls, a "really big deal for Europeans".
She said that a year ago she was having second thoughts and didn't want to leave home. Last night she was having the same feeling and didn't want to leave the US and the home she had here. Anna expressed her sincere thanks to Rotary for the program and to Bay City for hosting her. Her closing thought was this: "If every child became an exchange student there would be no more wars".
---
OTHER CLUB NEWS
Dee Dee Wacksman reported that she did an on-line makup. A link to the e-club One site is provided at the bottom of this article.
The board met and, in response to Sargent at Arms Cindy Chadwick's definition of a Rotary pin, voted to accept ANY pin that contained a rotary wheel, or a Paul Harris pin, as an acceptable pin to avoid being fined at a meeting.
The club will host another exchange student for 2005-2006. The board also voted to sign up for the 2006-2007 year as well.
Chuck Cusick provided more information on the Dictionary Project which provides a dictionary to every third grade student in a given school or district. The District Governor is endorsing this project. More information will be presented at a later date.
Ed Keating was introduced as a new member and Fred Hollister was inducted into the club.
Program chairs Eric Jylha and Ed Keating announced the following schedule:
July 19: Sidney Dreasky, U.S. Secret Service, counterfeit currency;


July 26: Group Study Exchange team headed to Japan;


Aug. 2: Community Sailing Program boat building, with Brian Donaldson.
---
--- Advertisements ---

---
The Meeting in Pictures
Photos by Andy Rogers
---
RotaryBayCity.org Rotary Club of Bay City Web Site
eClub-One
: Members with internet connections are encouragedto visit eClub-One monthly for a makeup. To get makeup credit you need to fill out the makeup form on that site. Print the acknowledgement for you receive and turn it in to receive credit. Be sure to enter our club's district number (
6310
) on that form.
Click this link to open eClubOne in a new window:
www.rotaryeclubone.org
.
The Bay City Rotary Club meets at Noon each Tuesday at the Lumber Barons resturant on the West Side.
Rotary Club of Bay City Web Site
District 6310 meeting schedule